Jack and Jill Memphis Presents - Bowling With A Purpose & A Promise!
About this Event
The Jack and Jill of America, Inc. - Memphis Chapter presents our Spring Fundraiser: Strike Out Childhood Disparities in Health, Education and Family: Bowling with A Purpose and A Promise!
Each year we invest in organizations that share our passion for building community, strengthening families and nurturing and developing children into future leaders. In fact, the Memphis Chapter of Jack and Jill has been giving BIG in the Memphis Community since we were chartered in 1946!
We are committed to high impact philanthropy and service that positively influences children. It is essential that all Memphis children can succeed, regardless of the family or zip code into which they are born. Our goal is to raise $30,000 with ALL proceeds benefiting Jack and Jill of America Foundation, Inc. and our 2019 Local Memphis community-based partners: Binghampton Christian Academy , Common Table Health Alliance, The Memphis Challenge, Inc. and Vance Avenue Youth Development Center, who focus is to end childhood disparities.
Join us on Saturday, May 4,2019 in our efforts to provide all children with the skills and advantages we desire for our children! Enjoy an exciting early afternoon of family fun as we Bowl with A Purpose and A Promise!
Form a Team of 5 or Purchase an individual ticket and meet new friends!
Amazing Prizes, Silent Auction and Giveaways!!!
Sponsorship opportunities available contact- Myra McCaskill Crenshaw - 901-878-9799 or jjmemfoundation@gmail.com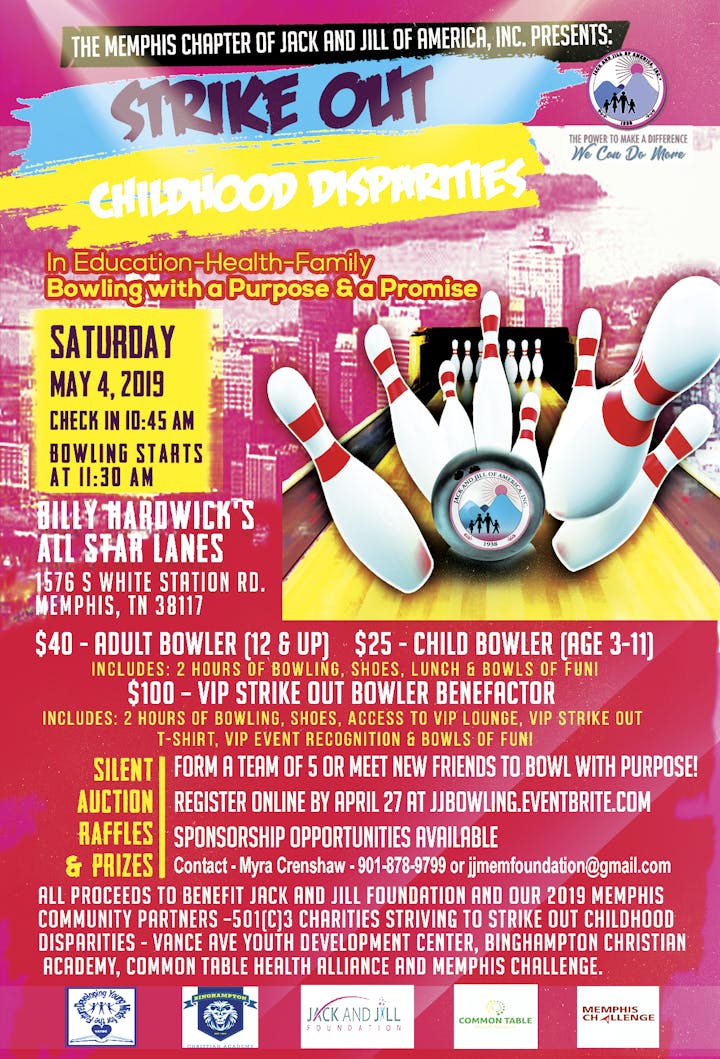 You can register as many individuals as you'd like. You also have the option of creating a team and inviting your teammates to register on their own. When you select Tickets, choose Team and follow the instructions to create a team page.
You may have up to 5 on your team. If you don't have 5, we will be able to assign other bowlers to your team.