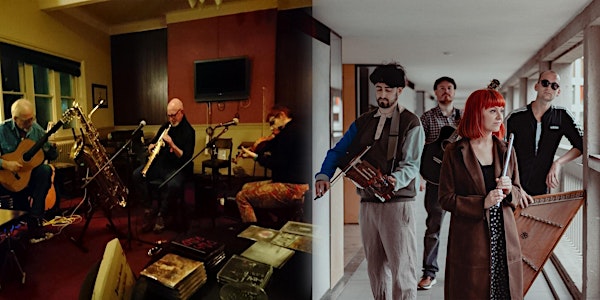 J[a]B[a]W & Emergence Collective
Free improvisation at On the Brink in conjunction with Over the Top
When and where
Location
On the Brink Co Housing Community Ltd 90 Osborne Road Sheffield S11 9BB United Kingdom
About this event
A courtyard gig featuring two improvising ensembles.
J[a]B[a]W
J[a]B[a]W is a free improvisation outfit featuring eclectic, hybrid instrumentation and vocalisation, creating an organic mash-up veering from delicate abstraction through insistent sonic curiosity to strident rhythmic statement.
John Jasnoch (guitars, mandolin)
Geoff Bright ( voice, soprano and bass saxophones, novelty instruments)
Gillian Whiteley (voice, violin, accordions, recorder, hurdy-gurdy, harmonium)
https://bricolagekitchen.com/jabaw/
Emergence Collective
Emergence Collective is an acoustic improvisatory ensemble based in Sheffield, UK. Drawing on their individual backgrounds in European folk, jazz, early music, and contemporary classical music, Rob Bentall (nyckelharpa), Zeb Budworth (hammer dulcimer), Juliana Day (whistles/recorders), and Tim Knowles (acoustic guitar) build spontaneous minimalist structures that gradually morph through a constantly evolving musical dialogue. The unusual combination of instruments and dynamic musical process generates a hypnotic kaleidoscope of sound that is completely unique to every performance.
https://www.facebook.com/EmergenceCollectiveMusic/
***
Please only reserve a place if you're committing to attending.
We will collect donations on the day.
** Suggested donation: £10 **