Description
J-TEN: Introduction to Queer Affirmative Therapy
Presented by Luis Ramirez, LCSW
This workshop is appropriate for all who engage with LGBTQ people. Attendees will gain a better understanding of what a queer affirmative approach is and how to provide queer affirmative support to LGBTQ people and their families. The need for a queer affirmative approach is especially urgent in light of the many mental health challenges that confront LGBTQ individuals and the lack of training and/or understanding by providers who need more up to date knowledge of the unique needs of the LGBTQ community. This workshop will support attendees increase their awareness of how they might participate in the reproduction of heteronormativity and explore possibilities to resist and process these enactments with their LGBTQ clients, patients and consumers.
Please note: Those choosing the continuing education option will receive 3 contact hours. Please check to see if NBCC contact hours will meet your continuing education needs.
Learning Objectives
understand the pathological frames often used in clinical practice in relation to LGBTQ clients
critique these pathological frames and construct new clinical tools to engage LGBTQ clients
identify clinicians' process of internalizing superiority in relation to heteronormativity.
Special Rate Available for Community Attendees/Caregivers- For those who do not serve in a professional capacity, please reach out to Toni Mack at Toni.Mack@jefferson.edu to request a special discounted rate of $30.00. Additional scholarships will be considered for community attendees for whom the admission cost is a hardship. This discount is intended
solely

for attendees who do not serve their communities in a paid capacity, and is offered at the discretion of the J-TEN team. No continuing education is offered for community attendees.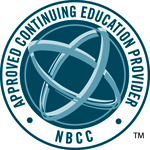 Thomas Jefferson University, Department of Community and Trauma Counseling has been approved by NBCC as an Approved Continuing Education Provider, ACEP no 3034. Programs that do not qualify for NBCC credit are clearly identified. Thomas Jefferson University, Department of Community and Trauma Counseling is solely responsible for all aspects of the programs.