J-TEN: Healing Trauma Through F.A.I.T.H. (Faith Alliances Inspired to Help)
Description
REGISTRATION DEADLINE EXTENDED: Monday, June 10, 2019 (11:59 PM)
---
Our nation is filled with many faith practices. Though diverse, they share a common belief that human beings can find peace and healing through faith. During this summit, faith leaders will convene to develop an understanding of trauma. Through a foundational teaching on trauma, leaders will gain knowledge about how exposure to trauma may impact congregations, communities and themselves. Leaders will be ignited through a "call to action" to determine how they can begin to carry the message, inform their congregations, collaborate with community agencies and join the mission of community wellness.
This learning collaborative will engage faith leaders to explore the impact of trauma on persons in the community. Attendees will:
Identify two areas the impact of trauma on communities of faith.



I

dentify

two ways to integrate trauma informed practices

into the participant's community of faith.

Develop a personal trauma informed practice commitment for service to the faith community.

Participate in the formulation of an interfaith learning collaborative on trauma.



Keynote Speaker- Bishop Dr. Michael A. Blue Sr.- Pastor, Author, Community Leader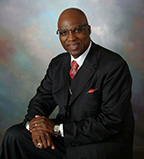 About the Keynote- Bishop Dr. Michael A. Blue, the Pastor of the Door of Hope Christian Church- Marion, SC, serves in one of the most economically underserved counties in the United States. Dr. Blue was appointed President of Marion County's Long Term Recovery in the wake of Hurricane Matthew. In 2016, Governor Nikki Haley recognized him as a South Carolina Department of Commerce Ambassador for Economic Development. Dr. Blue will share how the faith leaders can foster collaborative relationships to bridge services between local, regional and national government to traumatized, underserved communities.
Who should attend?
Faith Leaders, Clergy, Seminary Students, Faith Based/Community Based Organization Leaders
This workshop is appropriate for faith/community leaders at any level.
Light breakfast and lunch are included.
Discounted registation of $15.00 available for currently registered students. Please contact Neil Andress at Neil.Andress@jefferson.edu. Student rate is intended solely for those enrolled in a full academic program (not intended for those in continuing education/certificate programs).
Organizer of J-TEN: Healing Trauma Through F.A.I.T.H. (Faith Alliances Inspired to Help)
The Jefferson Trauma Education Network (J-TEN) serves as a trauma training hub and resource repository, drawing on the expertise of Jefferson's Community and Trauma Counseling program, along with regional and national partners.  J-TEN supports a network of trauma-informed providers and communities, with the goal of improving outcomes in the Philadelphia region and beyond. With grant support from Scattergood, J-TEN offers monthly trainings and workshops to professionals, paraprofessionals and students across disciplines and sectors, community members, parents, caregivers, and leaders.