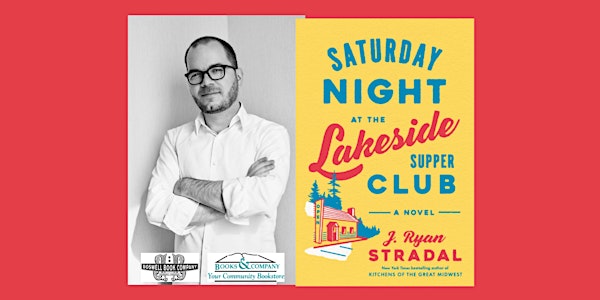 J Ryan Stradal, author of Saturday Night at the Lakeside Supper Club
J Ryan Stradal, author of Saturday Night at the Lakeside Supper Club - an in-person Boswell event
Date and time
Starts on Wednesday, April 26 · 6:30pm CDT
Location
Boswell Book Company 2559 North Downer Avenue Milwaukee, WI 53211
About this event
Readings from Oconomowaukee presents an evening with J Ryan Stradal, author of Saturday Night at the Lakeside Supper Club. In conversation with Daniel Goldin of Boswell, Lisa Baudoin of Books & Company, and Christina Clancy, author of Shoulder Season.
Mariel Prager needs a break. Her husband Ned is having an identity crisis, her spunky, beloved restaurant is bleeding money by the day, and her mother Florence is stubbornly refusing to leave the church where she's been holed up for more than a week. The Lakeside Supper Club has been in her family for decades, and while Mariel's grandmother embraced the business, seeing it as a saving grace, Florence never took to it. In the aftermath of a devastating tragedy, Ned and Mariel lose almost everything they hold dear, and the hard-won victories of each family hang in the balance. With their dreams dashed, can one fractured family find a way to rebuild despite their losses, and will the Lakeside Supper Club be their salvation?
From the starred Kirkus review: "Stradal... displays his gift for writing female characters who are fully realized, sometimes unlikable, but always as flawed and compelling as real people. The Midwest setting is written with love and respect, and while the story is often heartbreakingly sad, there's also real warmth and comfort in Stradal's writing. A loving ode to supper clubs, the Midwest, and the people there who try their best to make life worth living."
J. Ryan Stradal is the author of bestsellers Kitchens of the Great Midwest and The Lager Queen of Minnesota. His writing has appeared in The New York Times, The Wall Street Journal, The Guardian, and more. His debut, Kitchens of the Great Midwest, won the American Booksellers Association Indie's Choice Award for Adult Debut Book of the Year.
Books & Company will be hosting a 2 pm event on the same day - click here to register.
Click here to order your copy of Saturday Night at the Lakeside Supper Club from Boswell, or click here to order from Books & Company. Signed copies and personalization available on pre-orders. Please note that signed copies will not be shipped until after the event.