Description
J-Morg Entertainment presents the highly anticipated 4th annual black attire soirée CROWN. This event celebrates the top influncers, tastemakers, and cuture shapers in Chicago. This is the BEST event you'll ever attend in your life! This night of chic perfection lends its guests an opportunity to network with Chicago's elite, to enjoy a carefree night out with friends, dressed to the 9's in black attire.
Your MC for the evening is 1/3, of 107.5 WGCI FM's Morning Takeover, KYLE SANTILLIAN! The most talented man in Chicago, comedian, actor, and radio personality, LEON ROGERS will be the featured DJ for the evening, with a special closing DJ set from none other than audio assassin DJ J-ILLA! Plus a VERY SPECIAL surprise guest in attendance, trust us, YOU DO NOT WANT TO MISS THIS!
There will be an exclusive Rémy Martin Sampling from 9PM-11PM, so be sure to ARRIVE EARLY!
This epic soirée will be held November 18th, 2017 from 9pm-2am in the Truss Room of the Godfrey Hotel on the 4th floor, located at 127 W. Huron Street, Chicago, IL, 60654.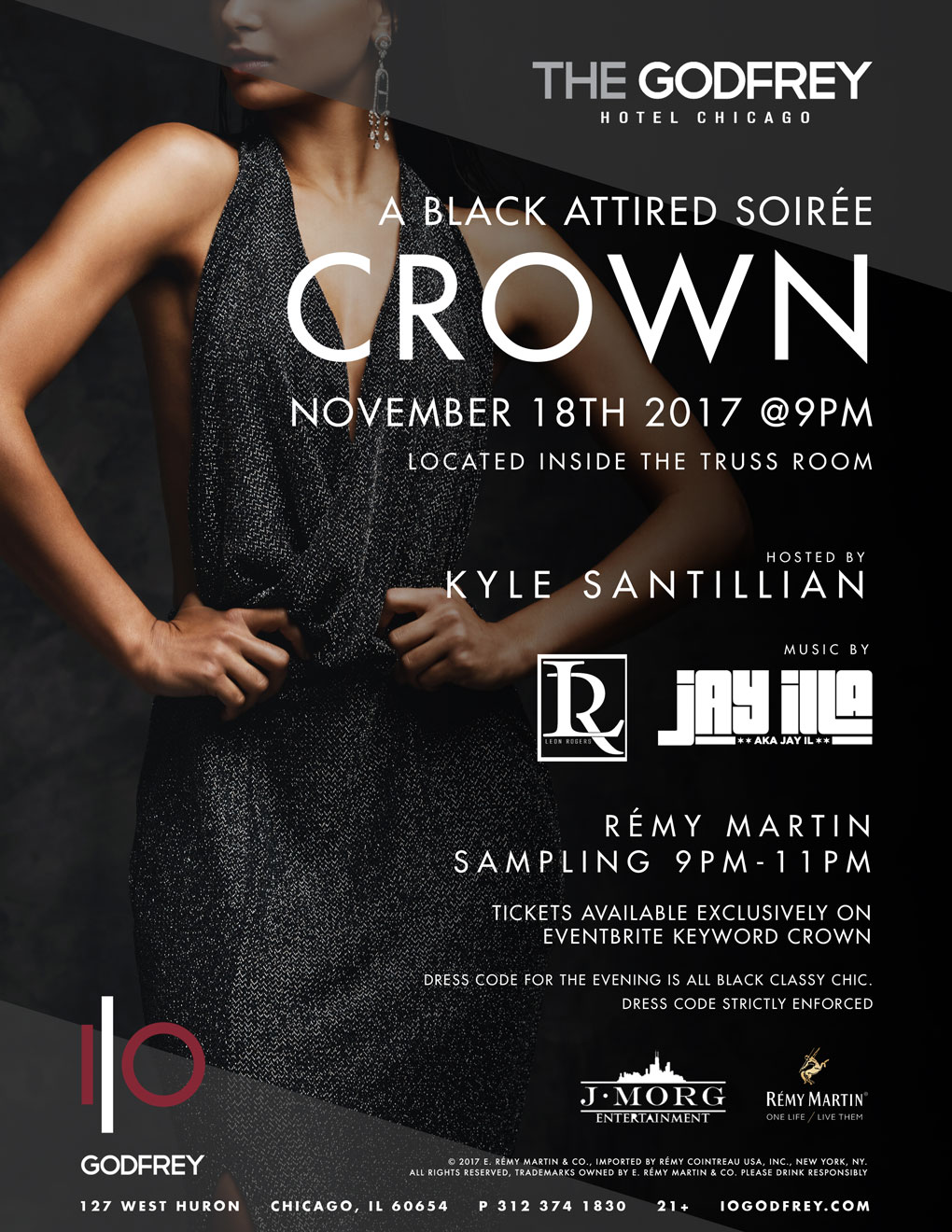 Each guest is required to have a ticket to be admitted into the event. The free "Early Bird" tickets will be honored for entry on a first come first served basis starting at 9p ending at 10:30p, after which, only purchased tickets will be honored. All tickets should be purchased before arriving to venue, for there will be NO PURCHAES MADE AT THE DOOR.
NO REFUNDS, NO EXCEPTIONS
****("VIP RSVP" TICKETS ARE HONORED FOR ENTRY THE ENTIRE EVENING, IT ALSO COMES WITH AN EXCLUSIVE GIFT, AND A RAFFLE TICKET FOR YOUR CHANCE TO WIN A FREE PAIR OF CONCERT TICKETS)
Bottle Service Menu http://iogodfrey.com/wp-content/uploads/2017/08/GodfreyMenu-08-22-17-Celebrate.pdf
* If you are interested in bottle service, it is STRONGLY suggested that you purchase in advance. Sections seat 4 to 6, are EXTREMELY limited, and are on a first come, first served basis.
To book your section please email JUSTIN@JMORGENTERTAINMENT.COM
Guests are STRONGLY encouraged to respect the attire theme, ALL BLACK, is the dress code, and will be STRICTLY ENFORCED. We reserve the right to not grant admittance based on compliance of dress code, it is solely at the discretion of security, we thank you in advance for you cooperation.
Valet parking will also be available.
#CROWN2017
#JMORGENTERTAINMENT
#TEAMJMORG
© 2017 E. Rémy Martin & Co., Imported by Rémy Cointreau USA, Inc., New York, NY. All rights reserved, trademarks owned by E. Rémy Martin & Co. Please drink responsibly.