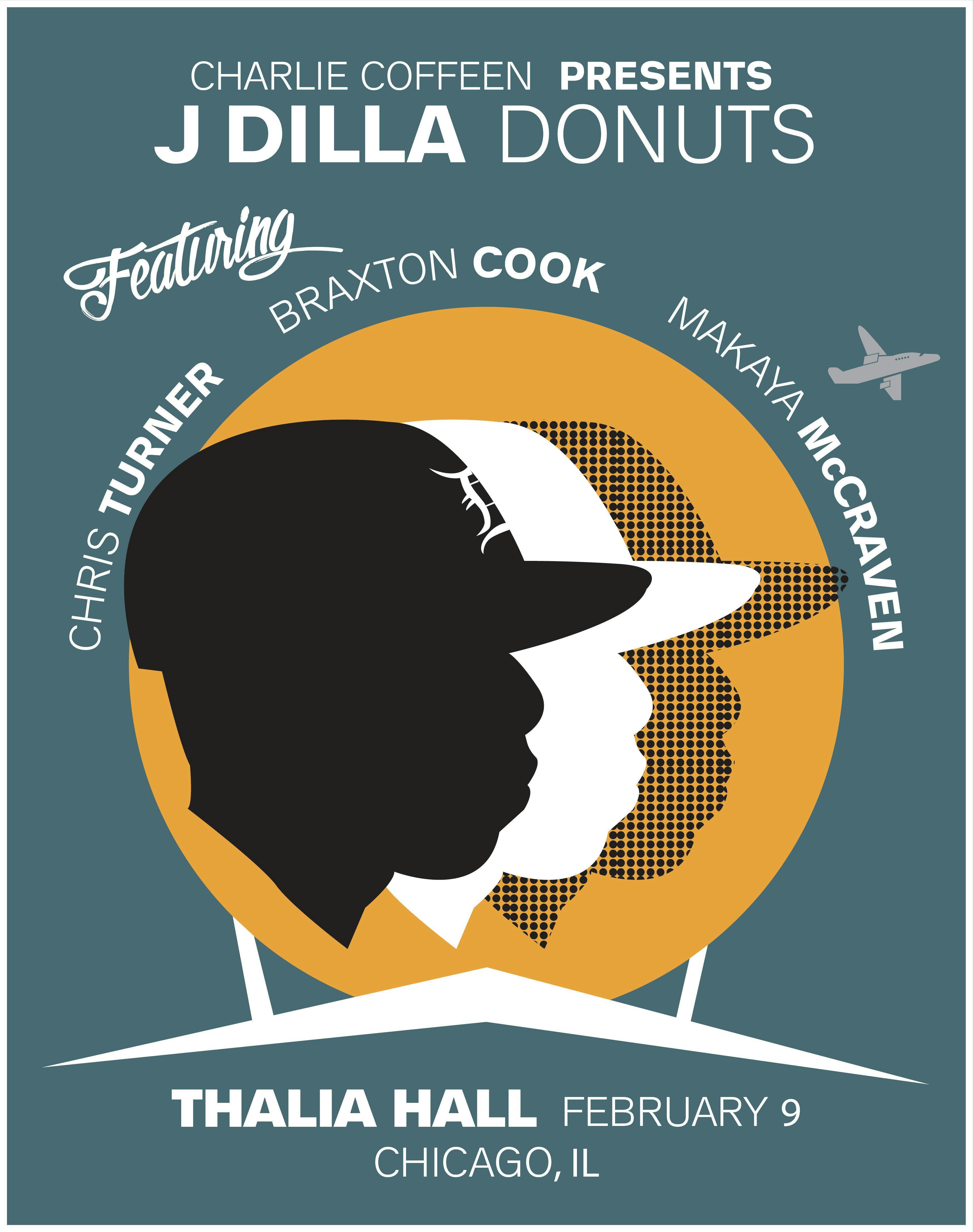 About this Event
J Dilla's Donuts
About The Show
Doors: 7:30pm / Show 8:30pm
Tickets on sale Friday 9/28 at 10am
The second annual performance of J Dilla's game-changing Donuts album. Charlie Coffeen (of Sidewalk Chalk) leads a 20+ piece orchestra in recreating and re-imagining the album from top-to-bottom featuring special guests Makaya McCraven, Braxton Cook, and Chris Turner.
100% of merch sales and donations benefit Dilla Youth Day 2020.
Sponsored by Vocalo 91.1FM
Makaya McCraven
Makaya McCraven is a beat scientist. His breakthrough album In the Moment was released with International Anthem Recording Co. (IARC) in January of 2015 and quickly named "Album of the Week" on BBC 6 Radio by influential DJ Gilles Peterson. By the end of the year it was a "Best of 2015" selection for Los Angeles Times, Pop Matters, NPR Music's Jazz Critics Poll, and Apple Music. In 2016, In The Moment was hailed by Turntable Lab as "one of the most important recordings to date in the modern Jazz world." "While Teo Macero's work with Miles [Davis] might seem the obvious reference point, In The Moment is closer in spirit to Madlib and J Dilla." (WIRE Magazine)
In 2017, McCraven captured an inspired set of high-energy improvisation to 4-track tape, and used those recordings to post-produce and create his first DJ-style mixtape Highly Rare (IARC) that was lauded as one of the "Best Albums of 2017" by The New York Times, UK's EZH Mag, and Gilles Peterson, in addition to highly favorable reviews by PASTE Magazine, Stereogum, and Pitchfork.
The latter end of McCraven's 2017 was also highlighted by an October stint in London, where he headlined IARC's 'CHICAGOxLONDON' showcase, and over the course of two nights improvised, performed & recorded with a handful of leading-edge UK-based musicians (including Joe Armon-Jones, Theon Cross, Nubya Garcia, Soweto Kinch, and Kamaal Williams). The recordings from those shows made source material for another mixtape that McCraven would produce and release on IARC in June of 2018, called Where We Come From (CHICAGOxLONDON Mixtape). In the words of Will Schube, for his feature in Passion of the Weiss:
"While Where We Come From follows in the footsteps of McCraven's previous releases, he moves far outside his Chicago circle on the release, taking a performance from London in October 2017 and using it as the structure from which he builds the tape… The result is unlike anything else coming out of the Chicago jazz or rap scene, an exploration of the different iterations jazz has introduced globally, and how these sounds are more similar than we often realize. Makaya McCraven is a Chicago staple, owing some of his rise to the city's fervent jazz community, but with Where We Come From, McCraven and his band have transcended locale. Jazz belongs to the world, it exists wherever we come from."
Makaya McCraven continues the development of his "organic beat music" as well as the work of (what Schube described as) "transcending locale" on his forthcoming Fall 2018 release Universal Beings. A 2xLP album that was recorded at 4 sessions in New York, Chicago, London & Los Angeles, Universal Beings features an A-list of "new" jazz players from those hotbed cities: Brandee Younger, Tomeka Reid, Dezron Douglas, Joel Ross, Shabaka Hutchings, Junius Paul, Nubya Garcia, Daniel Casimir, Ashley Henry, Josh Johnson, Jeff Parker, Anna Butters, Carlos Niño and Miguel-Atwood Ferguson.
Braxton Cook
Maryland raised saxophonist, vocalist, multi-instrumentalist, Braxton Cook is a status-quo challenging artist who first broke out in 2017 on the scene with the release of his solo debut album Somewhere in Between. Heavily influenced by John Coltrane, Charlie Parker, D'Angelo and Frank Ocean, Braxton mixes the improvisatory elements of jazz and the soulful melodies of R&B into a fresh sound all his own that he calls Future Jazz Soul. His music pulls from his experience as a Black jazz musician in America and his music aims to speak to the margins in society.
While still a student at The Juilliard School, Braxton began his career touring the world with trumpeter Christian Scott. During this time Braxton recorded and released his first EP called Sketch (2014), quickly followed by Braxton Cook meets Butcher Brown (2015). Following the release of Somewhere in Between (2017), Braxton toured the album internationally performing in London, Japan and across the United States.
Chris Turner
Returning from last year's Donuts show, Chris Turner is a classically trained crooner, a soul singer for the ages, with a classic sound that defies his years. Chris tours and records internationally with his own group as well as with Usher, The Roots, Stevie Wonder, Chris Dave and the DrumHedz, Sam Smith, Disclosure, Mike Posner, Esperanza Spalding, Bilal, Harvey Mason Sr., Eddie Palmeri, Dianne Reeves, Eric Harland, & Consequence.