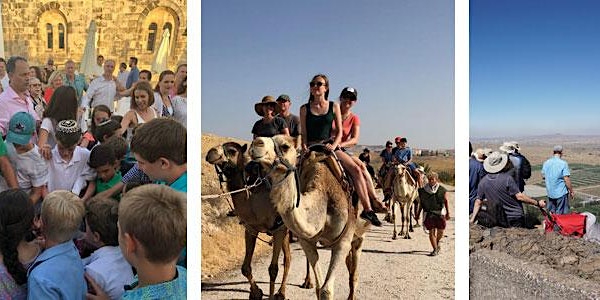 J-BA'IT: San Francisco Bay Area Community Israel Trip
Join San Francisco Bay Area JCCs on the Community Trip to Israel June 26– July 6, 2023
When and where
Location
Oshman Family JCC 3921 Fabian Way Palo Alto, CA 94303
About this event
Whether you are traveling alone, with a partner or with your family we invite you to discover and experience this incredible country. The program has been developed to give you the opportunity to experience program tracks according to your interests. Our time together will be devoted not only to getting to know this land, but also to having many personal encounters that will tie us to its unique communities. We will spend time with our own families and be welcomed as part of the larger Israeli family as well.
Following an introduction to each day for the whole group we will offer parallel tracks according to interest groups. The tracks will give you an opportunity to delve more deeply into your subject of choice. The number of tracks offered will be dependent on the size of the group.
Examples of our tracks are:
Family Fun:
Explore Tel Aviv on a scavenger hunt and experience the world-renowned 'Dialogue in the Dark' exhibit at the Holon Children's Museum
Kayak on the Jordan River, ride camels through the Judean desert and laugh in Jerusalem's Old City on an acting tour
Experience ancient Israel's secrets at Kfar Kedem, reconstructing life at the time of the Mishnah in hands-on workshops in wool making, sheep herding and bread baking
History and Archaeology:
Touch the past and uncover layers of history on an archaeological tour of Jerusalem's Old City and marvel at the mosaics at the ruins of Tzippori, the seat of Jewish leadership in antiquity
Visit the Trumpledor cemetery to hear the voices of Tel Aviv's Zionist founders, as well as those of contemporary leaders in Israel's Knesset
Explore the military history and borders of Israel by jeep in the Golan Heights, and climb the legendary fortress of Masada
Arts and Culture:
Experience vitality, inspiration and the energy of the music and percussion ensemble Mayumana at their active workshop in Jaffa
Meet top Israeli fashion designer at the revived Maskit fashion house, the icon of Israeli fashion
Read the writing on the walls of Tel Aviv's Florentine neighborhood on a colorful and sassy graffiti tour
Hear about the evolvement of modern Israeli art from rising artists at the Tel Aviv Art Museum
Discover the Old City of Jerusalem through the lens of a camera in the framework of a photography workshop
Culinary Arts:
Taste the splendors of Tel Aviv's and Jerusalem's markets on culinary tours led by Israel's top chefs
Wine and dine in a variety of different restaurants and wineries
Participate in a hands-on culinary workshop and learn to make authentic Israeli dishes
Contemporary Voices and Israel in the 21st Century:
Engage in dialogue with a wide array of hi-tech entrepreneurs building the "Start-Up Nation" and bridging Israeli society
Meet with members of a kibbutz to understand how pioneering ideals have evolved
Receive an insider's update about current issues on Israel's agenda
Be inspired by social justice initiatives in Israel and have an opportunity to volunteer
Estimated Pricing (land cost):
Single (one adult per room) - $6,200
Double (two people per room) - $9,100
Triple *2 adults and 1 child (under 12) - $10,600
Triple *2 adults and 1 teen - $11,350
2 Rooms: 2 adults and 2 children (under 12) - $16,600
2 Rooms: 2 adults and 2 teens - $16,900
2 Rooms: 2 adults and 3 children - $19,500
2 Rooms: 2 adults and 3 teens - $20,000
Payment Schedule:
Deposit - $500/person payable after registration received (refundable until April 1, 2023)
Payment 1 - 90% of the total trip cost - due April 1, 2023
Payment 2 - remaining balance - due May 31, 2023
We offer need-based scholarship support for families with children to help with trip's land cost*. If you are interested to apply, please reach out to Luba Palant at lpalant@paloaltojcc.org
Scholarships for the J-BA'IT: Bay Area Israel Trip are made possible by a generous grant from the Israel Experience Scholarship Fund at the Jewish Community Federation & Endowment Fund. We are grateful for their support.
The program will follow all COVID-19 Israel travel regulations - vaccination, PCR testing, quarantine etc. Currently, all travelers to Israel have to be fully vaccinated.
Please visit the J-BA'IT website for more info and FAQs
In Partnership with Peninsula JCC, JCCSF, JCC East Bay, Los Gatos JCC, the Osher Marin JCC
*some restrictions apply