| | |
| --- | --- |
| iZotope & EditMentor @ LAPPG Meeting - November 13, 2019 Doors open 7pm | |
Event Details
IZOTOPE TO DEBUT AND DEMO NEW AUDIO POST PRODUCTION TOOL
We're excited to announce that LAPPG will be one of the first public stops on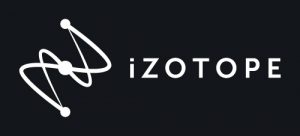 iZotope's roll out of their revolutionary new tool for audio post production! Join us as we take a tour through Dialogue Match which is designed to match sonic profiles for dialogue and ADR.

&
EDITMENTOR: A NEW WAY TO LEARN EDITING


EditStock CEO Misha Tenenbaum presents a sneak peek of EditMentor, his new creative editing training software. We'll talk about the future of editing education and its evolution from passive tutorials into interactive challenges.
Misha Tenenbaum is the CEO and Founder of EditStock.com, a site that provides unedited films for editors to practice their craft with. As a proud member of the Motion Picture Editor's Guild (MPEG), Misha has logged more than 5,000 hours of union work on TV and film projects including the FX series American Horror Story, Wayward Pines on FOX, and the feature film JOBS starring Ashton Kutcher.
*As always there will be plenty of time to network, enjoy some coffee and participate in our great giveaway which includes thousands of dollars of amazing prizes from our generous partners!

$5.00 cash kindly requested at the door will include 1 giveaway ticket.
Location:


Roth Hall

1714 21st Street

Santa Monica, CA 90404
Click for a map here. 
**Street parking is available as well as a Crossroads parking lot on 22nd Street.
***We encourage ridesharing and public transportation. The Metro has two stops within walking distance of the meeting space.
---
LAPPG LAUNCHES NEW BLOG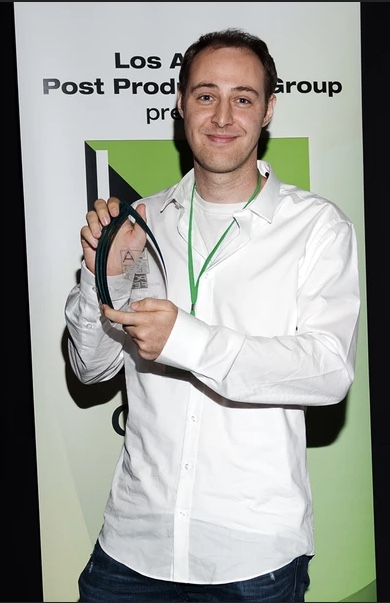 We couldn't be more excited to launch our LAPPG Blog with November's presenter Misha Tenenbaum. We hope you will find this discussion with Misha inspiring and informative then please join us Wednesday to see Misha and EditMentor in person. Thanks for visiting our new blog!
LOS ANGELES POST PRODUCTION GROUP: What got you interested in editing professionally in the first place?
MISHA TENENBAUM: In high school I was part of the cable club, and took a class called TV Production. I loved that teachers and other adults bestowed on me the responsibility to capture important moments like graduation, community projects, and even sporting events.
[See Misha's High School Demo Reel Here]
I majored in Broadcast Journalism in college, again to pursue what I considered then, and in fact still consider, important work. By college I was already making a living editing for the school, and filming private events like weddings, retirement parties, sporting events, and more. It wasn't until after college when I moved to California for vocational school that I realized editing, specifically film and documentary editing, is way more artistic than I previously though. Because I was exposed to a lot of film teachers I learned to love the art of filmmaking, and those jobs replaced what I was doing before.
LAPPG: Having worked on over 5,000 hours of union television and film projects what are three of your biggest takeaways for becoming an editor?
MT: First, I should point out that many of those hours were spent as an assistant editor, and that I accumulated them all in one long shift. Ok, I'm kidding. [READ MORE HERE]
---
ZEISS UNVEILS NEW HIGH-END CINEMATOGRAPHY OPTICS: ZEISS SUPREME PRIME RADIANCE LENSES
A Modern Lens, based on ZEISS Supreme Prime lenses, with Controlled Flares – orders possible by 31st March 2020!

ZEISS has unveiled the ZEISS Supreme Prime Radiance lenses, an exclusive new set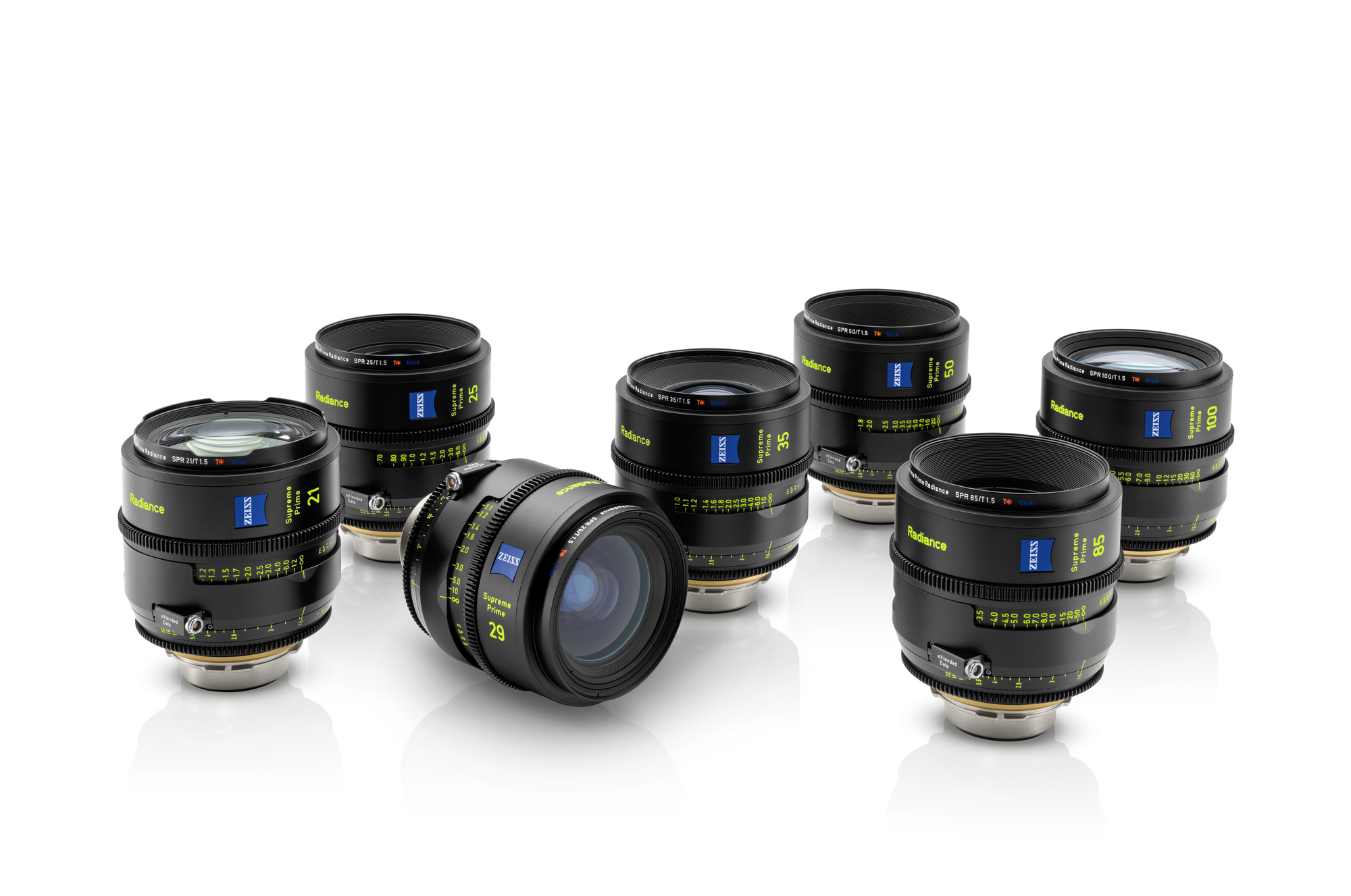 of seven high-end cinematography lenses. The lenses are based on the high-speed ZEISS Supreme Prime lens family with the benefit of the new T*blue coating, which offers a distinctive look and consistent flares without any compromises.
ZEISS Supreme Prime Radiance lenses enable cinematographers to create beautiful, consistent and controlled flares in the image while maintaining contrast and avoiding transmission loss. Yet, they offer all attributes of a modern cinema lens: large-format coverage, high speed, robustness and smooth and reliable focus – all in a small, light-weight package.
ZEISS Supreme Prime Radiance lenses come as a seven-lens set: 21 mm, 25 mm, 29 mm, 35 mm, 50 mm, 85 mm and 100 mm – all T1.5. Although being slightly warmer than regular Supreme Primes, they pair very well with them. That's why ZEISS deliberately went without the extremer focal lengths on both ends of the range that the regular Supremes offer. Just mix and match as you see fit.
[LEARN MORE HERE]
---
MOVIEMAKER COMES ON BOARD AS A MEDIA PARTNER


LAPPG is now partnering with MovieMaker, the world's best-selling magazine on the art and business of making movies. Founded in 1993, the publication has a quarterly readership of over 160,000 and its website, www.MovieMaker.com, is one of the most popular movie sites in the world. MovieMaker's content is directed at the audience as well as the artist, and its lively mix of in-depth criticism, do-it-yourself moviemaking and behind-the-scenes looks at classic Hollywood actors, directors, cinematographers, producers, screenwriters and editors makes it a perennial favorite with cinephiles the world over.

---
SUBSCRIBE TO LAPPG'S YOUTUBE CHANNEL TO CATCH UP ON MISSED MEETINGS
In this highlight video from Tony Margulies' entertaining presentation you get a feel for the need and procedure of Foley, the recreation of human sounds, in the audio post process. Tony walks us through a typical Foley recording session discussing the various footwear and props required. He discusses spotting and cues, the cloth pass, the props pass and his thoughts on recording sounds to be Foley'd.


 
Click the button below to SUBSCRIBE and be notified as new videos hit our YouTube Channel!


---
RECAP OF OCTOBER 2019 MEETING
We were back on the Westside after two months of being "on location" at SONY and ZEISS! We settled back in at the Crossroads School Community Room for a very full night.  First up we had Derick Rhodes, VP of Creator Programs jetting in from NYC to share with us the exciting new updates happening at Vimeo. He shared a great new resource called "For Hire" jobs marketplace [more info below] where you can find professionals to work on your projects as well as find work for yourself! He also detailed Vimeo Stock and spoke about both licensing the footage as well as selling your footage to be licensed. And lastly, Derick shared Vimeo's workflow tools including their Review page which is key to working collaboratively. After the networking break with some Halloween inspired treats we jumped into Blackmagic Design's DaVinci Resolve 16 with Mary Plummer who showed us in detail how the cut page works for creating speedy short form content like the cooking demo she walked us through. And then she switched over the Fairlight audio page where she showed some of the powerful  tools in this  fully integrated professional audio post platform now inside DaVinci Resolve 16.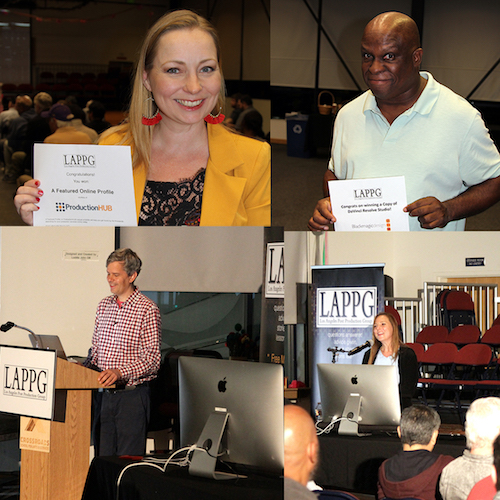 For more photos click here.  

---
ADD VIMEO TO YOUR LIST WHEN YOU ARE LOOKING TO GET HIRED OR TO FIND PROFESSIONALS FOR YOUR NEXT PROJECT!
As you may know already if you were at our October Meeting with Derick Rhodes, Vimeo recently launched a "For Hire" jobs marketplace. So this means any paying Vimeo member can set their account as "available for hire" and be considered for work in their hiring tool. Once you do, you can search for available jobs and submit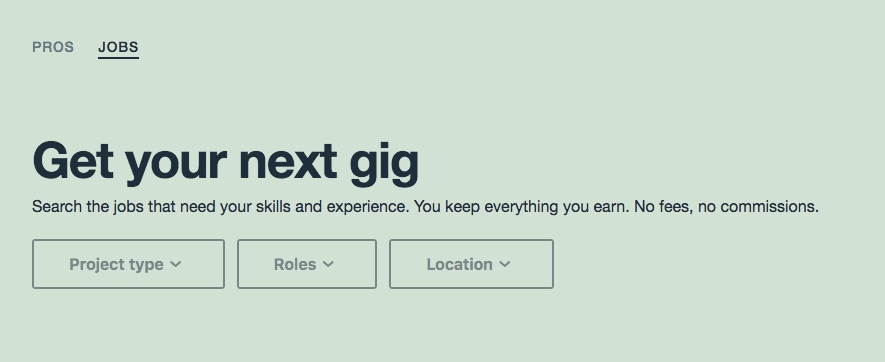 portfolios to roles that match your skill set. 
Once a project is staffed, you and your collaborators can leverage the rest of Vimeo's tools to review edits with your teams, manage your video libraries, and even distribute the finished video to all of your social platforms.

Plus, if you are looking for others to collaborate, you can quickly find industry-leading video experts (editors, DPs, animators, designers, and everything in between). Browse their global network of talent by budget, project type, location, skill, and experience. Or post specific job listings and let the talent come to you.
And the best part? Vimeo never takes a commission, fee, or favor. Payment takes place entirely outside of our platform, because they believe the Vimeo community deserves a cost-free way to connect with top creatives and make their next video project a reality.
For more information and to access the jobs marketplace visit: https://vimeo.com/for-hire
---
ANNOUNCING BLACKMAGIC COLLECTIVE'S NEW CONTEST

Our friends at the Blackmagic Collective have an excitingl new contest we wanted to tell you about. The concept behind Mic Drop is to pair talented young musicians and filmmakers to create a music video and take their first step into a professional world. Here's what you need

to know:

For High School Musicians:

If you're a musician or band writing original music, this contest is for you!
They're looking for you, your original song, and the music video concept to go with it. Winner will be flown to Los Angeles to record their music and appear in their very own music video!

For Film School Students:

If you are in a Southern California-based film program, this contest is for you! Send them some of your work, and a writeup of why you are studying film, and you could be given the resources and mentorship to produce your first professional video!

They are also looking for mentors and in-kind sponsors (services for the shoot) so if this is of interest be sure to contact them!

For details and information visit: micdropcontest.com
---
 SIGHT, SOUND & STORY HEADS TO NEW YORK
This upcoming November 14th, MEWShop's acclaimed speaker series, Sight, Sound & Story returns for its fifth year to New York City with an evening devoted to the art of cinematography.  Join us as we celebrate the craft of visual storytelling from the masters behind the camera - we'll go behind the scenes with some of the industry's best cinematographers in documentary & narrative films and then explore the process of bringing the look of cinema to the small screen in the golden of age of Peak TV. 
LAPPG members can receive $20 off the ticket price by using this link: https://bit.ly/2n2FAMz
Check out this fun trailer - https://youtu.be/M-9pTmM5XqE.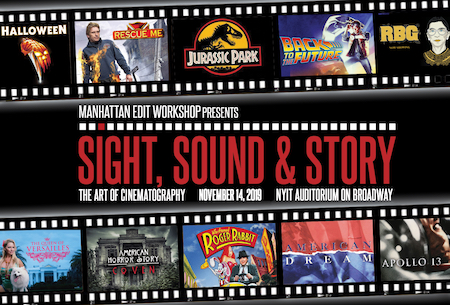 ---
HONORING EXCELLENCE IN VIDEO AND TELEVISION ACROSS ALL SCREENS
The industry has changed, and fast. Work is now being made for more platforms, by more companies, and for larger audiences than ever before. The Telly Awards is committed to honoring the cutting edge of innovation in our shifting industry, and providing a way for the best work to stand out from the crowd.
This year includes new honors such as new Social Impact and Immersive & Mixed Reality categories.
New judges, like David Weinstein (Complex Network) , Annie Granatstein ( The Washington Post) , Shveta Berry, (Autodesk) —and more.
Stay tuned for upcoming news, like our new screening series showcasing Telly Winners, and enter your work through the Early Entry Deadline on Friday, December 6th!
Visit: tellyawards.com
Adobe, Advantage Video Systems, Blackmagic Design, BorisFX, Cine Gear Expo, Digital Rebellion, Indie Shooter, iZotope, Mercury Production Report, MovieMaker Magazine, NewFilmmakers Los Angeles, Other World Computing, Pro Sound Effects, Pro Video Coalition, ProductionHUB, Shutterstock, SONY Electronics, Sound & Picture, The Telly Awards, Vimeo, Zeiss
We look forward to seeing you on Wednesday, November 13th!

Los Angeles Post Production Group
Please visit www.lappg.com for discounts, job listings, industry news and more.
When & Where

Crossroads School - Roth Hall
1714 21st Street
Santa Monica, CA 90403


Organizer
The Los Angeles Post Production Group is a professional organization for people with a passion for film, video and the digital media finishing process.

The LAPPG discusses all aspects of post production, from picture and sound editing to color correction, visual effects, codecs, storage and post workflows.

Expert presenters and leading companies come to our monthly meetings and share new technologies, techniques, tools, products and best practices to aid us in telling great stories.
We also provide our members with great offers and discounts as well as opportunities to network and make industry connections.
Membership is free and you need not live in Los Angeles to take advantage of this great resource.
To become a member please email your name and information about yourself to membership@lappg.com.