Description
21 Subat 2018 ogleden sonra saat 2:30-6:00 arasi Izmir"de gerceklesecek olan USA EB-5 Expo'suna davetlisiniz. Etkinlik sizin ve aileniz icin Amerika'ya yatirim yaparak goc etmeninyollarini tanitacak ve yatirim alakali butun gocmenlik sorularinizi cevaplandiricaktir. Sizin ve aileniz icin gocmenlik hakkinda ozel bilgi verebilecek deneyimli Amerika'li gocmenlik avukatlari ile tanisicaksiniz. Amerika icin cabuk Yesil Kart almaniza yardim edecek yatirim firsatlari hakkinda bilgi alabiliceksiniz.
Konuşmacılar hem ingilizce hem Türkçe konuşacaklar
PROGRAM
What are the basics of USA Immigration? What are the main categories of immigrating to USA - both for temporary visas and permanent Green Cards?
What is an EB5 investment opportunity?
What is US Congress (parliament) doing on US immigration law?
What is the effect of President Trump on US immigration so far? And what will it likely be in 2018?
How does the EB5 application process work?
What are the risks and rewards of EB5 investment?
Final Session:1-on-1 Questions and Answers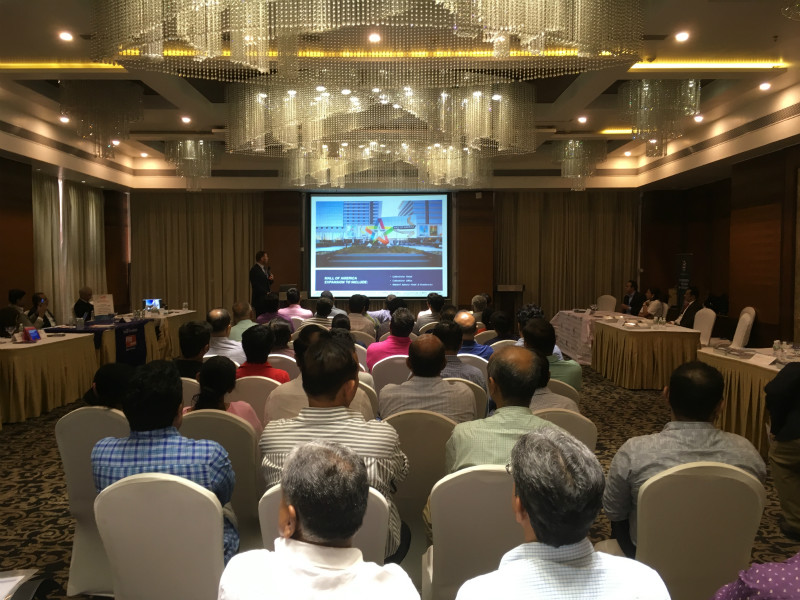 Testimonials
"The presentation shared by the Immigration attorney which comes all the pros and cons of EB-5 Investment" – A. G
"Basic knowledge about this program and risk factor involved in the program" – Anonymous
"The expo is very valuable and knowledgeable" – Anonymous
"Networking with various stake holders is valuable, can include bankers like us to clarify on transaction processing" – S. D
"The expo has provided a good platform to the investors for get all information on EB5 program, regional centers, attorneys which will facilitate decision making to Invest. - Anonymous
What is an EB-5 Investor Visa?
An EB-5 investor visa is a United States visa which provides a green card for foreign nationals who invest money in the United States creating 10 US jobs.
Speakers: (More speaker will be updated shortly)
Emre Ozgu, Partner & Immigration Attorney (Discussion Leader)
Barst Mukamal & Kleiner LLP
Focusing on employment immigration and family immigration law since his legal career began in 1997, Emre Ozgu has developed an outstanding reputation in the legal community. As a partner at BMK LLP, Mr. Ozgu adds to our firm's extensive immigration law experience. Mr. Ozgu was born in Bethlehem, Pennsylvania. He received his B.A. from Lehigh University in 1994 and his J.D. from New York Law School in 1997. A member of the American Immigration Lawyers Association (AILA) since 1998, Mr. Ozgu has served on the AILA National Immigrant Investor (EB-5) Committee, the AILA New York Chapter Corporate Practice Committee, and the AILA District Director Liaison Committee. Fluent in Turkish, Mr. Ozgu is also a member of the Turkish American Chamber of Commerce & Industry and the Turkish American Business Forum. Mr. Ozgu is admitted to practice in New York, New Jersey, and the U.S. District Court for the Eastern and Southern Districts of New York.
Kevin Wright, EB-5 Economist

Baker Tilly
Kevin Wright is an EB-5 economist with Baker Tilly, where he chiefly works within the EB-5 and New Markets Tax Credit (NMTC) practice areas to provide flexible and affordable capital to qualifying projects and businesses. Through his extensive experience in the EB-5 industry dating back to 2006, Kevin has been responsible for the creation of more than 180 Regional Centers, and the business plans and economic studies that form the backbone of more than 600 independent EB-5 projects. Within EB-5, Kevin works with regional centers and project sponsors to design and structure secure and marketable projects that meet the needs of potential investors from around the world. Prior to Baker Tilly, Kevin founded Wright Johnson, one of the largest EB-5 consulting companies in the U.S.
Tolga Batir , General Manager
Interstate Auto Malls

Tolga Batir was the General Manager at Honda of the Avenues in Jacksonville, Florida. During his time in automotive retail, he has facilitated the sale of over 50,000 vehicles. In his current position at Chrysler, Batir oversees daily operations, compliance with legal and ethical standards, as well as recruitment and training of a 125-person staff. Under his leadership, the dealership has increased annual profits from $1.4 million to $3.6 million, increased new- and used-car sales, and reduced its overall expenditures.

He has received extensive manufacturing training from Honda and Nissan in addition to his twelve years of experience in automotive retail. Over the years, Mr. Batir has developed skills needed to run a successful car dealership -- market analysis, advertising and profitability as well as staff development and team building.
Rosie Roden, Director of Global Business Development
Atlantic American Partners
Rosie Roden Rosie Roden joined Atlantic American Partners in 2016 as Director of Global Business Development. In this capacity, she oversees marketing, advertising and promotional activities in our global markets, including identifying markets and opportunities, establishing new networks abroad, and developing relationships with business and investors. Prior to Joining Atlantic American, Rosie served as Director of Business Development for a prominant Orlando-based immigration law firm that provides a variety of immigration-related services to corporate and individual clients worldwide. Rosie earned her Masters of Public Administration and Management from Harvard University and her Bachelor of Letters and Science from the University of California at Berkeley. She is originally from Rio de Janeiro, Brazil and has extensive experience working in Latin America and abroad. Rosie is an active member of the Brazilian /American Chamber of Commerce and the Harvard Alumni Association in Florida.
Devin Williams, President and Co-Founder
EB5 Global
Ms. Williams is the President and co-founder of EB5 Global. EB5 Global is proud to have an operating track record equal to our impeccable immigration track record. To date every EB5 Global project has exceeded the initial financial projections and job creation projections, resulting in over 1,500 investor Green Cards with a 100% approval rate and over $40 MM returned to investors to date. Devin's is responsible for expanding EB5 Global's foreign financing networks and overseeing the capital raise on each new project. Devin is a nationally recognized expert in EB-5 hotel development and a frequent speaker at real estate and EB-5 events, including the Urban Land Institute (ULI). She graduated from Georgetown University with a degree in finance and received her MBA from Harvard Business School.
Firas Alibrahim, Chief Executive
GlassCo Project
Firas Alibrahim is a seasoned Chief Executive, with over 18 years of senior management expertise in sales, marketing, and operations. Firas's experience, business acumen, organizational skills, keenness of mental perception and understanding, provides him the intelligence and competence to organically start-up, redefine and architect valuable companies. Firas has built and lead a broad range of businesses, from manufacturing, food processing, commodity production, trading, publishing, merchandising, to media and entertainment. Throughout his career, Firas has been known to attract first-rate talent and forge individual path careers. Through determination, vision and astute business strategies, he leads his organizations to lucrative success and growth. His leadership is founded by and starts with the golden rule "treat others the way you want to be treated." Providing service is his primary objective, and how that service is provided, is where his unique sensibilities and approach are both highlighted and displayed. Firas recognizes that excellent service starts with the people he leads and the culture in which he creates. His responsibility as Chief Executive is getting the best results from every member of the organization, to build a trustworthy brand, and guide the company's direction in its strategic priorities, and global leadership. Today Firas is proud to be the Chief Executive Officer of GlassCo LLC. an Indiana based company, operating, servicing and manufacturing cooling technologies, temperature controlled kiln for annealing and decorating glass. Firas aims to define the GlassCo brand with superior manufacturing and service excellence. On a more personal side, Firas adores his wife of 14 years and children. They enjoy traveling domestically and internationally, appreciate different cultures, are fond of the beach, water, scuba diving, and love to indulge with nature and the outdoors. Firas is equally passionate about humanity and likes to provide to those in need, suffering, or in crisis. For the past six years, he has been aiding refugees and migrants of the Syrian crisis. These acts of humanness bring Firas an extreme amount of satisfaction and happiness. Firas is a member of the CHOC (Children's Hospital of Orange County) Donor Family.