IYEOKA ● TAIMANE GARDNER ● QUADRAPHONIX - Halloween, Paia Maui

Friday, October 31, 2014 at 9:00 PM (HST)
Event Details
Tickets Available at Door
$25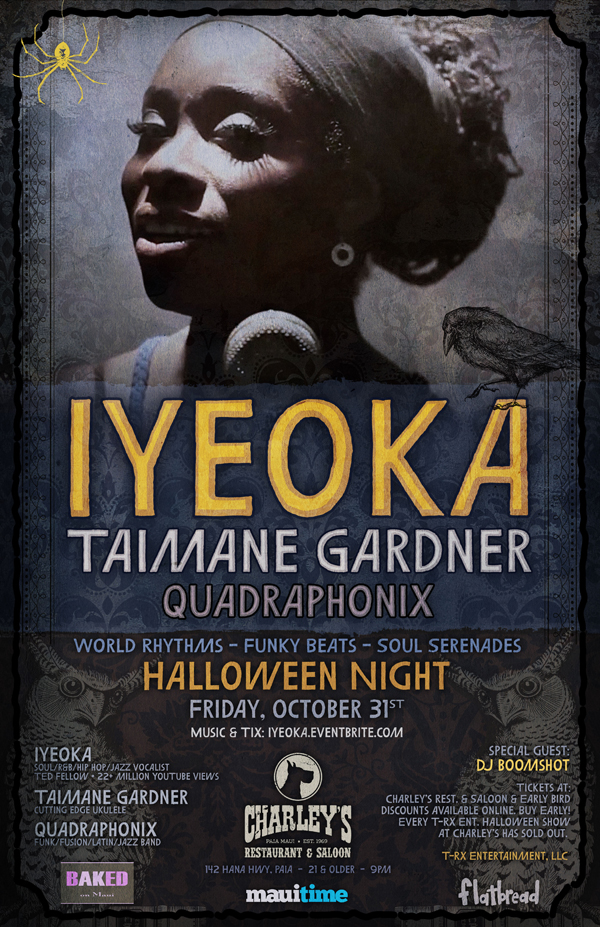 HALLOWEEN NIGHT!
Global Rhythms ● Funky Beats ● Soul Serenades
VIDEOS: Iyeoka ● Taimane Gardner ● Quadraphonix
Soul-drenched vocals, virtuoso ukulele picking and funky world grooves take center stage Halloween night at Charley's Restaurant and Saloon. Powerhouse songstress, Iyeoka, headlines the night bringing her internationally-renowned singing, poetic lyrics and moving messages to Paia. Her videos have amassed over 24 million views and counting on YouTube. Blending R&B and Hip Hop beats with potent words of activism and optimism, Iyeoka is sure to connect deeply with Maui's North Shore community. Another kindred spirit of Paia town, Taimane Gardner, will also deliver a full-length set and demonstrate why she's quickly becoming one of Hawaii's most loved artists and brightest international stars. Taimane's virtuoso playing and impassioned live performances have garnered her over 37,000 followers on Facebook and placed her in high demand around the globe. In fact, just one week prior to Halloween, Taimane headlines a show for Vogue Magazine in New York City. Tying it all together will be Honolulu's own, Quadraphonix. The band, hailed for its world-infused, funk rhythms and recognized for stand-out performances alongside the Black Eyed Peas and Ozomatli, backed Iyeoka on her 2014 European summer tour performing nightly to crowds of 3,000 to 20,000. In recent years, Quadraphonix has also backed Taimane for numerous concerts. A truly special celebration lies ahead with so many positives combining into one magical night.
 
And while the entertainment lineup will do much to stir the All Hallows' Eve kettle, don't overlook the roots of the night - Maui Halloween passion and the cozy confines of Charley's - Paia's long-loved music and dance institution. For as long as many can remember, Charley's has anchored the North Shore social scene providing the foundation for countless euphoric gatherings headlined by national stars and local heroes. And for the past six years, Halloween night at Charley's has been a sold-out affair establishing a new tradition in the Maui Halloween scene - all the greatest aspects of All Hallows' Eve in the heart of the North Shore: wildly creative costumes, exciting entertainment and Halloween aloha.  Past Halloween headliners at Charley's include The New Mastersounds, Quantic, 7 Walkers featuring Bill Kreutzmann and Papa Mali, Paia All-Stars (Joe Caro, Reggie McBride, Steve Ferrone, Eric Gilliom, Gretchen Rhodes and Mark Johnstone) and DJ Logic. This year, Iyeoka, Taimane Gardner and Quadraphonix are poised to build on this tradition by pouring soul, funk and global rhythms into the Halloween cauldron and creating a mesmerizing concoction sure to deliver everlasting memories.

Special Guest:  DJ Boomshot!
IYEOKA VIDEOS:
    ●  The Yellow Brick Road:
         http://youtu.be/OIykDz7NI2s?list=PL85F43E9A833AFBC0
    ●  Testify:
         http://youtu.be/-GH3eHhf4Zg?list=PL85F43E9A833AFBC0
    ●  Baba:  
         http://youtu.be/9XvLtpDugHA
    ●  Say Yes:
         http://youtu.be/_Oza3OZ_w_I?list=UUnuqkTb75K_IDD3zrDTuwSw
ARTIST BIOS & DETAILS: 
    ●  Iyeoka: Show Preview (see below) - Bio
    ●  Taimane Gardner:  Show Preview (see below) - Bio
    ●  Quadraphonix:  Show Preview (see below) - Bio

Mahalo to our sponsors for helping bring great LIVE music to Maui!

IYEOKA - CONCERT PREVIEW: 
What happens when an award-winning poet becomes a recording artist? It produces a magical combination of music that shakes your soul with inspiring lyrics that you'll want to commit to memory. That's exactly how you'll feel when you hear gifted Nigerian American artist Iyeoka perform. Her music interweaves powerful words about love, women and relationships with jazz, blues and funk music, and leaves you feeling overcome by the emotion it stirs.
Iyeoka's list of accolades is impressive and continues to grow. She is an accomplished poet, winning second place in the competitive 2009 Individual World Poetry Slam. She was also picked as one of 40 participants invited as a 2010 TED Global Fellow, and a featured performer at the TED Global 2010 Fellows in Oxford, England. Her voice was lent to a cover of U2's song "Desire," her music was featured on an episode of the HBO series "How to Make It In America," and her song "The Yellow Brick Road Song" is the theme song of the USA Network's show Fairly Legal. She's also performed on the TBS Trumpet Awards, the CBS hip hop show The Source All Access and Russell Simmons' Def Poetry Jam on HBO.
Audiences worldwide have been touched by her words. She has accumulated millions of views on YouTube, including her 2011 music video Simply Falling fetching more than 22 million views alone. Just as the song title suggests, you'll be simply falling in love with Iyeoka's music and words the second that you hear her sing.
By Christine Hitt
TAIMANE GARDNER - CONCERT PREVIEW: 
We are buzzing with excitement to bring one of Hawaii's most electrifying talents to Charley's, Taimane Gardner. No longer the "prodigy" she was as a child, Taimane has grown into a seasoned professional, a consummate artist and true virtuoso of her instrument.
Taimane first picked up the ukulele at age 5, but she was exposed to music much earlier than that, when her parents would hold earphones to her mother's belly while Taimane was still in the womb. It seems she was destined to become an artist. She played on the streets of Waikiki as a youngster, serenading delighted tourists. A chance encounter with a member of Don Ho's world famous Waikiki show during her "busking" days led to a featured part in that show. Taken into the Don Ho Show ohana, Taimane was allowed to shine and to learn from one of the most beloved showmen of all time.
Now a seasoned world traveler and accomplished recording artist, Taimane has captivated people around the world with her music. Transitioning seamlessly through a variety of musical forms, from classical to contemporary, flamenco to rock, and creating her own thoughtful and sophisticated compositions, Taimane is truly boundaryless in both her music and her appeal – delighting listeners of all ages and backgrounds. From brooding and hypnotic to thrilling and exhilarating, Taimane's melodies soar through the heights of musical expression. Her interpretations of institutional compositions like "Phantom of the Opera" and "Stairway to Heaven" have garnered critical acclaim for their deft execution and visionary innovation. Taimane has performed with musical legends like Chicago, Jimmy Buffet, Na Leo Pilimehana, and Chris Issak.
Having taken her rightful place among Hawaii's most talented, respected, and iconic musical figures, Taimane shines gracefully and brilliantly on the world stage. T-Rx Entertainment is proud to welcome Na Hoku Award nominee Taimane Gardner to Paia and add her name to the notable list of distinguished artists who have graced the stage at Charley's Restaurant & Saloon.
QUADRAPHONIX - CONCERT PREVIEW: 
Hawaii-based world beat band Quadraphonix will get you bobbing to the rhythm as it fuses Indian, Malaysian, Middle Eastern and Latin music with Western styles of jazz, blues and funk. A distinct cultural style and sound, Quadraphonix is described by drummer and band creator Jonathan Heraux as "the blues, heading back in the African direction" in an interview with Honolulu Pulse, which means its percussions stand out.
Jonathan Heraux brings a strong jazz and Latin influence to the group with his drum and percussion work, having lived in many countries including Panama, Haiti and Germany as a child. He's joined by Eli Clemens who is also a percussionist and experienced conga player, who brings the sound of Afro-Cuban percussive rhythms to each song that they play. Add to this, Shree Sadagopan, who plays the guitar, electric sitar and standup bass with a dreamy psychedelic sound, and you get a unique band that will deliver a performance unlike any other you've seen.
Quadraphonix has already caught the attention of the world, opening for Grammy winners and nominees such as the Black Eyed Peas and the Salsa Funksters, Ozomatli. In 2005, the group also opened a show in Japan to a punk ska band at a sold out show. And, most recently, they toured with singer, poet and recording artist Iyeoka last summer throughout Europe to crowds ranging from 3,000 to 20,000. Quadraphonix's fans continue to grow worldwide, and you'll soon see why.
By Christine Hitt
When & Where

Charley's Restaurant & Saloon
142 Hana Hwy
Paia, HI 96779


Friday, October 31, 2014 at 9:00 PM (HST)
Add to my calendar
Organizer
T-Rx Entertainment, LLC
T-Rx Entertainment has been producing events in Hawai'i for over 10 years.
Each year, we produce the Hallowbaloo Music + Arts Festival in Honolulu and roots concerts around the state. Past shows include Booker T. Jones, Edward Sharpe & the Magnetic Zeros, Diplo, 
Maceo Parker,
Xavier Rudd,
 Allen Toussaint, 
Big Freedia, Nahko and Medicine for the People,
Z-Trip, Steve Gadd, Cut Chemist, Greensky Bluegrass, 
Anders Osborne,
David Lindley, Gaudi, Jake Shimabukuro, Quantic, Brett Dennen, Ozomatli, Rebirth Brass Band, Warpaint, 7 Walkers (feat. Bill Kreutzmann & Papa Mali), Luther Dickinson, Iyeoka, Blitzen Trapper, Jon Cleary (with Steve Ferrone and Reggie McBride), Delta Spirit, John Cruz, The New Mastersounds, Mad Professor, Mike Love, Old Blind Dogs, Eddie Bo, Man Man, Big Chief Monk Boudreaux, Dengue Fever, Baths, The Budos Band, Paper Diamond, The Helio Sequence, Taimane, Benzi, Ursula 1000, DJ Logic, Jeremy Sole, Eric McFadden, Larry and Jenny Keel, Dj Low Down Loretta Brown (aka Erykah Badu), Charlie Hunter with Scott Amendola, and more.
IYEOKA ● TAIMANE GARDNER ● QUADRAPHONIX - Halloween, Paia Maui