IxDA Barcelona presents Josh Clark & Karen McGrane: Mobile Myths & Content

Thursday, May 31, 2012 at 7:30 PM (CEST)
Event Details
IxDA's next event will feature two 30' presentations from Josh Clark (@globalmoxie) is the author of "Tapworthy: Designing Great iPhone Apps") and Karen McGrane (@karenmcgrane), author of  "Content Strategy for Mobile" (coming in 2013)
Stay after the talks for a drink and meet Josh, Karen and fellows IxDAers!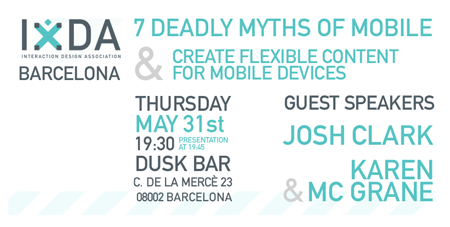 Josh Clark: The Seven Deadly Myths of Mobile
A set of persistent myths are driving the development of mobile experiences that frustrate more than delight. "Info snacking." "The distracted, rushed mobile user." Those behaviors don't always, or even usually, exist, yet too often we design solely for those contexts, creating mobile apps as lite versions of their desktop counterparts. Instead, mobile apps should almost always do MORE than their desktop counterparts. Josh Clark explains the difficult craft of designing simple interfaces for complex mobile apps, sharing techniques for future-friendly mobile efforts and, along the way, debunking seven stubborn mobile myths.
Karen McGrane: Adapting Ourselves to Adaptive Content
For years, we've been telling designers: the web is not print. You can't have pixel-perfect layouts. You can't determine how your site will look in every browser, on every platform, on every device. We taught designers to cede control, think in systems, embrace web standards. So why are we still letting content authors plan for where their content will "live" on a web page? Why do we give in when they demand a WYSIWYG text editor that works "just like Microsoft Word"? Worst of all, why do we waste time and money creating and recreating content instead of planning for content reuse? What worked for the desktop web simply won't work for mobile. As our design and development processes evolve, our content workflow has to keep up. Karen will talk about how we have to adapt to creating more flexible content.
---
If you can't make it and/or want to see Josh & Karen in action some more, we invite you to the full-day workshop "Small Screens, Big Changes" that they will be teaching the next day at the World Trade Center. 
Read more about it: http://workshops.globalmoxie.com
Sign up here: http://mobile-bcn.eventbrite.com/
---
More info about Josh: http://globalmoxie.com
More info about Karen: http://karenmcgrane.com/
More info on the IxDA (Interaction Design Association):
IxDA Barcelona is organized by:
with the invaluable help from:
Have questions about IxDA Barcelona presents Josh Clark & Karen McGrane: Mobile Myths & Content?
Contact IxDA Barcelona
When & Where

Dusk Bar
Carrer de la Mercè, 23
08002 Barcelona
Spain


Thursday, May 31, 2012 at 7:30 PM (CEST)
Add to my calendar
Organizer
IxDA Barcelona
IxDA Barcelona (surprise) is the local chapter of the IxDA. Once every while we organize events with speakers and serve as a platform for discussion and news for everything related to interaction design, ux design and usability in the Barcelona area.
IxDA Barcelona presents Josh Clark & Karen McGrane: Mobile Myths & Content