First time participants welcome! A virtual sacred circle to uplift our hearts in community & reignite our spirit in a sacred feminine ritual
About this Event
"I loved the absolute gentleness of the nature ritual. My heart feels so good." - L. S.
Makané (Mel) is an integrator of positive psychology, art, music & divination. Her training emphasized mindfulness and Yogic ways of healing, and is an advocate for trauma-awareness. Both an artist, arts educator and a facilitator of rituals, Makané understands in depth the healing power of art, co-creative community, artistic grounding practices, mindfulness, and regularly uses rituals and sacred containers in her own healing practices.
"A ritual is space to create intention for opening our channel of gratitude for our existence on this sacred earth." -Makané
Spirit Meets Earth is a radical experiment, a traveling farm creating gorilla pollinator gardens and offering the sacred medicine of Cacao in ceremony to communities who might not otherwise experience this heart-nurturing plant ally. Through the practice of the medicine wheel, spiritual chanting, drumming / rattling and divination Makané will gently guide each group to dive deep into our collective unconscious to retrieve our creativity and joy. A sacred Cacao journey is a journey within to open our hearts, moving out of fear-based mindset into stepping courageously into the heart.
Cacao is a plant medicine that is known for activating our bliss hormone, calming our vagus nerve, resetting our nervous system, connecting us to our rest response, expanding the energy in our heart and in our creative psychospiritual center.
Cacao helps us embody our highest divine love, via chemical activation of natural synthesis of anandamide a reset is available for your body's reservoir of joy, love, gratitude and aliveness.
If you have never experienced the power of the raw cacao, this gentle natural healer plant is nothing short of revolutionary compared to store bought chocolate. Many report a feeling of emotional freedom, softening of their judgment, release of emotional build-up, sense of creative possibility, integration and inner harmony.
Ceremonially grown cacao is a native crop nurtured by indigenous earth protectors (opposed to regular colonized forms of chocolate) that is vibrationally potent as well as high in many medicinal properties. It is fairly traded, and lovingly prepared and permaculture grown the artisanal way, by hand and with spiritual intent. And yes, Covid-19 safety measures are very much in place in preparing this!
Afterwards there will be time to journal share and reflect as a way to integrate our initial ceremony's insights into the whole of our spirit and our community.
To the Above, May You Inspire Us
To the Below, May You Sustain Us
To the Behind, May You Protect Us
Herbalist, curandera, art therapist and gitana, Makané is a heart-centred teacher, wisdom-keeper of Pachakuti Mesa traditional medicine who guides her students in a gentle, but powerful way, to reawaken to true inner knowing & healing and rekindle our sacred relationship to pachamama, mother earth.
Makané was taught by her elders that everything is alive, and everything has a vibration, and that nature has a medicine for everything. Her grandmother and her mother were herbalists in a long line of women healers, each well connected to their Intuitive guidance. Makané has been a student of yoga and menditation for 20 years, beginning with a Hatha Yoga course with Julie Feenstra at El Camino College, Kali Yoga with Dharma Shakti, Kundalini at Pomona College with Karen May, Pranayama & Yin with Sara Powers, and Yoga Nidra training and mentoring with meditation, and yoga teacher Mia Park. Makané integrates the many healing paths, the way her grandmothers ancestors, gitana (Spanish & Northern India origin gypsies) musician-artist-healers have done from the beginning.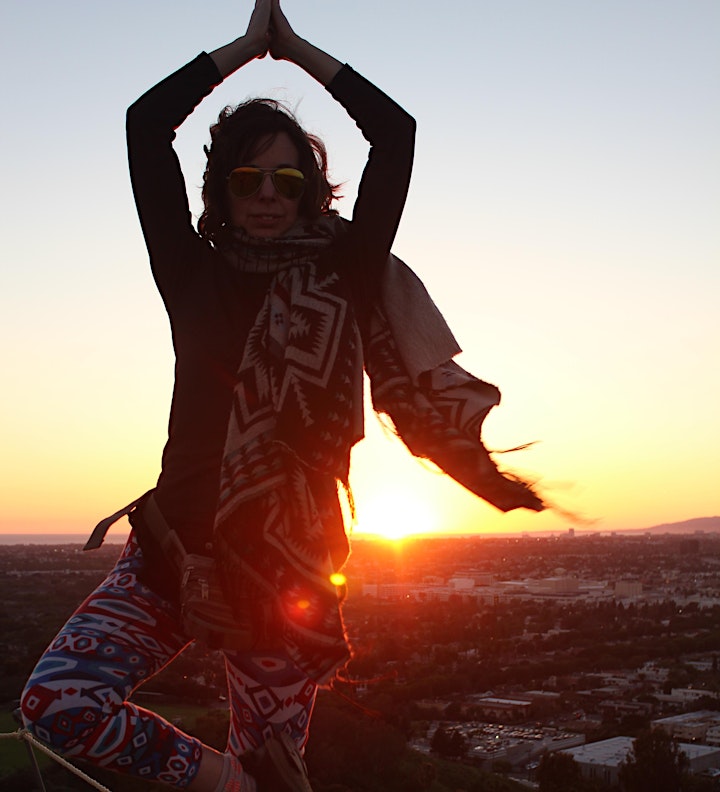 "The bad news is you're falling through the air, nothing to hang on to, no parachute. The good news is, there's no ground."
-Chogyam Trungpa