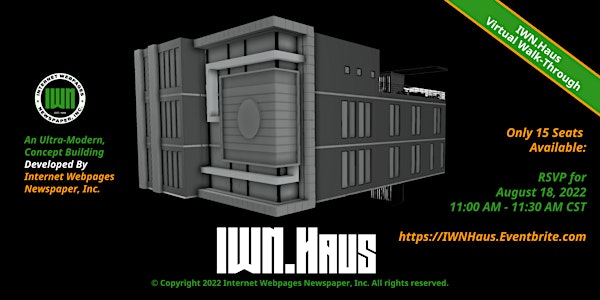 IWN.Haus Augmented Reality 3D Experience Part 1
An Ultra-Modern, Concept Building Developed By Internet Webpages Newspaper. Experience a virtual "Walk-Through" of IWN.Haus' Digital Twin.
About this event
IWN.HAUS VIRTUAL WALK-THROUGH (Part 1)
You're invited to attend a virtual "walk-through" of the IWN.Haus 3D model which was designed by a Nigerian Architect for Internet Webpages Newspaper, Inc. (IWN) in Chicago, IL USA.
IWN Founder, Danté Hamilton, will present the top floors of IWN.Haus, which include:
FLOOR 2 - Event Space/Gallery, Entrepreneurs E-Commerce Academy, MetARVRs3D.Solutions Training Center, Private Suites, And More
FLOOR 3 - Business Center, Journalist & Content Creator Coworking Center, Private Dining Room, Kitchen & Cafe, And More
PENTHOUSE / OPEN-AIR ROOFTOP - Indoor bars, Prep Kitchen, Small Event Space Room, Open-Air Terrace, And More
LIMITED SEATING
There are only 15 seats for this event. These 15 seats will allow each participant to "walk-through" the entire space on a guided tour by Mr. Danté along with special invited guest host and Brand Ambassador Kawana D.
Participants will explore IWN.Haus in an online, immersive 3D virtual setting. As well as tour the IWN.Haus on your own during this online event.
Seats are limited, RSVP Now!
IWN Haus Inspired by Garden Valley Neighborhood House Part 1 (Video Description)
Welcome to Part 1 of IWN Haus and how this ultra-modern, commercial building design concept being developed by Internet Webpages Newspaper, Inc, (IWN) was inspired by Garden Valley Neighborhood House in Cleveland, Ohio USA.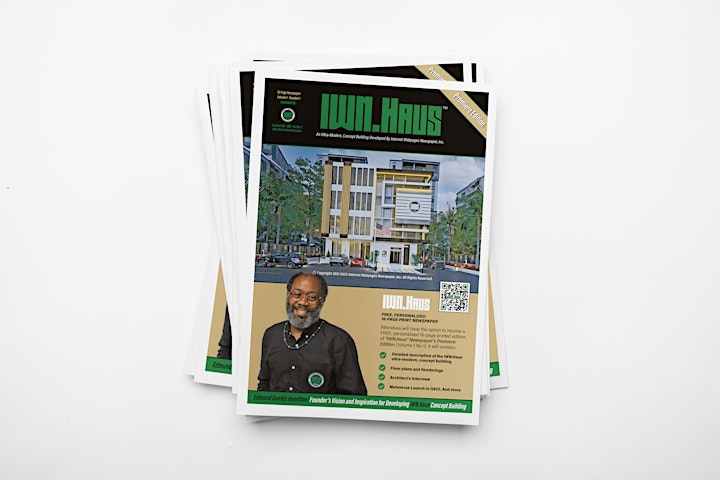 FREE PERSONALIZED 16-PAGE PRINT NEWSPAPER
Attendees will have the option to receive a FREE, personalized 16-page printed edition of "IWN.Haus" Newspaper's Premiere Edition (Volume 1, No 1).
It will contain:
Complete description of IWN.Haus ultra-modern, concept building
Floor plans and Renderings
Architect's Interview
Metaverse Launch in Q422
And more