IWN Denver | From Cupcakes to Chemicals: How the Culture of Alarmism Makes...
Description
Please join Independent Women's Network Denver chapter on April 14th at the Independence Institute.
Julie Gunlock, IWF Culture of Alarmism Director, will discuss the culture of alarmism present in society today. Americans are bombarded with messages about how everyday products and activities threaten their health and the health of their children. Politicians and government regulators then use this alarmism to promote regulations that expand their power. The costs of this dynamic are serious: wasted tax dollars, higher costs and inferior goods for consumers, fewer jobs in companies navigating through red tape, and needlessly worried, less free Americans.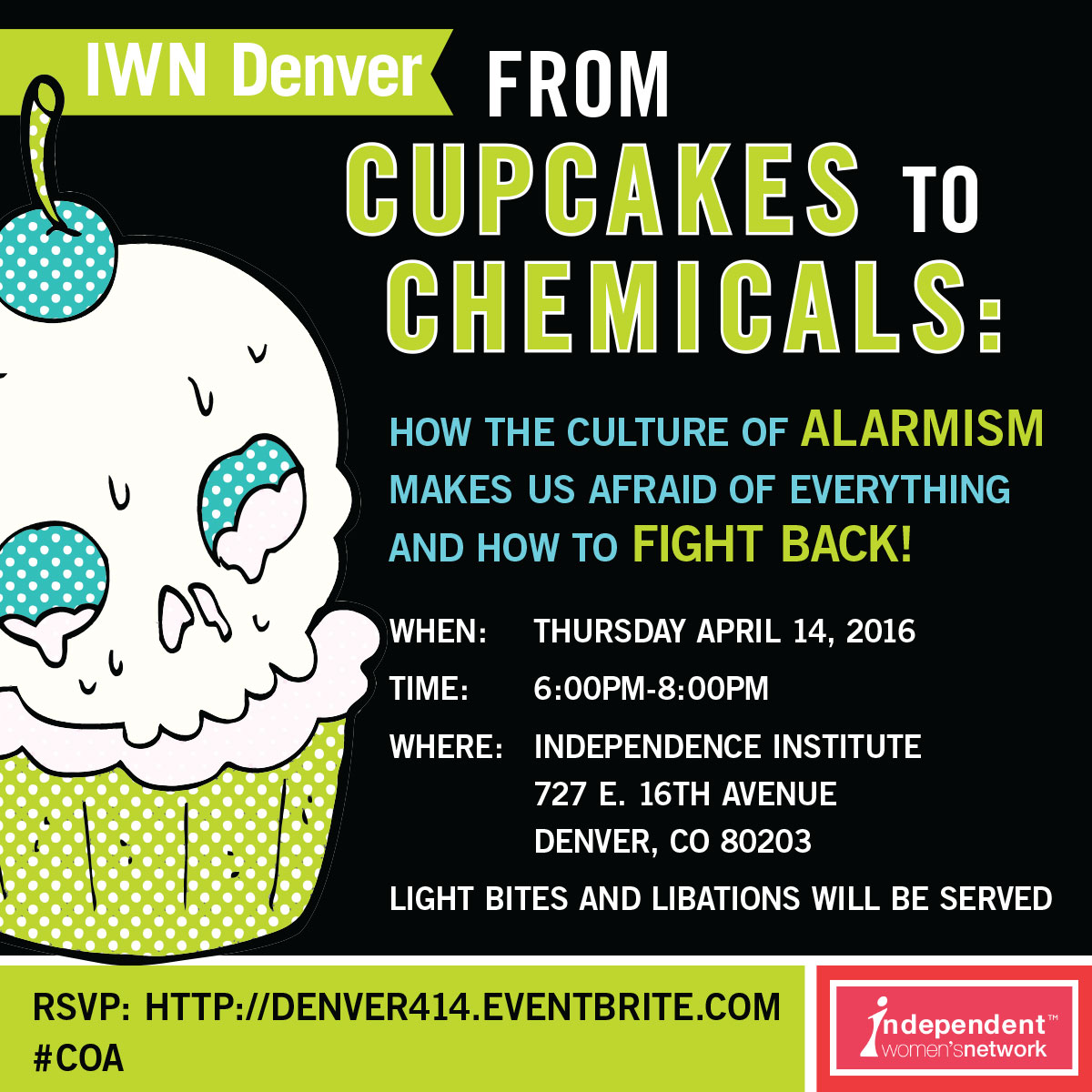 Julie Gunlock is a Senior Fellow at the Independent Women's Forum and directs the organization's Culture of Alarmism Project. She is the author of the book From Cupcakes to Chemicals: How the Culture of Alarmism Makes Us Afraid of Everything and How to Fight Back.
Before joining IWF, Gunlock served as a Professional Staff Member on the Senate Homeland Security and Governmental Affairs Committee and on the House Homeland Security Committee, and on the staffs of Ohio Senators Mike DeWine, George Voinovich, and Tom Coburn. Gunlock has written about food and culture for the New York Post, the Washington Post, New York Daily News, the Los Angeles Times, USA Today, Forbes, U.S. News & World Report, The Washington Times, National Review Magazine, National Interest Magazine, the Tampa Tribune, and Townhall.com and is a regular contributor to National Review Online, BlogHer and Huffington Post. She has offered political commentary on Fox News, TheBlaze TV and other networks and is a regular guest on local, regional and national radio programs.
For questions or more information, please contact info@indpendentwomensnetwork.org