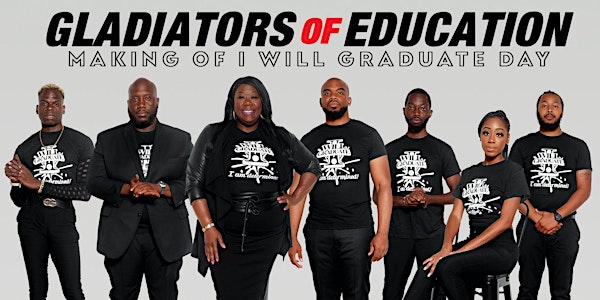 IWG Presents: GLADIATORS OF EDUCATION "The Making of I Will Graduate Day"
CALLING ALL I WILL GRADUATE FRIENDS, FAMILY, PARTNERS & SUPPORTERS !! WE'D LOVE YOU ALL TO JOIN US AS WE DELVE INTO THE MAKING OF IWG DAY !!
When and where
Location
Restoration Plaza 1368 Fulton Street Brooklyn, NY 11216
About this event
I WILL GRADUATE PRESENTS: GLADIATORS OF EDUCATION "THE MAKING OF I WILL GRADUATE DAY"
AIRING ON CBS 2 NEWS OCT. 3RD !!!
ALL FRIENDS, FAMILY, PARTNERS & SUPPORTERS COME OUT!!! BE APART OF HISTORY!!! WATCH OUR CBS NY HIGHLY ANTICIPATED DOCUMENTARY!!!
I WILL GRADUATE: A BROOKLYN POWERHOUSE YOUTH DEVELOPMENT AGENCY SHOWCASES THEIR RESILIENT AND TIRELESS EFFORTS PRODUCING NYC'S BIGGEST YOUTH EMPOWERMENT EVENT; INSPIRING OUR YOUTH TO MAKE SMART CHOICES AND PURSUE THEIR GOALS AND DREAMS. PREPARING FOR THE EVENT, THE AGENCY FIGHTS THROUGH ADVERSITY, FINANCIAL HARDSHIPS AND A GLOBAL PANDEMIC (COVID-19).
I WILL GRADUATE DAY NYC: The largest youth empowerment program and celebration of education is back! October 24th, 2022 @ The Barclay Center from 12-6 pm!
I WILL GRADUATE DAY will keep students engaged by bringing surprise appearances by some of their favorite celebrities, musical acts, and performers to spotlight the day's important theme, leaving students re-energized, re-focused, and re-committed to their education.
Join the I WILL GRADUATE Initiative in inspiring New York City students to "Get Focused and Stay Focused" for the 2022–2023 school year.