Dieses Event ist beendet.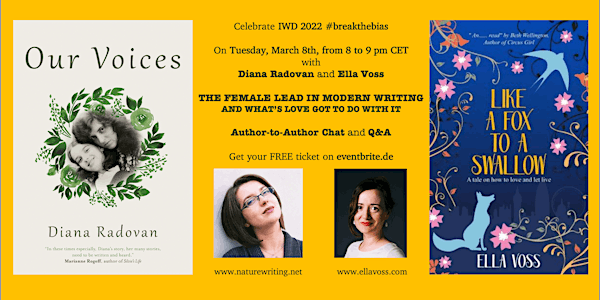 IWD2022 - The Female Lead in Modern Writing - Diana Radovan and Ella Voss
IWD2022 #breakthebias Online Event: Author-to-Author Chat and Q&A. THE FEMALE LEAD IN MODERN WRITING AND WHAT'S LOVE GOT TO DO WITH IT?
Zu diesem Event
About the Theme
What does it mean to be a woman today, when traditional gender roles no longer work, but generally valid new narratives don't exist yet?
These are the questions we'd like to raise today and perhaps together find new answers under the IWD2022 motto #breakthebias.
In this free virtual event, Diana Radovan and Ella Voss will explore their experience of being in the world as women, authors, and readers, through these topics:
What does Women's Agency in Relationships mean?
How does it manifest in the speakers' own writing?
How does it show up in modern literature?
Writing agency in relationships is the most challenging and the most interesting task for female writers these days. Is choice for women really only between having a family (serving and nurturing a partner and/or children) or a career (serving a boss, a capitalistic way of seeking validation), or do women have more nuanced choices?
What we often see today are brief attempts of women focusing on ambition, to then feel alone (because they are) and relapse into old, toxic relationship patterns.
The speakers will explore modern, yet connected female characters (connected to themselves, to other women, to nature, to the world), who build their own tribe, script, and path in life, which ultimately frees them from negative influences.
At the end, both authors as well as audience members will take their #IWD2022 pledge. What are we going to do next to break the bias, and how?
About the Speakers
Diana Radovan is a Romanian-born author living in the Bavarian Alps. She has been publishing her multigenre, multilingual writing internationally since 2004. Her hybrid nonfiction has received many distinctions and awards, including a Text+Bild first place, a Best of the Net nomination, as well as Gold Line Press Chapbook and Tupelo Quarterly Prose Open Contest finalist status. She teaches a class on kaleidoscopic narratives at Beyond Form Creative Writing.
Our Voices by Diana Radovan
"As Diana has navigated the repercussions of "being from" that "other" (Eastern) Europe, she has taken on the task of giving voice to the reality. Adventurous in spirit, a nature lover, a city wanderer, a photographer, and a bright mind, Diana's outlook is truly international. In these times especially, her many stories, need to be written and heard." - Marianne Rogoff, author of Silvie's Life and Pushcart Prize nominee
Ella Voss is a Munich-based author writing in English. She grew up in Germany and has lived in Switzerland, the UK and India. Her short stories about love and life are inspired by themes evolving around women's agency and human empathy. The contemporary settings in her texts often merge into the magical, on the outset they are funny, and then slowly creep under your skin.
Like A Fox to A Swallow by Ella Voss
"In Like a Fox to a Swallow, characters navigate the confusion of modern relationships in an intense battle for connection. With withering insight, Voss exposes her characters in all their human complexity with truly brilliant flashes of unforgettable prose." - Elizabeth Carter Wellington, author of Circus Girl: A Novel