About this Event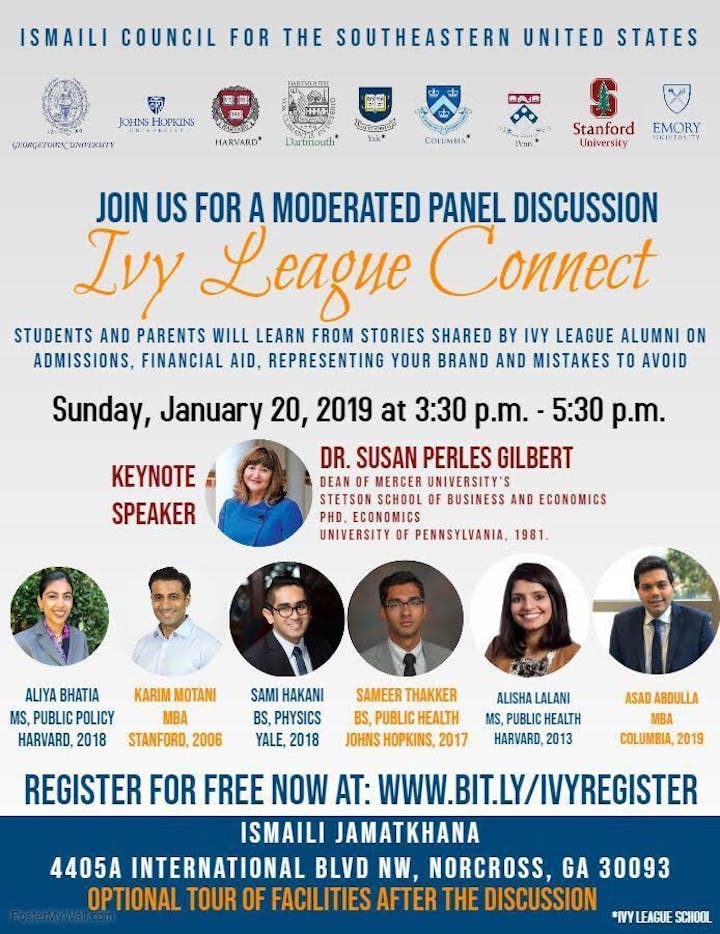 Volunteer Registration only.
Check-in - Twelve (12) volunteers will help with check-in.
Usher - Four (4) volunteers will help guide attendees from the entrance to the check-in area.
Greeter - Four (4) volunteers will help facilate attendees to their corresponding areas.
Please note - we are asking all volunteers to be at the venue by 2:30 pm.
Students and Parents will learn from stories shared by Ivy League alumni on admissions, financial aid, representing your brand, and mistakes to avoid when applying to Ivy League schools.
An optional tour of the Ismaili Jamatkhana will be provided at the end of the program. Light refreshments will be served.
About The Ismaili Jamatkhana and Community: The Ismaili Jamatkhana fosters an appreciation of pluralism and seeks to enhance relationships among faith communities, government, and civil society. Events at the Ismaili Jamatkhana aspire to stimulate the intellect, encourage dialogue, and celebrate cultural diversity in the greater Atlanta area. The Ismaili Muslims are a culturally diverse community living in over 25 countries around the world. They adhere to a 1,400 year tradition of Shi'a values that are expressed through a commitment to a search for knowledge for the betterment of self and society; embracing pluralism by building bridges of peace and understanding; and generously sharing of one's time, talents, and material resources to create a better future for the community and those among whom they live.
 "The Center will be a place of peace, humility, reflection and prayer. It will be a place of search and enlightenment... It will be a center that will seek to bond men and women of this pluralist country to replace the fragility in their narrow spheres by the strength of civilized society bound together by a common destiny." -  His Highness the Aga Khan, 49th hereditary Imam (Spiritual leader of the Shi'a Ismaili Muslims) and a direct descendant of Prophet Muhammad (peace be upon him) at the inauguration of the Ismaili Jamatkhana and Center in Houston, TX in 2002
To learn more about the Ismaili community, please visit http://the.ismaili