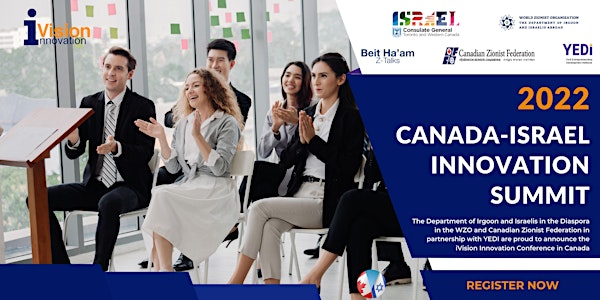 iVision Innovation
Join us for a day of networking and discussions on Israeli-Canadian Innovation, joint-venture creations and funding opportunities.
When and where
Location
YEDI Business Acceleration Campus 907 Alness Street Toronto, ON M3J2J1 Canada
About this event
The Department of Irgoon and Israelis in the Diaspora in the WZO and Canadian Zionist Federation in partnership with YEDI are proud to announce the Vision Innovation Conference in Canada.
We have an eventful and exciting day planned with exclusive guest speakers, success stories, panels and one-on-one opportunities with our speakers.
This is a hybrid event with limited in-person seats. Kindly RSVP and indicate your preference to attend in-person or virtually via Zoom. Attendess whom expressed in-person preference will be sent a ticket to purchase ($18) pending availability. Refreshments will be served.
All virtual pariticpants are able to join the event at no cost. A Zoom link will be sent to you upon registration.
Doors will open at 9:30AM.
10:00 AM Greetings and Opening Remarks - Mr. Les Rothschild & Dr. Marat Ressin
10:05 AM Remarks from Melissa Lantsman, MP
10:15 AM Remarks from Laura Smith, MPP
10:20 AM The Largest Start-Up in the World – Gusti Yehoshua-Braverman
11:00 AM Introduction to Israel and Innovation – Eliezer (Moodi) Sandberg
12:00 PM Coffee Break
12:30 PM Panel Discussion 1: International Collaboration on Innovation between Israel and Canada
Dr. Marat Ressin, Eliezer (Moodi) Sandberg, Oleg Vakhromov, Ben Weinberg
1:15 PM Lunch/Networking
2:00 PM Guest Speaker: Corinne Berger
2:10 PM Angelo Del Duca Presenting IRAP – Canada/Israel Fund
2:15 PM Guest Speaker: David Shore, OurCrowd
2:30 PM Guest Speakers: Oleg Vakhromov, Founders of CaringEye: Their Story
2:45 PM Panel Discussion 2: Funding Opportunities Available to Propel Innovative Canadian-Israeli Start ups
Natty Nashman, Angelo Del Duca, David Shore, Dr. Marat Ressin
3:30 PM Closing Remarks
3:35 PM Networking