Ivf对话分享会:聊聊《怀孕那件事》

Saturday, December 17, 2016 from 3:00 PM to 5:00 PM (Malaysia Time Malaysia (Kuala Lumpur) Time)
Event Details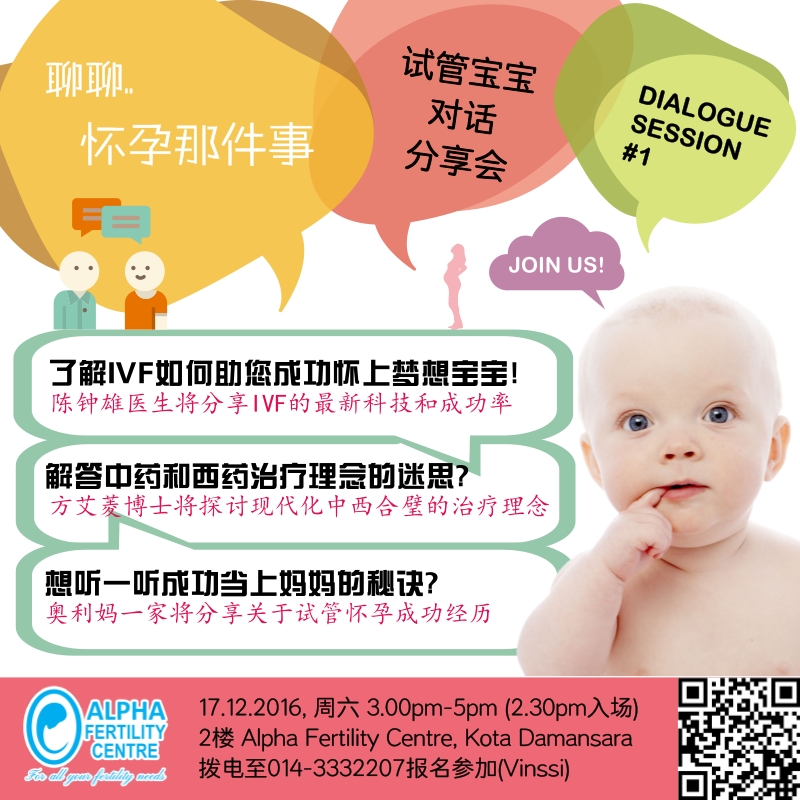 这次的分享会将以别开新面的对话方式进行,并由
我们的陈钟雄医生主导及两位邀请到的贵宾,方艾菱博士和Blogger奥莉妈一家一起轻松聊聊
关于IVF试管婴儿的最新技术、中西治疗法的迷思、及如何从不孕到成功怀孕的秘诀!
专家介绍:
MD(UKM), MRCOG (UK)
助孕专科及妇产科专科医生
毕业于大马国民大学的陈医生,成功获得英国皇家妇产科院士(MRCOG)的专业资格并已有多年的临床经验。陈医生曾担任吉隆坡中央医院和柔佛州居銮医院的妇产科医生,并参与高危妊娠和妇科病例管理以及生殖医学和微创手术的研究和培训。此外,他也曾受委为国际医学大学IMU和MAHSA大学的榮誉讲师。如今陈医生活跃于不孕领域治疗与研究及参与国内外生殖医学研讨会。
方艾菱博士
Terrenz H'ng PhD
不孕顾问及专业医师
了解中医和西医之间的长处和短处,除了精通中医药的运用,更钻研西方最先进的治疗理论,凭着多年的研究心得与经验,以全方位的调理帮助众多不孕夫妇以最自然的方式达成生儿育女心愿。拥有美国综合辅导博士学位、英国草药学高级文凭以及中国厦门中医大学学士学位等,深受国内外的肯定,也是《英国生育协会顾问会员》和《中国医药技术国际发展委员会委员》。
方博士:随着时代的变迁,无论是不孕症还是其他疑难杂症,在中国、香港、台湾都施行中西合璧的治疗理念,为病患达到治疗的最佳效果。让我们一起来探讨现代化中西合璧的治疗理念是如何运用在"试管婴儿"的范畴吧!
Blogger奥莉妈一家
部落客奥莉妈咪和奥莉爸比将与大家分享他们从饱受不孕症困扰直到成功怀孕生宝宝的心路历程。奥莉妈咪将与各位妈妈分享在接受IVF疗程中的调理方式,如心态的重要性、如何勇敢面对压力及疗程中的点点滴滴。而奥莉爸比也将解说他是如何在疗程中给予老婆支持和鼓励,共同扶持及参与整个过程。
活动详情:
IVF试管分享会(免费入场)
- 时间: 17.12.2016, 周六3.00pm-5.00pm (2.30pm入场)
- 包括问答环节、茶点招待、一对一咨询环节
- 地点:2楼Alpha Fertility Centre, Kota Damansara (Waze/Google Map查找地点)
- 报名方式:拨电/WhatsApp014-3332207(Vinssi)
主办单位:
Alpha Fertility Centre
Level 2, No. 31 Jalan PJU 5/6, Dataran Sunway, Kota Damansara 47810 Petaling Jaya, Selangor, Malaysia .
When & Where

Alpha Fertility Centre
Level 2, 31 Jalan PJU 5/6
Petaling Jaya, Selangor 47810
Malaysia

Saturday, December 17, 2016 from 3:00 PM to 5:00 PM (Malaysia Time Malaysia (Kuala Lumpur) Time)
Add to my calendar
Organizer
Alpha Fertility Centre (AFC) is set up and run by leading doctors and embryologists responsible for numerous fertility firsts both in the region and worldwide.  This purpose built advance fertility centre located in Selangor, Malaysia is equipped with the latest full range of fertility treatment options including PGD/PGS with Ion Torrent NGS, Egg Donation, Egg Banking and Embryo Freezing using revolutionary freezing technology.
As the name Alpha suggests, doctors and staff at Alpha Fertility Centre have successfully innovated numerous fertility treatment procedures that have led us to achieve many firsts. In addition to achieving numerous fertility firsts in Malaysia and Singapore, we have also achieved / innovated many world firsts.  In the tradition of firsts, we at AFC are committed to put you and your fertility needs our 1st priority. We treat every couple individually and tailor make a treatment programme that caters for your specific needs.  With our wealth of expertise and innovative technology, let us be your dedicated partner in making your fertility journey a successful one.