Support IVC through your donation in our scholarship fundraising drive.
About this event
In early 2020, as the entire world grappled with fallout from the Covid-19 pandemic, Ivy Vine Charities, Inc. had to cancel all in-person fundraising activities for the foreseeable future. As a result, new ways were found to raise critical funds that help advance its mission. Monetary donations through campaigns like the GIVING TUESDAY are more important than ever.
By making a tax deductible donation today, your support will allow Ivy Vine Charities, Inc. to continue to make a positive change in the lives of our youth and the communities in which it serves.
Thank you for your continued support.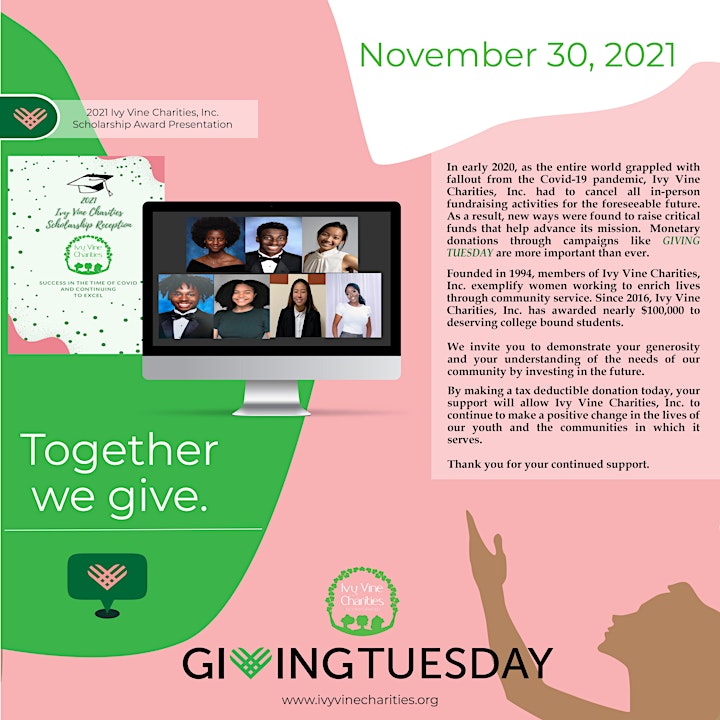 Organizer of IVC Giving Tuesday 2021
Ivy Vine Charities, Incorporated was founded as Theta Omega Omega Charities, Incorporated in 1994 by the members of Alpha Kappa Alpha Sorority, Incorporated, Theta Omega Omega Chapter, in Silver Spring, Maryland. Ivy Vine Charities is an outgrowth of the dedication to providing exemplary community service activities in Montgomery County, Maryland for over twenty-five years.
The mission of Ivy Vine Charities, Incorporated is to enhance the quality of life for the community that we serve by:
•Providing scholarships
•Making charitable donations
•Promoting community service activities
Ivy Vine Charities invites support from individuals, businesses and foundations to carry out its community service programs. Fundraising events have included the Afternoon Tea, Annual Golf Benefit, Crab Feast, Debutante Cotillion, Ivy Vine Charities Walk, Father-Daughter Dinner Dance and the Partnership Program.


Ivy Vine Charities, Incorporated is recognized by the Internal Revenue Service as a 501 (c)(3) nonprofit organization and contributions are deductible to the full extent allowed by law.


Contact Information:
Email - info@ivyvinecharities.org.
Website - http://ivyvinecharities.org
Mailing Address - 43 Randolph Road, PMB 102
Silver Spring, MD 20904
Phone: (301) 368-2105