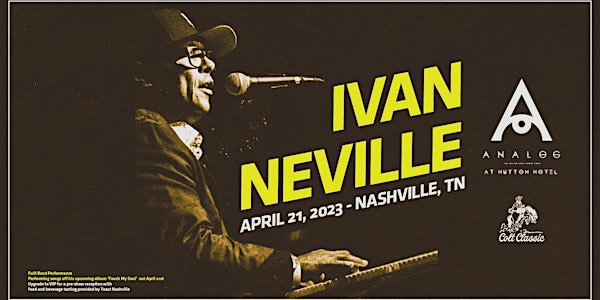 Ivan Neville LIVE at Analog
IVAN NEVILLE, celebrates the release of his new album, TOUCH MY SOUL. Join us for a VIP pre-show reception with Toast Nashville!
By Analog at Hutton Hotel
Date and time
Friday, April 21 · 7 - 10pm CDT
Location
Analog at Hutton Hotel 1808 West End Avenue #2nd Floor Nashville, TN 37203
Refund Policy
Contact the organizer to request a refund.
About this event
Analog + Colt Classic present legendary funk songwriter and performer, IVAN NEVILLE, playing songs from his new album TOUCH MY SOUL!
DOORS 7 PM/SHOW 8 PM
$25 GA ADV
$30 GA DOS
$40 RESERVED SEATING
ADD A VIP PRE-SHOW RECEPTION AT 5 PM FEATURING FOOD & DRINK TASTING WITH CELEBRITY CHEFS FROM TOAST NASHVILLE - $65
ABOUT IVAN NEVILLE
As a standard bearer for the musical culture of New Orleans, Ivan Neville takes his anointing as seriously as the swamp water that courses through his veins. From the ferocious funk he makes with his bandmates in the dynamic Dumpstaphunk to his high profile gigs with Keith Richards and Bonnie Raitt, he embodies the irrepressible spirit of New Orleans.
Touch My Soul -- Ivan's first solo album in almost 20 years -- is tough-minded but also tender, filled with joy, beauty and pain. It exudes an unmistakable New Orleans ambience and breathes new life into his singular sound. It's both a love letter to the Crescent City and a celebration of his emotional and spiritual journey as an artist, a father and a man. "I haven't written any new material for myself in a long time," Ivan explains, "so this project is very special to me. I made it up as I went along, a song here and there, in between my work with Dumpsta and my work with good musical friends."
Ivan Neville holds the keys to the Crescent City at his fingertips. He can summon the barrelhouse mambo of Professor Longhair and the spidery intricacies of James Booker. He can play spooky, atmospheric chords like Dr. John. He can riff like Sly Stone with catchy, melodic chord progressions. Or he can throw intense, impulsive jabs when he jams with his brothers in Dumpstaphunk.
"Music is a way to make people feel better, it brings spiritual healing," he says. "I take my job very seriously."
Consider that Ivan's blood line runs through two of the most influential groups that New Orleans has produced, and that he has played with them both. His uncle Art Neville was the vocalist and keyboardist with the Meters, who epitomized New Orleans funk and are among modern music's most sampled groups.
Art also founded the Neville Brothers with Ivan's uncles Charles and Cyril, and his father, the great balladeer and stylist Aaron Neville. The Nevilles' musical range not only spanned generations but also idioms like carnival rhythms, pop, soul, R&B and jazz; their collective identity galvanized Black New Orleans's cultural life to create a musical identity that focused their individual gifts with grace and grit.
Ivan is even more humble about his stature at the highest echelon of modern music. He has performed and recorded with the Rolling Stones, Bonnie Raitt, Don Henley, Robbie Robertson, Ani DeFranco and the Spin Doctors, among many others. He's a charter member of Keith Richards' X-Pensive Winos. He's a founding member of the New Orleans Social Club and the group Neville Jacobs, in partnership with the songwriter Cris Jacobs.
ABOUT VIP PRE SHOW (5 PM):
Get the party started at this Exclusive VIP event featuring signature dishes from the best Restaurants & Chefs from Nashville and beyond! Presented by Food Network Chef Kev D & 360 Events. Surprise special guests!
Craft Cocktails, Vintage Wine & Craft Beer, carefully curated by top National & Nashville brands are all included with your VIP pre-show ticket.
NOTE: VIP PRE-SHOW RECEPTION IS AN ADD-ON TO YOUR CONCERT TICKET. YOU MUST PURCHASE A GA OR RESERVED SEATING TICKET TO ATTEND.
About the organizer
Analog at Hutton Hotel is an intimate music venue showcasing the industry's most inspired musicians that gives you an up close and personal experience in a comfortable living-room style setting. It immerses audiences in Nashville's unrivaled live music scene, where storytelling is prized above all else. Located just steps from the famed Music Row, Analog was designed to provide some of the best venue acoustics in all of Nashville while providing an intimate, interactive, and engaging experience for audiences and talent. From the artists; to the design of the lounge seating; to the advanced, innovative technology; to the mixologist providing crafted cocktails—the artistic spirit inspires a unique experience nightly.