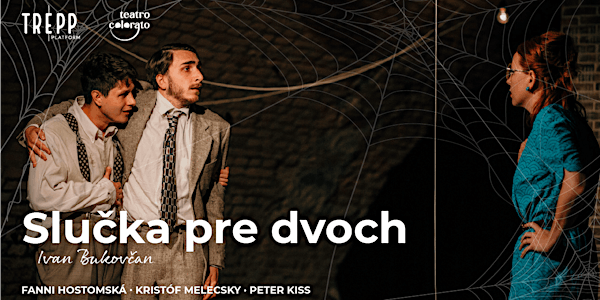 Ivan Bukovčan: Slučka pre dvoch
Divadelné predstavenie, tešíme sa na Vás v novom roku! Poďte s zasmiať!
When and where
Location
Teatro Colorato 2 Františkánske námestie 811 01 Bratislava Slovakia
About this event
OPÄŤ V TEATRO COLORATO: Tragifraška na povale!
Predstavte si, že by ste boli niekoľko rokov zavretí na vlastnej povale. Predstava v dnešnej dobe až desivo realistická. Adam sa päť a pol roka skrýva pred zodpovednosťou za svoje činy a jediný ľudský kontakt má so svojou ženou. Tá sa oňho vytrvalo stará, teda až kým sa v jej živote neobjaví večný študent a hypochonder Dodo.
Slučka pre dvoch je tragifraška z prostredia kúpeľného mesta, ktorá sa zaoberá témami sociálnej izolácie a manipulácie vo vzťahu. Čo spravia s Adamom roky samoty? Má šancu si udržať zdravý rozum a funkčný vzťah alebo je jeho predošlý život odsúdený na zánik? A vôbec, nemôže za to všetko vlastne žena?
Vzťahy v kritických situáciách môžu dopadnúť všelijako, no do slučky sa zmestí iba jeden. Alebo žeby nie?
LÍSTKY: tu na stránke si môžete rezervovať a na mieste zaplatiť ľubovolný príspevok 10 €
pre študentov 5 € :)
Realizačný tím:
Réžia: Patrik Samohyl a kolektív
Dramaturgia: Rebeka Lukáčová
Scéna: Martin Puškár
Kostýmy: Miroslava Brňáková
Svetelný dizajn: Monika Rybárová
Obsadenie:
Fanni Hostomská, Peter Kiss, Kristóf Melecsky
Miesto: Teatro Colorato, Františkánske námestie 2, Bratislava
Inscenácia je realizovaná pod záštitou divadelnej platformy Trepp.
https://www.facebook.com/trepptheater
https://www.instagram.com/trepp_platform/
Upozornenie: V predstavení sa fajčí.
Dĺžka predstavenia: 85 min.