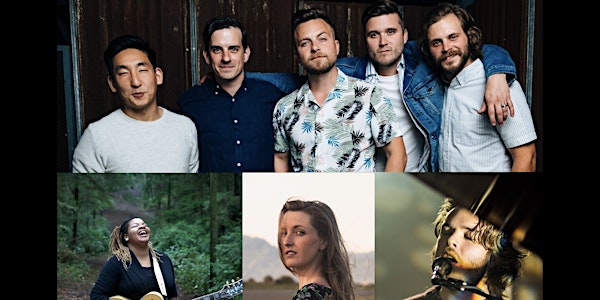 Ivan & Alyosha w/ Stephanie Anne Johnson, Lizzie Weber, Alec Shaw
Abbey Arts & KEXP Present: Ivan & Alyosha, Stephanie Anne Johnson live from St. Mark's Cathedral (SEATTLE)
When and where
Location
St Mark's Cathedral 1245 10th Ave E Seattle, WA 98102
Refund Policy
Refunds up to 30 days before event
About this event
Ivan & Alyosha
Stephanie Anne Johnson
Lizzie Weber
Alec Shaw
"Ivan & Alyosha, also known as I&A, is a folk-pop, indie, rock band from Seattle, Washington formed in 2007 by Tim Wilson and Ryan Carbary. Known for their sweet, Beatles-Esque melodies, jangly guitars, heartfelt songwriting, and energetic live performances, I&A has toured with and supported everyone from NEEDTOBREATHE, The Head & The Heart, Delta Spirit, Aimee Mann, and Brandi Carlile.
With over a decade of touring and recording under their belts, Ivan & Alyosha continue to hone their creative voice, unafraid to let their sound evolve while staying true to their folk-pop roots. The band released their most recent self titled full length album in October 2020 via Nettwerk Music Group at the height of the COVID-19 pandemic. The Seattle Times called it "A mature, masterful work with sonic and thematic heft, and intuitive production." Saying "The band's sound has flowered into its own unique, folk-pop grandeur." However, with tour dates and other release plans put on hold or canceled due to the ongoing pandemic, the band shifted to recording and live-streaming from their studio and any available opportunities in the Seattle area.
After several months of planning and being postponed and eventually rescheduled, Ivan & Alyosha played an hour long live-streamed concert event with the Seattle Symphony on March 26th, 2021 at Benaroya Hall. The band was also able to record the entire show and plan to release "Ivan & Alyosha, Live At Benaroya Hall With The Seattle Symphony" in June 2022.
To celebrate the release of the new album and collaboration with the Seattle Symphony, I&A will be performing at St. Marks Cathedral in Seattle on Friday, June 24th. The show will be intimate, stripped down and acoustic, accompanied by strings and other symphonic instrumentation with arrangements by accomplished Seattle composer Andrew Joslyn. A long time I&A collaborator, it was Andrew who curated, orchestrated, and arranged the band's March 26th "Essential Series" performance with the Seattle Symphony. On June 24th at St. Marks Cathedral I&A will be performing these very same arrangements and joining a long list of local favorites who have taken the stage at Seattle's historic and hallowed St. Marks Cathedral. "
A singer's talent is complete when they can bring a crowded dive bar to a collective hush and also get one of the biggest audiences on the planet to a collective standing ovation. Stephanie Anne Johnson is that special singer who can don a cowboy hat and sing over a slide as old timers weep. And they have wowed judges on the immensely popular NBC TV series, The Voice, showcasing their gifts.
Perhaps it's no surprise that Johnson is so affecting. Their mantra, after all, is "Find your joy and go there." Their prowess exudes whether they are singing the Black national anthem - "Lift Every Voice And Sing" - to a packed auditorium or whether they're cooing acoustic lullabies to Saturday night tavern regulars. Their music, which is rooted in all that's American, expresses the pain of the past, the roots of the down home and the hope that hard work will lead to proper reward.
The latest LP, Take This Love, is a blend of Loretta Lynn and Valerie June. It's a stunning catalogue of surprise and satisfaction. Stephanie Anne Johnson has opened for acts that include political figure Bernie Sanders, and artists such as Mavis Staples, Chaka Khan, Ani DiFranco, Cedric Burnside, and Black Joe Lewis.
Born and raised in St. Louis, Missouri, Lizzie began her journey as a songwriter living in Studio City, California, where she moved at twenty years old to pursue a career in acting. Two years after her move to Los Angeles, she found herself back in St. Louis writing, recording and producing her self-titled debut album as she pursued a degree in Journalism from Washington University.
Lizzie's roots in St. Louis have a lot to do with a woman so grounded. "I feel as though my upbringing in St. Louis allowed me to develop strong values and a strong sense of self, a kind of self-awareness that sort of catapulted me into writing very personal and emotionally charged music."
Lizzie's 2014 debut was well-received. A complete unknown to the St. Louis music scene, local magazine Eleven was the first to review the album, dubbing Lizzie "Your Favorite New Artist of 2014." Huffington Post called her single "Falling Like Fools" "your favorite new song about heartbreak," while the music video for the song was an official selection at seven International film festivals, winning "Best Music Video of 2016" at the Reel Teel Film Festival. No Depression called her debut, "a confessional record, but one that is very well handled, never straying into the over-dramatic, but instead honing in on a sound which is personal, powerful, and, at times, perfect."
Following the success of her debut, Lizzie appeared on the cover of the Riverfront Times as one of 'six artists to watch in 2015.' From there, Lizzie composed the music for the title track("Vida Cafeinada") of the documentary feature film Caffeinated. The song is sung in English and Spanish, and features lyrics written by her father, John Schranck. On their first father-daughter collaboration, they set out to write a song that would stand as a reflection of the agricultural and social underpinnings of that wonderful daily tradition.
In the fall of 2015, Lizzie produced and self-released her rendition of Nirvana's "Heart-Shaped Box." It was around that time that she met Grammy-award winning producer Sheldon Gomberg (Ben Harper, Rickie Lee Jones) and began work her song "Love Again" which was the product of another familial collaboration, this time with her elder brother, John Schranck Jr., who is responsible for the song's lush, orchestral arrangements. The two began sending Sheldon iphone demos in November of 2015 with the intention of recording the song at his Carriage House Studios (LA) in January of 2016, a pit stop on her way to her new home in the Pacific Northwest.
In April of that year, "Love Again" became Lizzie's fourth self-release. "I think we've created something truly unique: a song that defies genre by crossing over into pop, classical, jazz, and indie," Weber said, "After recording it, we realized we had sort of unintentionally written something that evokes the lush, California sound of the '70s, and were thrilled by its picturesque imagery. The song feels acoustic and intimate thanks to Sheldon's touch with production, but epic and worldly with its arrangements — a difficult but really gratifying balance to strike."
After spending the last two years both in Seattle and on the island of Fidalgo, Lizzie Weber traveled to Iceland in March of 2018 to collaborate with the Academy Award-winning artist Marketa Irglova (The Swell Season/Once). Together, they produced and recorded two songs, "River" and "Free Floating" released in November and described by Glide Magazine as "a quiet folk song with angelic harmonies and lush instrumentation that swells into a dramatic, beautiful soundscape."
This release comes immediately after Lizzie's EP, "You." Seattle Weekly premiered the three song EP in September, saying. "Most singer-songwriters can pen a halfway decent breakup tune, but it takes a deft touch to craft aching odes to relationships' ends while still maintaining a composed confidence devoid of melodrama. Seattle singer-songwriter Lizzie Weber pulls off the feat…"
Lizzie is proud to be releasing her latest single "How Does It Feel," the title track off a new EP due out in January of 2021. An anthem of gratitude, "How Does It Feel" explores the meaning behind feeling 'safe' and finding strength in yourself with the support of loved ones. All three songs were written in isolation amid the early days of the shutdown due to the pandemic; accordingly, this theme is explored throughout all three songs and focuses on what can truly unite us all; empathy, and love.
Alec Shaw is a singer/songwriter and producer born and raised at the foothills of the cascades in Washington State. His dad who was a gospel musician gave Alec his first guitar at age 11. Flash forward to high school Alec pieced together a band through the Seattle Craigslist page. They set off to play a collection of Alec's first songs he wrote in highschool, where he spent the least amount of time actually being in school and most of his time daydreaming and recording hundreds of musical ideas on a handheld recorder that would become his first album. Released in 2016, "Car Town" landed Alec and his band their first gig at Neumos, Seattle playing for the Seattle Children's Hospital benefit concert "Love Seattle" which launched Alec into the Seattle underground scene as a notable new artist. In 2017, Alec's shows promoting his second album "Uhh Oh And The Oh Wells" caught the attention of local producers with the further developments in his vocal and arranging abilities. One of these producers was Andy Park who had recently established himself with credits like Pedro The Lion, Noah Gunderson, Macklemore, and Dave Mathews. Andy helped Alec shape his third album "Thinking Place" Which features more introspective, ethereal and focused songs. Their collaboration proved to find a sound that was becoming uniquely his, combining soulful and folky vocals, and soaring above swimming instrumentation. This album, coupled with a live version of the single "Fools Gold" featuring a gospel choir and moving video performance, shined more light on Alec in the national eye of the music industry, garnering Major Label interest and praise from KEXP's Hall of Fame DJ Marco Collins naming him in his top 3 "PNW artist he would sign immediately". In 2020 while set to play a slew of sold out shows, festivals and showcases Alec's underground rise to the surface was frozen in it's tracks by the 2020 Covid-19 Pandemic, putting an abrupt pause on tour plans.
During 2020 Alec shifted his focus on recording, producing an album for The Voice finalist and long time collaborator Zan Fiskum. Along with recording and producing projects for other artists, Alec spent the "down time" working on his fourth studio album "Quantity" set to release February 2022 featuring his most creative and dramatic work to date. Since then Alec has also been recruited to Common's new artist collective "Stardust Kids" at the beginning of 2021 to work alongside his team. In Collaboration with Stardust Kids and Omnivore He became the first artist in history to offer a Augmented Reality live performance video as an NFT featuring his latest single "Nobody But You"
Live @ St Mark's Cathedral, Seattle
7:30p show, 6:30p doors
All ages, mostly seated, bar w/ID
--------------------------------------------------
See Updated Public Health Safety Info at the bottom of this page under Abbey Arts Presents. All Abbey Arts venues adhere to WA State & King County health guidelines. Thanks for helping keep our community safe!
--------------------------------------------------
CATHEDRALS CONCERTS SERIES
PRESENTED BY ABBEY ARTS, SEATTLE
An open floor concert experience, quiet picnics welcome. Seating available including chairs, benches, and some floor space around the stage area.
We recommend bringing cushions and even blankets if you'd like. Audience can sit or lay down anywhere around the stage as space allows (floor space is not reserved).
--------------------------------------------------------------------------
EVENT & VENUE INFO:
St Mark's is ADA. Wheelchair seating area is to the left of stage near the front.(Email boxoffice@fremontabbey.org with questions)
We are an all ages venue. Kids 10 & under are free at most Abbey Arts events.**
Please refrain from talking or texting during the show
No cameras with audible shutters or audible sounds allowed.
Quiet picnics only, no outside alcohol allowed
Paid parking is available onsite, through the following app: www.passportparking.com More info here
SEATING:
Open seating except reserved front rows chairs & benches.
To create a "giant living room" effect we offer an unusual concert experience with informal seating on the floor up front surrounding the stage and lots of pews, benches, and chairs around the space.
We highly recommend you bring blankets and cushions to create a more comfortable experience whether sitting on the floor or seats. Quiet and non-messy snacks/picnics are allowed. No outside alcohol please.
For best sound, arrive early for center floor area and any area on stage not marked with signage. You can also sit all around the back of the stage if you like but sound will be a bit limited there.
QUIET POLICY:
Please silence all devices. Turn off vibrate, rings, etc. If you need your phone on vibrate for specific reasons, please keep it close to you and not on a hard surface that will distract your neighbor.
If arriving late, please be advised that ushers may hold doors during each song due to acoustics of the space.
Please refrain from talking during the show.
Please enter quietly if the show has already begun.
NO CAMERAS WITH MECHANICAL SHUTTERS (This goes for Press too unless approved to shoot during applause only.) That means silent digital cameras/photos are ok but we really recommend you enjoy most of the show through your own 'retina screens'.
You probably get the idea, this isn't a loud party venue. :-)
Anyone exhibiting loud or disruptive behavior during the event will be asked to leave.
**We are unable to provide a separate soundproof room for viewing this event. These shows are very very pin drop quiet so please consider that when deciding what ages are appropriate. No cry room available at this venue and even voices in the lobby will be heard in the concert space.
SOCIALS:
--------------------------------------------------------------------------
ABOUT ABBEY ARTS, SEATTLE:
NONPROFIT 501C3, NON-RELIGIOUS, EST. 2005
Presenting welcoming music, arts & cultural experiences for people of all ages & incomes.
Home Venue: Fremont Abbey, 4272 Fremont Ave North, Seattle, WA 98103 / 206-414-8325 Ballard Homestead: 6541 Jones Ave NW, Seattle | Woodlawn Hall 7400 Woodlawn Ave NE