Description
IULM eSports Summit
Martedì 12 dicembre 2017
dalle ore 10 alle ore 13

Sala dei 146
IULM Open Space
Università IULM
Via Carlo Bo 7
20143 Milano
Come arrivare

La conferenza è gratuita e aperta al pubblico.
I posti sono limitati, registrazione richiesta.

Per fare il punto della situazione su un comparto dell'industria videoludica in grande fermento, ma il cui impatto è stato fino a oggi sottovalutato dai mass media, l'Università IULM ospita una conferenza a cui parteciperanno alcuni dei più importanti rappresentanti del settore publishing, broadcasting ed event management nonché accademici che studiano il fenomeno degli eSports.

In particolare, l'evento verterà sui seguenti temi:

● L'evoluzione del mercato degli eSports nell'ultima decade, con particolare attenzione ai modelli di business emergenti.

● Presentazione dell'ecosistema eSports, dei key players a livello internazionale nonché delle possibili carriere.

● La situazione degli eSports in Italia, le prospettive di crescita e i possibili scenari a breve/medio termine.

L'evento è organizzato dal Master in Marketing e Comunicazione dello Sport e dal Master of Arts in Game Design della IULM in collaborazione con INUNI Life (Official Media Partner).
Programma: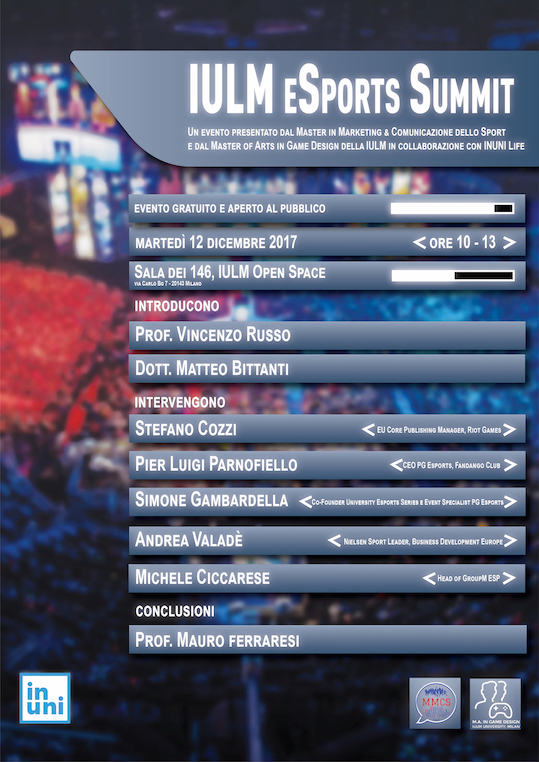 Biografie speakers (aggiornata, 12/12/2017)
Stefano Cozzi
Stefano si è unito a Riot Games nel maggio 2015 e ricopre ora la carica di responsabile alla guida del Publishing Team Europeo che si occupa dell'Italia e di altre quindici nazioni in Europa. Ha iniziato la sua carriera nel 2005 a Milano, presso gli studi di Digital Bros e da allora è rimasto nel settore gaming, spostandosi per l'Europa. Ha ricoperto la carica di Community Manager per diversi titoli AAA, come Warhammer Online: Age of Reckoning (Dublino, GOA Games), World of Warcraft, Hearthstone, Diablo III, StarCraft II e Heroes of the Storm (Parigi, Activision Blizzard). Vive a lavora a Dublino, in Irlanda.
Simone Gambardella
Project Manager con responsabilità diretta sull'organizzazione di tornei e competizioni internazionali, Simone Gambardella ha portato all'interno di Campus Fandango Club, società organizzatrice di Milan Games Week, il patrimonio di relazioni e conoscenze di University eSports Series, circuito di eSports dedicato all'Italia e di University eSports Masters, branca della stessa organizzazione dedicata al contesto europeo.
Andrea Valadè
In forza a Nielsen da otto anni, Andrea ha ricoperto diversi ruoli di responsabilità commerciale nel mondo digital e media. Dal 2014 si occupa dello sviluppo commerciale in Europa della divisione Nielsen Sports & Entertainment che dal 2016 si è espansa attraverso l'acquisizione di Repucom. Precedentemente ha avuto altre esperienze in multinazionali dell'ecommerce e social networks.
Paolo Teoducci
Esperto di Marketing e Live Communication, appassionato di neuroscienze, sport marketing e gamification, Paolo è stato per oltre dieci anni Responsabile degli Eventi di Telecom Italia, coordinando la Comunicazione dell'azienda come Partner Expo2015. In precedenza ha svolto attività di Sponsorship, Marketing e Comunicazione, spendendo sette anni all'estero in Spagna, Bolivia, Turchia e due in Italia, dopo circa un decennio in Advertising e Media in Agenzia di Pubblicità e Consulenza alle Aziende. Oggi si occupa di ricerche, tracking e neuromarketing.
Sono inoltre previsti interventi in video di esperti del settore.