IU-Methodist Family Medicine Residency Interviews (AM - 1/13)

Friday, January 13, 2017 from 7:30 AM to 1:30 PM (EST)
Event Details
Once you have received your invitation to interview with the IU-Methodist Family Medicine Residency Program via the Electronic Residency Application Service (ERAS), you may register for your interview day via this notice. 
Please take the time to carefully review all the information below regarding the residency interview day, and  contact us with any questions.
---
We would like to host you and a guest for dinner the night before your interview. The resident-hosted dinner will begin at 6:00 p.m. This will allow you a better opportunity to get to know our residents and ask questions in an informal setting. Please expect a resident host to contact you with more details. If you have any questions regarding dinner or have not heard from your resident at least one week prior to your interview date, please contact the residency committee at iumfamres@iuhealth.com.

We will provide hotel accommodations for one night at the Indianapolis Marriott Downtown. You will be asked to reserve your room with a credit card. This is simply to guarantee your room for the night and to pay for any incidentals (such as room service). Your room will be paid for by our program if you attend the interview as planned. Your credit card will only be charged if you do not arrive as planned, fail to cancel your reservation prior to the cancellation deadline, or for any incidentals. Once your interview confirmation is received, we will provide you with the instructions on making your hotel reservation.
*******
IMPORTANT INFORMATION FOR ALL INTERNATIONAL VISITORS
Indiana University requires a completed W8-BEN and copies of your passport photo and I-94 stamp in order for the IU-Methodist Family Medicine Residency to pay for your lodging. Please click here to download instructions on completing this required form. Once we receive the required documents from you, we will provide instructions on making your hotel reservation. Hotel and interview scheduling will not occur until these forms have been completed and received by our office. 
*******
Please see the Indianapolis International Airport's website http://www.indianapolisairport.com/ to see how you can arrange transportation from the airport to the hotel.  Once you arrive at the hotel, they will be able to assist you with further transportation needs. 
Your interview day will begin at 7:30 am and end no later than 2:00 pm at the IU Methodist Family Medicine Center (FMC), 1520 N. Senate Avenue, Indianapolis, IN 46202.
If arriving by taxi, request a drop off behind Goodman Hall (the south entrance of 355 W. 16th St. Indianapolis, IN 46202).The residency entrance to our building shares a garden area off the entrance to Goodman Hall and there will be signs directing you. If driving, utilize the same address above.  You will circle through a green space with the Family Medicine Center on your right.  Drive by the entrance of Goodman Hall and then enter the Neuroscience garage.
We will validate your parking ticket following your interview.  There is a map at the bottom of this message for your reference.
The following faculty and residents will be involved in your interviews on this date (you may use the links below for more info): 
Click here to view our Resident bios 
Click here to view our Faculty bios
Below is a sample agenda for an AM interview.Please note your Interview Itinerary includes a time labeled "Patient Story".  During the interview day, you will be asked to share a personal story about a patient that has impacted you during your training. This will occur in a group setting including other applicants and interviewers for the day. The purpose of this activity is for the faculty to get to know you within the context of a patient relationship. This time is followed by a series of interviews with the Program Director, Residency Faculty, a Resident and someone from the Administrative Staff, as well as a tour of the facility. 
7:20 am -- Arrive at IU Family Medicine Residency
7:30 am -- Intro with Director, Dr. Jacqueline Nonweiler-Parr
8:00 am -- Clinic tour with resident interviewer
8:30 am -- Patient Story
9:20 am -- Interview Slot 1
9:40 am -- Interview Slot 2
10:00 am -- Interview Slot 3
10:20 am -- Interview Slot 4
10:40 am -- Interview Slot 5
11:00 am -- Interview Slot 6
11:20 am -- Hospital tour with resident guide
12:15 pm -- Lunch with Residents, Faculty, & Staff
1:00 pm -- Wrap up with Jackie Turner/Andrea Reedy/Tim Jeter
We look forward to your visit!  If we can be of any further assistance, please feel free to contact us anytime at iumfamres@iuhealth.org.
Thank you!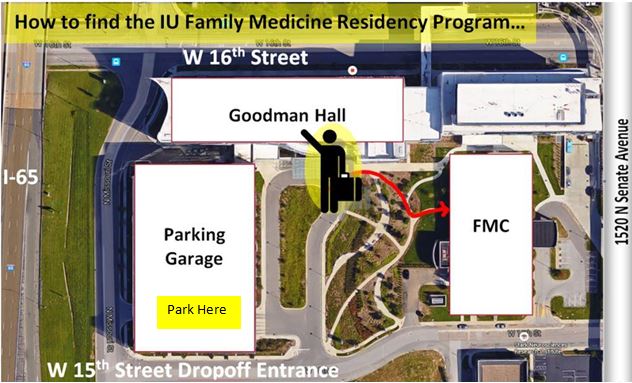 When & Where

IU Methodist Family Medicine Center
1520 N Senate Avenue
Indianapolis, IN 46202


Friday, January 13, 2017 from 7:30 AM to 1:30 PM (EST)
Add to my calendar