Description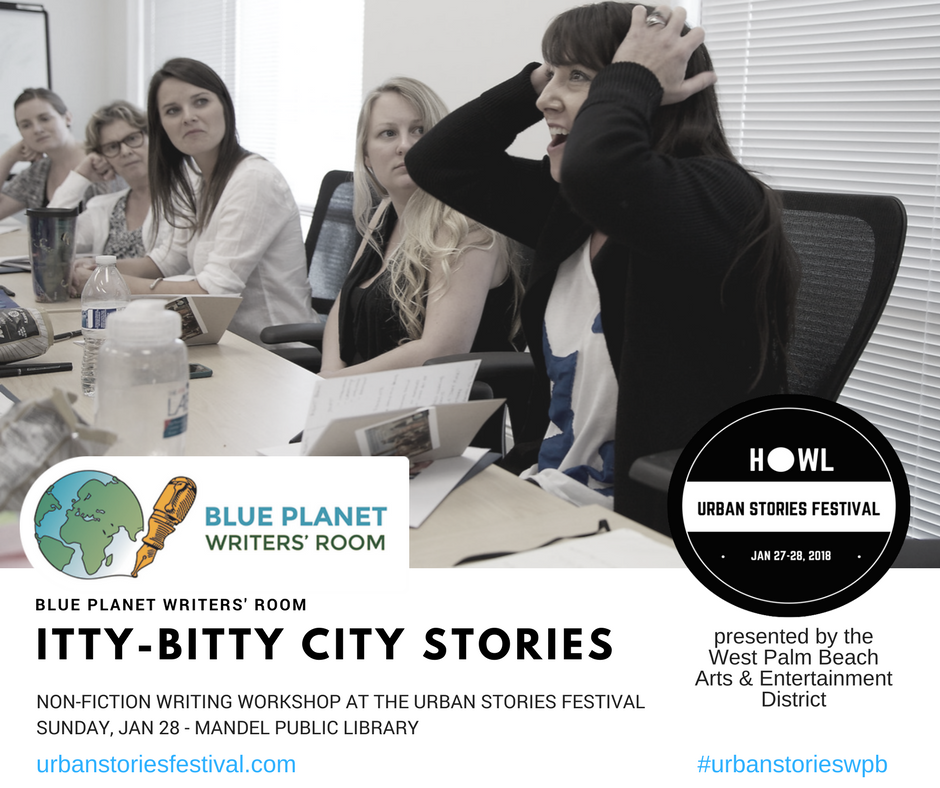 ITTY-BITTY CITY STORIES
Flash Non-Fiction Writing Workshop
SUNDAY, JANUARY 28, 2018 MANDEL PUBLIC LIBRARY
Every city has a million stories to tell—come write yours! For this creative workshop, bring with you a photo or a memory of an adventure—happy or sad, poignant or funny—that you've had in West Palm Beach or any other city. In three fast-paced hours, you'll turn that memory into a piece of flash non-fiction, creating a small gem of a story. At the workshop's end, you'll have the opportunity to take part in an author reading, onstage at the Mandel Public Library, where you can share your story with the city of West Palm!
WHAT YOU'LL NEED
Bring a photo or have a memory in mind so that you can move right into the crafting of your itty-bitty story. Paper, pens, and pencils will be provided, but if you prefer to write on your own laptop or tablet, feel free to bring it with you.
The workshop is limited to 15 participants.
WORKSHOP SCHEDULE
1:00 pm Get inspired by Leslie Gray Streeter, Michael J. Pagán and Victoria Fedden.
2:00 pm Create a short, nonfiction story with the help of our expert teachers
4:00 pm Share your story on stage in the library auditorium
CORA BRESCIANO
Workshop Instructor
Cora is the co-founder and co-executive director of Blue Planet Writers' Room, a non-profit organization that uses creative story exchanges to connect students to their peers in other countries. Cora has taught College Writing at Florida Atlantic University and creative writing at the high school, middle, and elementary school levels. Through Blue Planet, she develops creative writing curriculum and leads professional development workshops for language arts teachers. She presents on her work both locally and internationally, and she has led numerous international writing projects among students on five continents.
Cora holds an MFA in Creative Writing and a BS in Education, and she is currently completing her coursework for a PhD in Comparative Studies, focusing on the intersection of literature and global studies. Her short story "The Mermaid" was honored with FAU's Frank and Courtney Brogan Fiction Award. Her blog, Glorious Curious, can be found at gloriouscurious.wordpress.com.
Space is limited to 15 participants. Register today.