Description
Are you ready to…
Deeply align with women who are walking the same journey as you and create deep, lasting, healthy relationships with powerful women?

Replace your fears with faith…and see your dreams start to manifest?

Give back to YOU, the time to truly reflect, be in nature, find time to LOVE you again...to grow and to have FUN like when you were a kid?
Fact is there are plenty of retreats you can choose from, but if you are wanting to finally LIVE a LIFE you LOVE and create deep and lasting friendships, then this is YOUR time and YOUR retreat!
Welcome to "It's Your Time To Shine: Women's Retreat"!
From the moment you step off the plane, all your worries can melt away. As soon as you get off the plane, you will ride through some of the most breathtaking scenery in the world as you cross mountains and summits to beautiful Vail, Colorado.
You'll arrive at your luxury mountain retreat, The Arrabelle — one of my favorite resort in Vail, CO.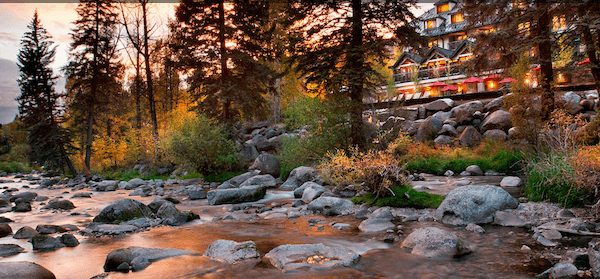 The mountain retreat sits in the heart of Lionshead Village and right by the healing Gore Creek, where the sound of the river will wash away any stress and negative thoughts. My team and I will ensure you get a 5-star experience and have the time needed to reconnect, restore, rejuvenate and fall madly in LOVE with YOU.
By the way, I'm taking care of all the details, including one amazing group dinner together, your outdoor adventures, your workouts, and your life transforming experiences. You cover your flight, transportaion to and from the aiport, your accommodations (we have a room block at The Arrabelle) and meals, and I'll take care of everything else.
On the first day we will kick off the retreat late afternoon (exact time & location will be posted in private group) with a soul inspiring opening ceremony.
And then I have some amazing activities lined up for the following two days. I don't want to spoil any of the surprises, but here's a preview of just some of the things you have to look forward to on the first day…
We'll take a walk along the river and up to my favorite spot for morning stretching and yoga...and my favorite coffee and tea in the world! You'll soak in the blue skies, sunshine, and smell of pine trees as you gently prepare your body for the day.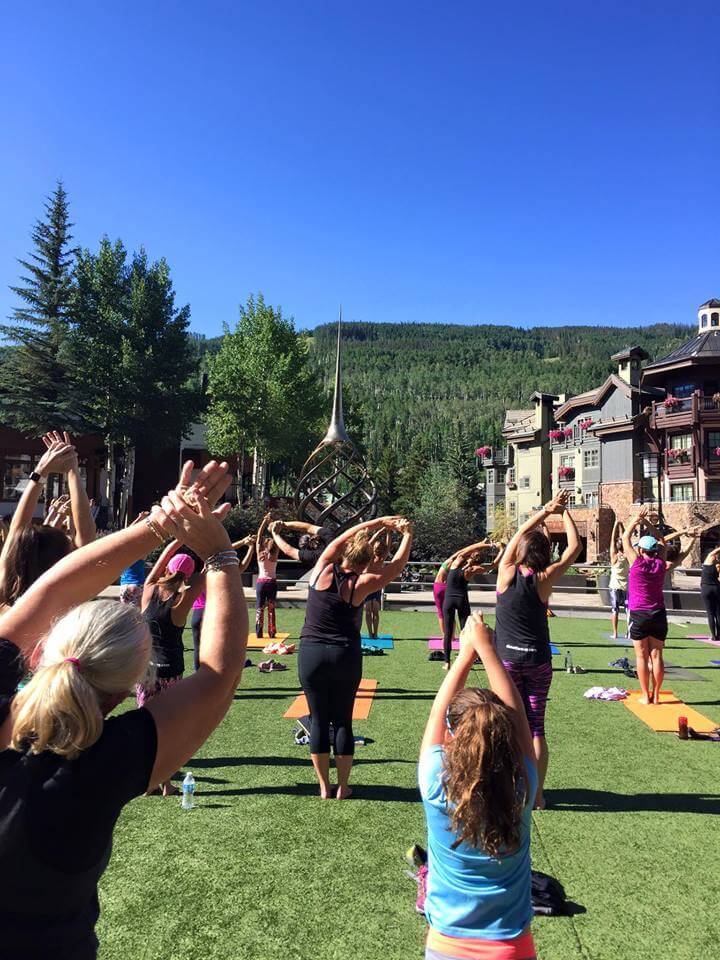 Then I'll take you through a meditation and some mindset exercises, as you continue to take in the beauty of the mountains surrounding you.
Then, after a healthy lunch we'll get to work...
We'll get together and start working/playing on specific action steps for stepping into faith, leading a life you love, and working around any obstacles that may be holding you back in life.
Each fun adventure will be based on stepping into faith and letting go of all that no longer serves you. You will be doing NEW, Exciting things with some amazing women (that you will be calling "close friends" by the end of the retreat).
After a day of adventure, deep discussions and growth, we'll sit down to a top-notch healthy dinner in Vail.
By the way, all of the meals you'll enjoy while you're in Vail will be completely healthy and 100% delicious. We have some world-renowned chefs here in the high country!
I have run several high-end retreats over the years and they are pretty legendary for being incredibly fun, insightful and life changing. This one has the power to change the course of your relationships, your finances, your spiritual life, and your body forever. I guarantee you'll remember this retreat for the rest of your life!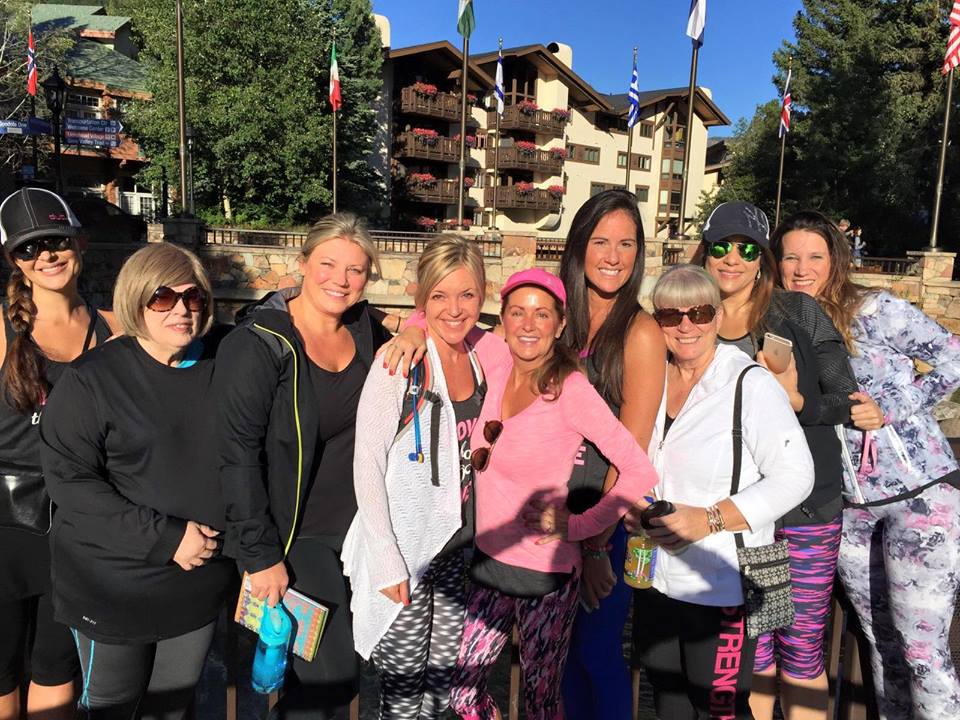 After a long day of playing you'll be free to relax or go out and enjoy the Vail Village nightlife with some of the other ladies.
Your Retreat Includes:
- All empowerment classes and discussions led by Danette and other amazing thought leaders
- One group dinner at one of Danette's favorite restaurants in Vail
- Daily workouts with Danette (You will have the time of your life as Danette takes your idea of fitness to a whole new exhilarating level!)
- Hikes, adventures and excursions in the beautiful Rocky Mountains
- All belly laughs, extreme FUN, and incredible life transformations!
(Note: Accommodations, transportation, and all other meals are not covered in the retreat cost. We have a room block at the Arrabelle with discounted prices, but you must book now to lock in your discount)
Dates: June 20th – June 22nd, 2017
We suggest arriving in Vail on the 19th or before 3 pm on the 20th. Remember, Vail is at 8,250 ft above sea level, so if you want time to acclimate to the altitude, you may want to arrive in CO a day early. We have a group dinner together the night of the 22nd that you don't want to miss, so be sure to book your departing flights for the 23rd or later.
Check out what a few of my retreat participants from last summer have to say…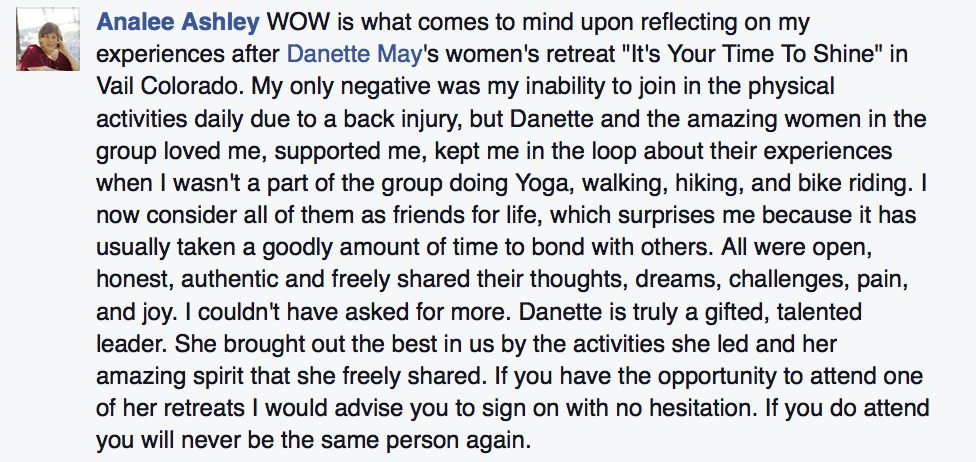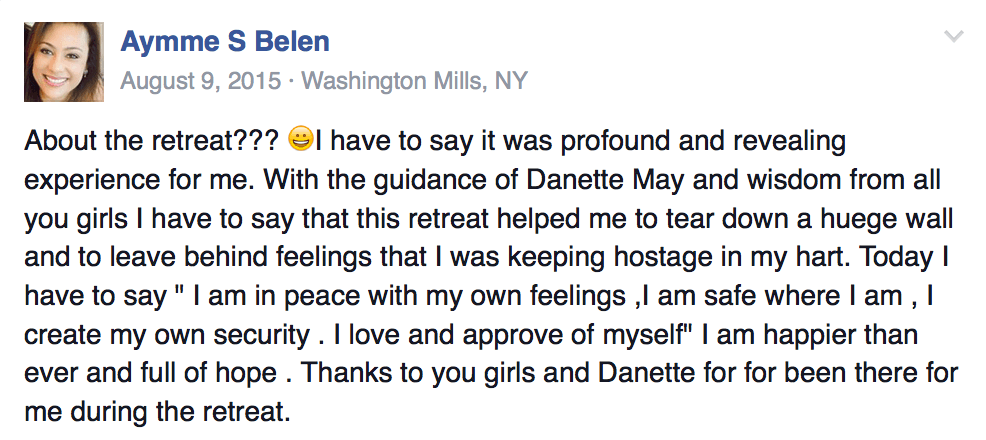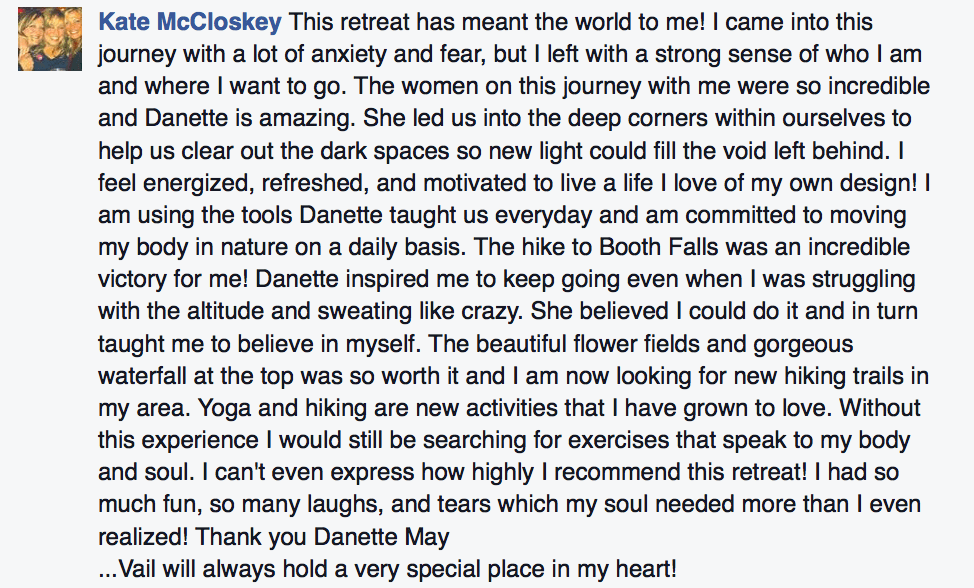 Now, you're probably wondering what this is going to cost you. It's not going to be cheap. Putting something like this together isn't easy, especially when we are not just having a reunion. We are coordinating activities, adventures, and excursions for 3 nights and 2 full days.
I've seen similar events run all the way up to $10,000
Crazy, I know... until I went to a couple (and led several over the years) myself. For me, they've been worth every penny.
In fact, I can attribute most of my major relationship and life breakthroughs to events like this one.
It's where the magic happens. It's where creativity is launched and life-long connections are made. You just can't beat this event when it comes to getting results.
It's like they say, you become like the people you surround yourself with.
Now, I want this transformational experience to be available to every woman, so the price to attend is normally $3,500. But, I'm offering a discount for those who take action and register today. So your investment in this life transforming retreat will only be a $1,650 today.
IMPORTANT - The price of the event will increase to $1,800 on February 1st, so be sure to reserve your spot now before the price increases.
This retreat will be a time you will cherish forever! Connecting with your soul sisters in a one-of-a-kind adventure in Vail, Colorado. You will walk away feeling lighter, happier, and complete as you discover YOUR inner shine and step into your GREATNESS.
Can't wait to see you this summer and give you a big hug!
Much Love,
Danette
Frequently Asked Questions
1. Do I need to be physically fit to attend?
You need to be able to perform some physical activities. This is a retreat for all fitness levels, but there are a few activities that require walking and mild hiking. You must be able to walk on level ground 2 miles comfortably. If you feel called to the retreat and you're not in the physical condition required, this will give you motivation to get there :)
2. What If I don't know anybody?
Most people who attend come alone and are meeting their new best friends for the first time. You'll find that most people come alone and discover like minded, kind, fun friends who become lifetime friends.
3. Can I bring my spouse/boyfriend or "guy" friend?
This is a women's event geared for women and your growth specifically. Your "guy" friend is welcome to stay with you in your hotel room, but the activities and excursions are for women only.
4. Can I share a room to reduce cost?
Absolutely. We will be providing a private Facebook group for you to get to know one another before the retreat. So you will certainly meet others who would like to share a room.
5. What airport should I fly into?
Denver International Airport (DEN) is the main airport and is 2 hours from Vail. You can book shuttle transportation with Colorado Mountain Express (CME) to and from the airport. Or you can fly in to Eagle County Airport (EGE) which is 30 minutes from Vail, where CME also runs a shuttle service. Or if you're going to stay a couple extra days you may want to rent a car at the airport.
6. Can I arrive early and leave at a later date?
Yes. I encourage you to give yourself some personal time before and/or after the retreat to get centered and fully process your personal growth. We suggest arriving one day before and leaving one day after the retreat dates.
7. What transportation should I use?
We recommend you book your shuttle to and from the airport with ColoradoMountainExpress.com. Or you can contact the concierge at The Arrabelle and they'll help you arrange transportation.
8. Do you have discounted group rates for the hotel?
You may book at any hotel you choose, but if you would like to stay where most of the retreat participants are staying, book your room at The Arrabelle. Please book asap because these rooms will sell out fast and you may have to book at a sister hotel if the rooms sell out. Please look in your welcome email for the discount retreat code. You can also check sites such as hotel.com, booking.com or expedia.com for further discounted rates. We have a private facebook group where you will meet other retreat participants and have the opportunity to share a room if you would like. Arrabelle offers larger suites and villas (with our discount code) so I encourage you to share a room other retreat participants and split the cost.
9. I really want to attend this retreat, but I am super nervous. Is this really for me?
It is very normal to be nervous when you attend a retreat in a different town and you don't know anyone. Most women who attend come alone and are meeting people for the first time. These retreats are so divine that the right group of women come together for the most profound growth, and deep and lasting friendships are formed. Anything worth doing can create butterflies at the beginning. Take the leap! I promise you won't regret it!
10. What is the refund policy?
A 100% refund will be offered (less a $200 cancellation fee) if you cancel 60 days out from the retreat start date. No refunds will be given if you cancel within 60 days of the retreat start date.