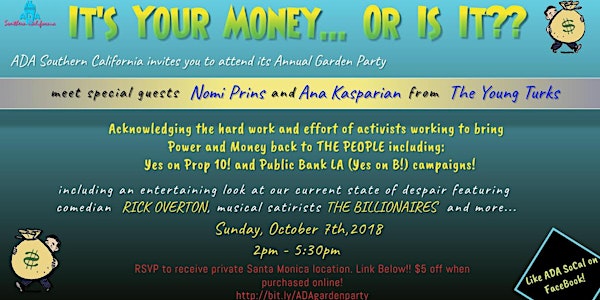 It's Your Money . . . Or Is It?
When and where
Location
Private Santa Monica, California residence 90402
Refund Policy
Refunds up to 1 day before event
Description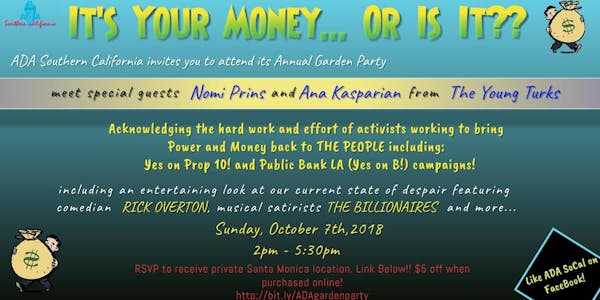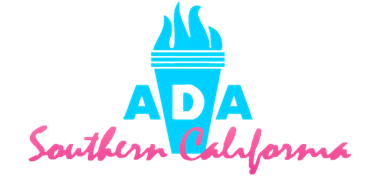 Invites You!
"It's Your Money . . . Or Is It?"
Food, Fun and Politics!
Stimulating Speakers, Music and Comedy and…Refreshments!
Americans for Democratic Action of Southern California's
Annual Garden Party
Sunday, October 7, 2018, 2pm – 5:30 pm
Young - and young at heart! Citizens, voters and activists! You're invited!
BE INSPIRED! MEET & HEAR . . .
NOMI PRINS, author and former member of Bernie Sanders' panel of top economic advisors. Nomi will discuss the current financial scene as well as her latest book: Collu$ion: How Central Bankers Rigged the World. Among Nomi's previous books: All the President's Bankers, Other People's Money, It Takes a Pillage, and Black Tuesday. Ms. Prins will be the recipient of ADASoCal's Eleanor Roosevelt Award.
ANA KASPARIAN of The Young Turks, the most successful political network on the Internet, will lead the discussion with Nomi on how central bankers control global markets and dictate economic policy, and what we need to be mindful of in the upcoming elections.
Jan Goodman, longtime board member of ADASoCal, says "The Garden Party, occuring just before the November elections, aims to focus on some of the most vital races on the ballot: The bold plan to create a public bank as an alternative to Wells Fargo and other banking predators that crashed our economy (Measure B--City of L.A.) and the struggle to protect Californians from skyrocketing rents and make housing affordable again (Prop 10)." These issues have been percolating for a long time, tended by long laboring hands, in addition however", as Goodman observes, "Bernie Sanders planted many progressive seeds, and younger activists from his movement have become some of the key people working on these – some of the hottest issues on the ballot. The warriors in these battles are diverse, intergenerational, highly motivated and worthy of recognition."
THE "LOS ANGELES PUBLIC BANK" (Measure B) TEAM. . .
Including: Ellen Brown, Attorney/Author * Phoenix Goodman
Trinity Tran * David Jette
"THE RENT IS TOO DAMN HIGH" ("PROP. 10") TEAM
Elena Popp * Damien Goodmon *
Comedian RICK OVERTON
Satirical music group THE BILLIONAIRES
MORE PROGRESSIVE POLITICIANS THAN YOU CAN SHAKE A STICK AT!
(Sticks not provided)
Sunday, October 7, 2018 2:00-5:30 p.m.
Doors open 2 p.m.; program will start at 3 pm sharp.
Private Santa Monica, California residence
Address will be forwarded to those who RSVP
EARLY BIRD SPECIAL: $5 OFF
When you buy your ticket online prior to Thursday, October 4, 2018
Tickets will be $5 more at the Door
Click here to purchase your tickets now.
Sponsor: $150-$1000 (Mega-Sponsors are also welcome!)
Requested Donation: $40 or 2 for $70
ADA Member Price: $35
New ADA Member Price: $55 for admission AND membership!
Student Price, Including Membership: $15
For more information, log onto adasocal.org or send an email to
info@adasocal.org Calls should be directed to (310) 205-2533 or (310) 458-7213.
Donations will support the year round work of ADASoCal, an early endorser of Bernie Sanders. Thousands of voters depend upon the rankings and endorsements of ADA in Southern California and around the country. ADASoCal is a multi-issue progressive organization, fighting for peace, social justice, environmental, racial and economic equality. Americans for Democratic Action, is not affiliated with the Democratic Party. It was founded more than 70 years ago by a distinguished group of progressive visionaries, including John Kenneth Galbraith, Walter Reuther, and Eleanor Roosevelt, in the wake of the New Deal to push the Democratic Party to the Left. ADA is at the cutting edge of every important struggle for human rights, world peace, and social and economic justice.