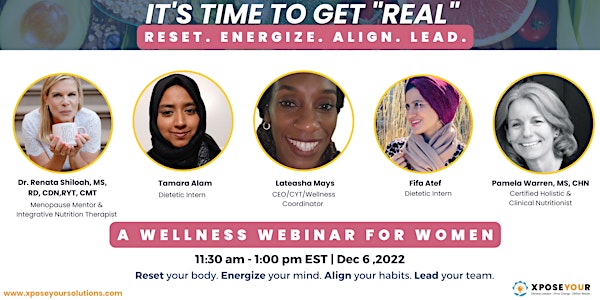 It's Time to Get "REAL" - Virtual Women's Wellness Summit
This FREE event will encourage and educate women leaders on the importance of nutrition and health to increase energy and productivity.
About this event
Ladies! Are you ready to regain your health and meet some awesome women?
As women, we often take care of others while neglecting ourselves. Guess what? That is not sustainable. We must take care of ourselves, so we can perform our best while leading others.
Join us for this power hour that focuses on providing women with tools, information, and resources to reset your body, energize your mind, align your habits, so you can effectively lead your team.
• **Great Resources
• **Great Speakers
• **Great Raffles
Agenda
11:30 am – Introduction/Ice Breaker
11:40 am – Get Fit While You Sit w/ Lateasha Mays
11:45 am – The "REAL" Panel w/ Dr. Renata Shiloah, Tamara Alam, Lateasha Mays, Fifa Atef, and Dr. Pamela Warren
12:15 am – The Importance of Taking a Pause –Interview w/ Dr. Renata Shiloah & Shara Hutchinson
12:25 pm – How to Get More Done in Less Time w/Shara Hutchinson
12:35 pm – Audience Questions/Comments
12:45 pm – Raffle Drawing (includes nutritional consultations, virtual yoga session, books, and leadership training courses, book writing workshop, public speaking workshop.)