Description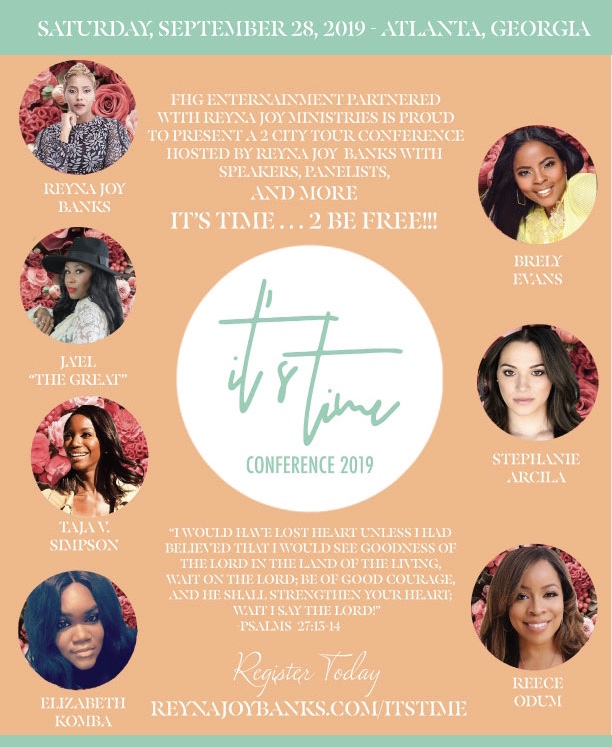 Reyna Joy Banks CEO of F.H.G. Entertainment is proud to present the It's Time 2 Be Free Conference our first 2 City Tour and Second Installment in the It's Time Conference under the theme "It's Time 2 Be Free" in Atlanta, GA this coming September, 2019!
WE ARE SO EXCITED TO REVEAL TO YOU OUR FULL SPEAKER LINE UP:
KEYNOTE SPEAKERS: REYNA JOY BANKS | JA'EL "THE GREAT"
PANELIST HOST: BRELY EVENAS (OWN & BET NETWORKS)
PANELIST: TAJA V. SIMPSON (OWN NETWORK | STEPHANIE ARCILA (TELEMUNDO NETWORK) | ELIZABETH KOMBA (SINGER - MARY J BLIDGE WORLD TOUR) | REECE ODUM (OWN NETWORKS & MORE) ...
REGISTRATION RIGHT NOW!...IT'S YOUR TIME!
REGISTER now to get the best prices for YOU, your TEENS and your LOVED ONES, to empower and cultivate them in their growth!
We're excited to break chains with you and to be a part of your journey in BECOMING FREE.
Ticket options are below!
Psalms 27: 13 - 14 says, "I would have lost heart, unless I had believed that I would see the goodness of the Lord in the land of the living. Wait on the Lord; be of good courage, and he shall strengthen your heart; wait, I say on the Lord!"