This event is designed especially for YOU!!!
About this event
Join Us! THIS EVENT IS DEDICATED TO YOU!
Presented by: Dawn D. Fobbs, CPC, CPE, CEO
Business Development Consultant, since 1998
- Over $50M in contracts, grants, donations, sponsorships and business development
- Former (24-hr) Childcare owner
This event is specific and tailored to your daily experience and is a 1- of- a kind.
NOTE: YOUR REGISTRATION & ATTENDANCE ENTERS YOU AUTOMATICALLY INTO THE $25,000 CAR GIVE-AWAY (see entry rules below)
Who is this event for? (OWNERS ONLY)
*Childcare owners. *Daycare home providers
*Charter school program planners . *Adult day center owners
*Home school planners . *Youth community group leaders
*After-school program planners . *Directors & Decision Makers
* Group Home Founders and operators
Expect to learn (new to you)
*Ideas to keep your doors open FOREVER and at CAPACITY
*All about the 12 income stream available to you right now
*Why 3rd party monitoring and compliance will help you earn more
*How a consultant can help you earn millions
*What the State teaches V.S. What you really need to know
*How to triple your personal income and double your staff income
*The secret to working with free (0%) paid staff
*How to participate in "STEM" program funding (now STEAM)
*Learn more about the 21st Century Funding and how to apply
*72 Ways to earn money in childcare!
And also, how to solve your own problems and how to seek help today!
#1 Bonus topic: What to do when your food and nutrition payments are late!
#2 Bonus topic: What to do when your child assistance payments are slow to come!
#3 Bonus topic: 30 funding streams you should look into today!
#4 Super bonus topic: 72 Reasons to Start Your Very Own Non-Profit Organization Today and solve your own problems.
Note- This topic comes with a free bonus valued at $29 and door prizes valued at $5,000 to share with attendees who win.
Come with an idea for me to solve for you and I will show you where the money is to do it!
My promise: You will learn all about the ideas you thought we not possible. Guess what? It's Possible and yes…….It's Worth It!
Let's discuss it and see changes happen together!
No additional fee to enter give-away!!!
Grand prize give-away rules (no exceptions)
*Prize valued at (up to) $25,000 and includes TTL (includes $ gas cards)
*Starts March 2nd
*Winner called Dec. 31, 2019 (11:59 pm)- Watch Party Facebook Live!
*Only (1) winner
*Entry for owners of childcare/education/community centers (list above) (verified)
*Must be 21 or older to enter (will be verified)
*This give-away applies to only U.S. residents only (will be verified)
*Winner must be willing to pick it up in Houston, Texas (travel paid by giver)
*Must have agreement signed on file to win (will be verified)
*This gift is not transferable if the winner cannot claim the gift
*In the case the actual winner cannot receive the gift, another will be chosen
*Car type and all details will be announced June 1st 2019
*Car shall be a 2019 model (unless 2020 is available)
*Full give-away details issued at each event.
Agreements will be emailed to each registered person once ownership validation is on file with the event host.
Ms. Dawn is excited to meet with you and help you grow your business and ideas.
Reach me by dialing 832-885-2261 for any question.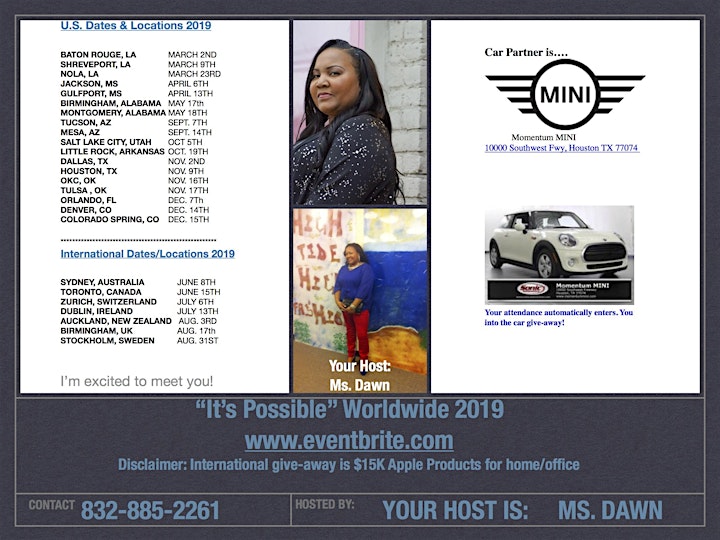 FAQ'S- Its Possible Worldwide
WHEN IS "It's Possible" Worldwide 2019?
The 2019 IPWW 2019 will be held in multiple locations this year!
⇣⇣⇣⇣⇣⇣⇣⇣⇣⇣⇣⇣⇣⇣⇣⇣⇣⇣⇣⇣⇣⇣⇣⇣⇣⇣⇣⇣⇣⇣⇣⇣⇣⇣⇣⇣⇣⇣⇣⇣
Feb.: Houston, Texas 2/23rd
March: Baton Rouge, LA 3/2. Shreveport, LA 3/9 New Orleans, LA 3/23
April: Jackson, MS 4/7 Gulfport, MS 4/13
May: Birmingham, AL 5/11 Montgomery, AL 5/18
*******************************************************************June: Sydney, Australia 6/8 Toronto, Canada 6/15
July: Zurich, Switzerland 7/6 Dublin, Ireland 7/13
Aug.: Auckland, New Zealand 8/3 Birmingham, UK 8/17
Stockholm, Sweden 8/31
*******************************************************************
Sept.: Tucson, AZ 9/7 Mesa, AZ 9/14
Oct.: Salt Lake City, Utah 10/5 Little Rock, Arkansas 10/19
Nov.: Dallas, Tx 11/2, Houston, Tx 11/9, OKC, OK 11/16, Tulsa, OK 11/17 Atlanta, Georgia 11/30
Dec.: Orlando, FL 12/7 Denver, CO 12/14 Colorado Springs, CO 12/15
WHAT ARE THE DAILY START AND STOP TIMES OF THE EVENT?
Each location has a different and very specific start and end time. Please check your desired location schedule. www.eventbrite.com 9Its Possible Worldwide 2019)
HOW EARLY SHOULD I/WE ARRIVE TO SIGN IN?
Which ever location you choose, please arrive at least 30 minutes prior to start time to network, have 1-ON-1 time with your host and peers.
IS THERE PRE-REGISTRATION AT THE EVENT SO I CAN AVOID LONG LINES?
There will be an easy check-in process with 2 options.
#1 Give us a copy of your ticket emailed to you from Eventbrite.
#2 Be prepared to show your I.D. so we can match your name to your registration that was sent to us by Eventbrite.
NOTE: No tickets will be sold onsite to the day before the event.
WHERE IS THE EVENT BEING HELD?
Please check your chosen City, Providence, Parish, or State location we have listed on the tour to choose a specific location that works for you.
www.eventbrite.com
HOW/WHEN DO I GET MY TICKET?
On www.eventbrite.com, once you purchase your tickets you will receive an email to retrieve your ticket(s).
#1. Print it out.
#2. Bring it to the event as proof of purchase to match our records.
#3 Tell your peers to get their tickets today!
WHAT IS THE DRESS CODE FOR THE SEMINAR?
Business casual and highly professional.
WHY! This seminar is dedicated to you! Its your time to shine, learn and leave changed forever. You will not change looking the same!
IS THERE HOTEL ROOM BLOCKAGE?
This is no hotel blockage as the seminar is a 4-hour power-packed extraordinary day filled with teaching dynamics.
WHAT DO I NEED TO BRING TO GET INTO THE CONFERENCE?
Your printed ticket from your email or your I.D. for us to match you to your ticket.
IS FOOD AND BEVERAGE PROVIDED?
As the event is only a 4-hour event there will be snacks and specific locations may have light food. Check listings.
WHO IS THE HOST OF THIS EVENT?
The Host of this prestigious event dedicated specifically for you is Dawn D. Fobbs, CEO, CPC, CPE.
Fobbs is an Entrepreneur, Authoress, and International certified professional Speaker with a sure focus of business development and growth consulting. Her proven track record includes retaining over $50 Million in grants, and Contracts, Many millions in sponsorships from cars, to homes to cash. Her specialty is working with youth education center leaders. Although she travels the Globe teaching and speaking she does call Texas he main hometown.
Her main for-profit company is "Worldwide Training and Development, INC. and her main Non-Profit is "We Are Caring Hearts, CDC"
HOW MANY PEOPLE WILL BE AT EACH SEMINAR?
Each event will have 75-150 people each depending on the location you choose. I keep them small enough to talk with each person in the room 1 - ON- 1.
WILL I/WE BE ABLE TO MEET MS. DAWN 1-ON-1?
YES! This will be a gift to meet and ask any question and receive an answer that will get your desired results. This value would normally be $1,500 and above from this Business Development Consultant.
WILL THERE BE GUEST SPEAKERS?
There will be no guest speakers. You are my guest and I am your host.
(However, I am know for surprises!)
IS THERE HANDICAP SEATING?
Each location will have special accommodations if you let us know in advance what specific need you have so we can comply.
WHAT IF I LOSE MY TICKET?
If you lose your ticket you can pull it up in your email from your phone and show us, or simply show your I.D.
WHAT DO YOU GET WITH PURCHASED TICKETS?
#1. Workbook (value $199)
#2 1-ON-1 time with the HOST (value $1,500 and above)
#3 Special surprise valued (PRICELESS)
#4 Entered into the 2019 Mini Cooper car give-away which the winner will be announced Dec. 31st, on Facebook Live! (value $25,000)
#5 Dynamic teaching from and experienced professional!
IS IT GENERAL SEATING OR ASSIGNED SEATING?
All seating will be on a first come first serve basis as the tickets are all the same fee in the U.S. International seating may be assigned.
CAN I SIT NEXT TO MY FRIEND/ASSOCIATE?
As a rule of networking it is smart to sit next to people you do not arrive with as this will foster excellent learning dynamics. Sit wherever you desire as this event is for you!
IS THERE A DISCOUNT AVAILABLE IF I BUY MULTIPLE TICKETS?
Yes! Please call for details on (5) or more tickets. 832-885-2261, Ms. Dawn
For (10) and up the fee is 1/2 price. A special ticket will be created for this instance.
WHAT IS THE TICKET REFUND POLICY?
All sales final and refunds are not offered. However, if you do not attend once a ticket is purchased, we will mail all of your materials to you at no fee, however, you would not be entered into the car give away as that will take place on-site in a special induction.
Car Give Away Rules:
*Must purchase a seminar ticket
*Must be 18 or older
*Must be in the youth education industry
*Must attend the seminar to complete entry form
*Must be willing to travel to Houston, Texas to choose your vehicle model
*Must be willing to participate in all media worldwide (no compensation)
*Must be willing to participate in interviews
*Must have valid State License
*Must have own insurance options (winner is responsible for own insurance)
*Must understand the winner will only be announced on December 31st on FB Live at 11:59 PM. Winner will have 24 hours to respond!
Organizer of "It's Possible" Worldwide 2019