Description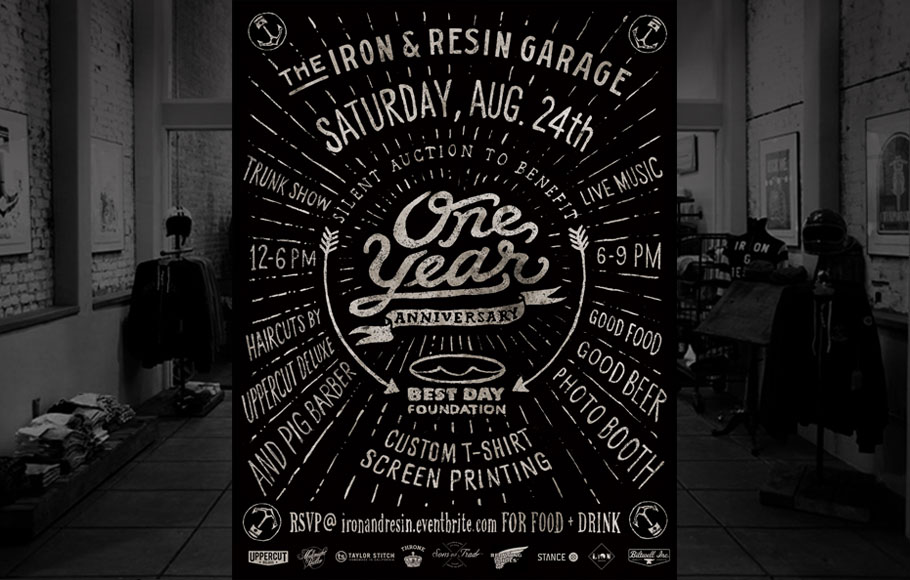 Save the date, Saturday August 24 from 12:00 pm – 9:00 pm at the Iron & Resin Garage - Ventura Beach California.
Sold in top stores, participating in trade shows throughout the world, and being recognized by influential fashion editors, it's safe to say that Iron and Resin has come a long way since they started off as a small passion project. Iron & Resin is hosting a trunk show to celebrate their one-year anniversary and all of the growth and success the brand has achieved in just one year. Aside from the great food, beer, live music and photo booth, there will be a silent auction where a portion of the proceeds will go to benefit the Best Day Foundation.
Address: Iron & Resin
 324 E. Main St.
Ventura, CA 93001
(805) 643-0737
Organizer of It's our one year anniversary!
Born in a small, Southern California, blue-collar beach town, graced with world class point breaks and seaside racetracks, where ghosts of a once towering oil industry still linger in the shadows. Iron & Resin is the brainchild of several friends who, after decades of collective experience building successful clothing brands, decided to turn back the clock and start anew. The result is a small, hand built collection of goods that draws heavily upon the founder's own lifestyles and experiences.
Forged in California... In a mass produced, disposable world, Iron & Resin is a product of "one-off" culture. Where men still build, by their own hands, the craft they ride, be it water or land. Our goods are carefully hand crafted and printed one at a time in California.