The pandemic has exacerbated stress in the workplace, so how do we manage our own mental health and spot the signs in those around us?
About this Event
In the UK alone 17.5 million days are lost through work related stress and depression with 1 in 4 adults experiencing mental health issues at some point in their lives. Over the last year adult mental health services usage has seen an upsurge of 61% and with the long reaching effects of the pandemic predicted this can only increase further.
Recent research carried out by CMI shows that a staggering 72% of employees rated their wellbeing as a top priority for management. These figures have put wellbeing firmly at the top of our agenda and we are employers to do the same.
Kooth are the UK's leading online mental health platform who confess they are "obsessed with providing great digital mental healthcare for everyone." So they were an obvious choice for CMI to team up with to help our own community deal with this growing problem.
Ann Francke, CEO, CMI will be joined by Dr Lynne Green, Chief Clinical Officer from Kooth to discuss the impact of wellbeing and mental health, what can affect it and how to spot the signs in ourselves and our colleagues. The panel including a leading employer will delve into real life scenarios, and show what the Kooth service and CMI support are doing to help.
Who are Kooth
The UK's leading online mental health platform providing accessible and safe spaces for everyone to achieve better mental health.
Their services are commissioned in 80% of the NHS's clinical commissioning group areas across the country and are fully safeguarded and moderated with professionally created content, alongside access to experienced online counsellors. There are no thresholds for support and no waiting lists.
Working with employers to support the wellbeing of their employees, providing confidential and anonymous access to a wellbeing community, counselling, content and self-help tools. The adult service provides valuable, anonymous insights into the wellbeing of the workforce so that employers can identify specific areas of improvement for their wellbeing strategy.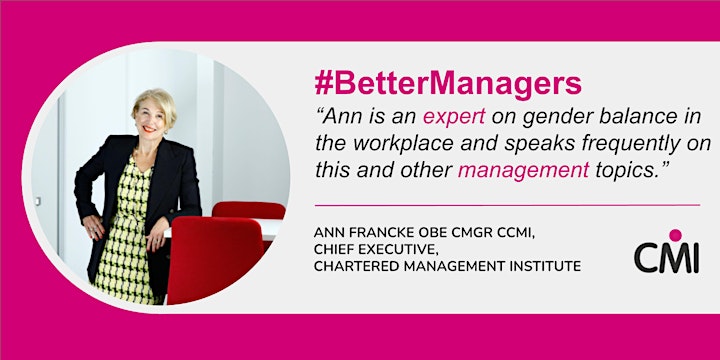 Ann Francke is Chief Executive of the Chartered Management Institute. She started her career at Procter & Gamble and has held senior executive positions at Mars, Boots, Yell and BSI. In 2020, Ann was awarded an OBE for services to workplace equality.
Ann is an expert on gender balance in the workplace and speaks frequently in the media and conferences on this and other management topics. Her book on gender balance - Create a Gender-balanced Workplace, published in September 2019. Ann also authored the 'Financial Times Guide to Management' and has been named in the top 100 women to watch in the 2015 Female FTSE Cranfield report. She was awarded the MemCom award for outstanding leadership of a UK professional body in 2016.
Ann holds several Board positions and five Honorary Doctorates for her work in management and leadership.
Ann and her husband live in West London; she has one daughter.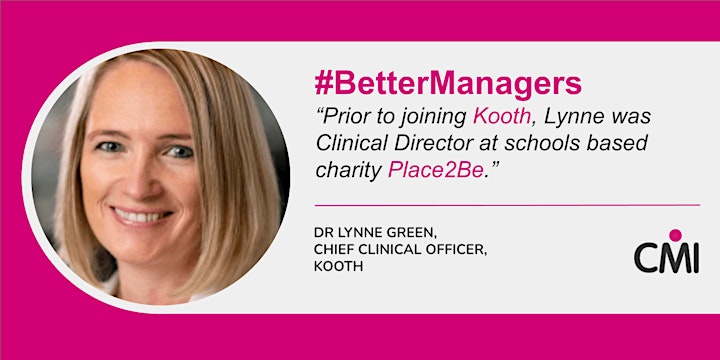 Dr Lynne Green is Chief Clinical Officer at Kooth and a Consultant Clinical Psychologist with 20 years' NHS experience. Previous roles include Research Therapist for adult eating disorder services (University of Oxford); Clinical Lead for CAMHS (Lancashire Care Foundation Trust); Adult Suicide Prevention Trainer (University of Manchester) and prior to joining Kooth, she was Clinical Director at schools based charity Place2Be, supporting teachers, parents and children.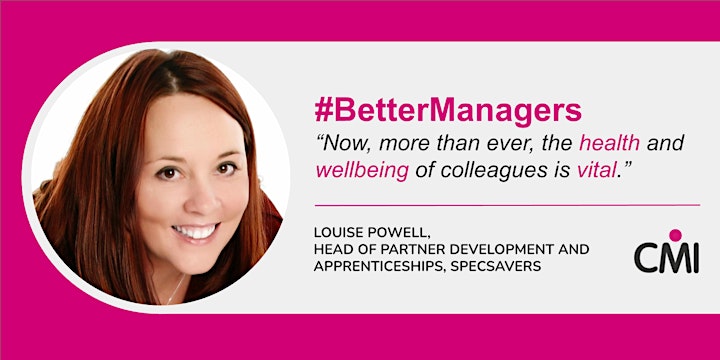 Louise has over 15 years of experience in Leading HR roles for corporate Organisations such as Lavendon Group, Travis Perkins and most recently Specsavers.
Louise is currently the Head of Partner Development and Apprenticeships for Specsavers, where she owns the strategic development of Apprenticeship across the business and leads the development agenda for all new and existing store Directors.
There is a real recognition across Specsavers that now, more than ever the health and wellbeing of colleagues is vital after a significant and sustained period of pressure.
In the meantime…
If you're a member of CMI, or subscribe to our content, don't forget you can find thousands of exclusive, practical development resources in ManagementDirect.
Log in here and search for a topic to get started.
Not yet subscribed?
From free newsletters packed with the latest trends, insights and tips for managers and leaders, to the full suite of invaluable tools and benefits that come with being a CMI member, we've got something for everyone.
Visit our website to find out more.