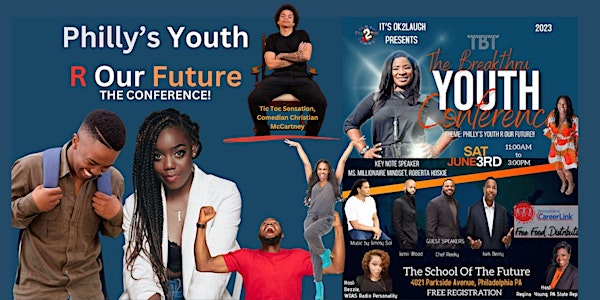 IT'S OK 2 LAUGH & PS SPEAKS PRESENT -THE BREAKTHRU YOUTH CONFERENCE 2023
Engage – Motivate- Empower!!
Date and time
Saturday, June 3 · 11am - 3pm EDT
Location
The School Of The Future 4021 Parkside Avenue Philadelphia, PA 19104
About this event
IT'S OK 2 Laugh & ParadigmShift Speaks Present
TheBreakThru Youth Conference 2023.
THEME: Philly's youth R our future!!
The Leadership & Mentorship Conference!
According to the CDC - Centers for Disease Control and Prevention; "Violence is a leading cause of death and nonfatal injuries among adolescents and young adults – over half of US homicides in 2020 occurred among people ages 15 to 34. Young people are disproportionately impacted by violence in their communities, including firearm injuries and deaths."
CBS Philly reports "In total, 2,273 people were shot in Philadelphia last year, according to data provided by the Philadelphia Police Department. That's slightly less than 2021, but it's still well above 2019 before the pandemic."
Youth and young adults can be victims, perpetrators, or witnesses of violence. This culture of gun violence has left behind a horrible toll of trauma, causing many to suffer from depression, mental illness, PTSD - Post-traumatic stress disorder and chronic physical conditions.
EVERYONE IS AFFECTED BY COMMUNITY VIOLENCE; FAMILIES, SCHOOLS, AND BUSINESSES.
We all know the problems, but what are the solutions? The Organizers of the BreakThru Conference believe that faith and mentorship are key components in violence prevention. The conference will feature inspirational speakers, mentorship organizations, and entertainment to equip attendees with resources to heal and deal with the daily pressures that teens and their families face, as well as inspire them to become leaders and positive change agents in their communities.
CHANGE STARTS WITH THE CONVERSATION AND COMMUNITY PARTICIPATION; JOIN US.
On June 3rd The Breakthru Youth Conference will ignite the fire that will Activate today's youth into becoming the leaders of their generation!!!
Pull Up, Slide Thru…..and get lit!!!
All are welcomed!!!
Hosted by: Dezzie, RADIO HOST & Regina Young, PA STATE REP.
Key Note Speaker: Dr. Roberta Hoskie, AKA Ms. Millionaire Mindset - From Welfare To Wealth!
Music by : Andrew ' Jimmy Sol' Young & DJ Lock& Loaded!!
Comedy by Tic Toc Sensation,
Comedian Christian McCartney
Guest Speakers:
Chef Reeky: After doing 8 years in prison became a Chef, Real-Estate Investor, and Restaurant Owner.
Kirk Berry: Youth Empowerment Educator
Minister Jamii Wood: Motivational Speaker
Patrick Drummond: Mentor
Mentorship Organizations:
The Tea Group
Training and Job Opportunities provided by:
PA Career Links
The Philly Youth Network
Free Food Distribution
by Philly Service Announcement
Food via Vendor:
Chef Reeky Cafe