It's Not Easy Being Green: A Discussion about FTC Policies and Compliance
Panel discussion on the Green Guides, Jewelry Guides, and Enforcement Policy.
About this event
Please join the Cardozo School of Law's FAME Center and Fashion Law Society for a panel discussion with industry leaders about the Green Guides, Jewelry Guides, and Enforcement Policy Statement on U.S. Origin Claims.
The Federal Trade Commission (FTC) is responsible for protecting consumers against unfair, deceptive, or fraudulent advertising in the marketplace. The FTC has created guides and policies that advertisers should follow in order to ensure their advertisements comply with the Federal Trade Commission Act. Some of these guides and policies include: 1) Green Guides (how to advertise environmentally friendly products); 2) Jewelry Guides (how to advertise jewelry); and 3) Enforcement Policy Statement on U.S. Origin Claims (how to advertise products that are made in America). A lot of companies struggle with compliance with these guides and policies, which can greatly affect their brand. This panel discusses how companies can comply with these guides and policies, the difficulties of compliance and implications of noncompliance, and the proposed changes to these guides and policies.
Panelists:
Miya Owens, Associate Counsel & Director of Mediation, Jewelers Vigilance Committee (JVC)
Hal Hodes, Senior Attorney, National Advertising Division of BBB National
Hilary Jochmans, President of Jochmans Consulting and Founder of PoliticallyInFashion
Jeffrey Greenbaum, Managing Partner of Frankfurt Kurnit Klein & Selz
Moderator: Olivera Medenica, Partner at Dunnington Bartholow & Miller LLP
This online event is approved for 1.5 transitional/non-transitional New York State CLE credits in the category "Areas of Professional Practice." You must attend the "live" program in order to receive CLE credits.
If you are interested in receiving CLE credit, please complete and submit this affirmation form before the event. We will give out a required code for this form at some point during the program.
The required CLE readings and speaker bios can be found here.
The Zoom link will be sent out to those registered via Eventbrite on the day of the event. The email will be sent from the Cardozo Fashion Law Society Eventbrite account. Please check your inbox and spam for the email. If you are having trouble accessing the event, please email cardozofashionlawsociety@gmail.com.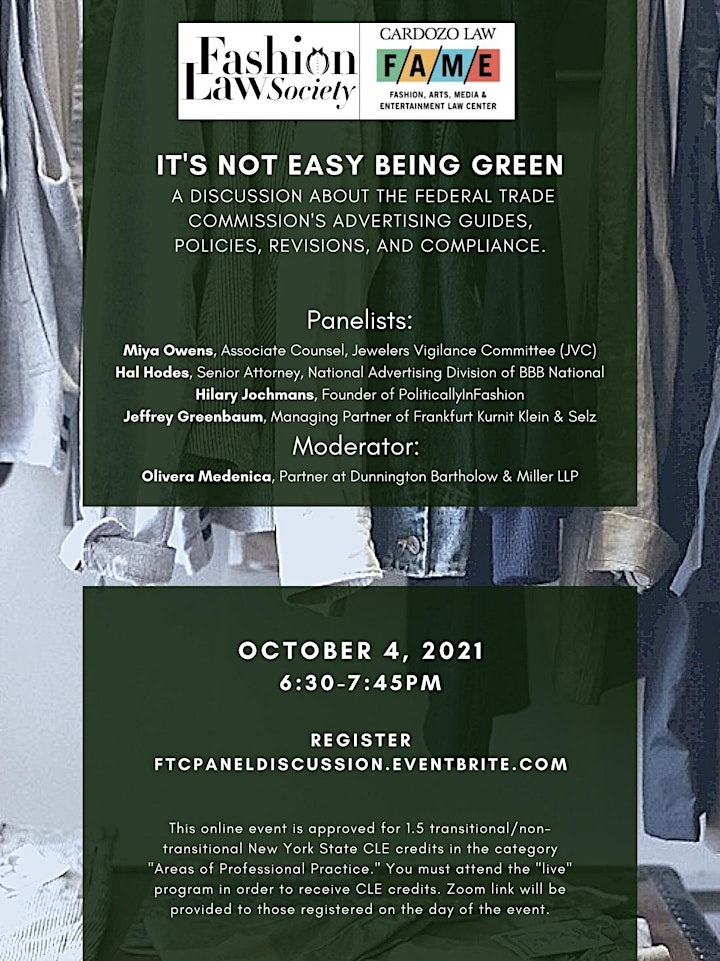 Organizer of It's Not Easy Being Green: A Discussion about FTC Policies and Compliance
The Cardozo Fashion Law Society merges each faction of the fashion industry into one cohesive student-run organization with the unifying goal of engaging Cardozo students in the multiple facets of fashion law. The Fashion Law Society seeks to explore all areas at the junction of fashion law: intellectual property, domestic/international business transactions, advertising and social media, government regulations, real estate, labor and employment, trade secrets, data protection, e-commerce, human rights compliance and consumer culture. The Fashion Law Society provides its members with alumni resources, career and networking opportunities, as well as a space to discuss current events in fashion law. In addition to fostering substantial connections between students and legal professionals, the Fashion Law Society seeks to promulgate Cardozo's innovative commitment to the fields of intellectual property, entertainment law, real estate law, and business law through the context of the fashion industry.
-------------------------------------
The FAME Center at Cardozo Law, through its unique access to companies and professionals throughout the fashion, arts, media and entertainment industries, provides unprecedented training and development opportunities relating to the representation of businesses driven by the creative process. The program teaches students to confront business challenges which, in the era of social media and digital access, are evolving faster than ever before. Through a collaboration among Cardozo's faculty, industry leaders and other institutions, the FAME Center provides unique insights into the intersection of law and business in the fashion, performing and visual arts, entertainment, sports, industrial design, media, and film industries.