It's not a chOiCe--Challenging The Lies of The Ex-Gay Movement

Saturday, June 19, 2010 from 9:00 AM to 5:00 PM (PDT)
Event Details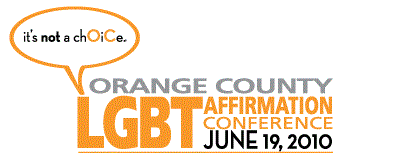 Orange County's Response To
Exodus International's Ex Gay Conference
June 19th, 2010 9-5pm
4915 Alton Pkwy
Irvine, CA 92604
Keynote Speaker: Dr. Daniel Helminiak:
Only One Choice Matters: "Come, Follow me"—But Which Jesus?
Recent awareness of sexuality has revealed its God-given richness. Religious forces insist the only option is traditionally understood heterosexual marriage—rejecting all the evidence.  Reverend Dr. Daniel Helminiak is an author, lecturer, Catholic priest and theologian, and professor in the department of humanistic and transpersonal psychology at the University of West Georgia, near Atlanta.
Sexuality isn't a Choice
Dr. Lawrence E. Hedges will survey a series of perspectives that illustrate how human sexuality is not a choice but a given of personal experience. We can choose to suppress our sexual interests and practices but at the cost of limiting our identities, our spontaneity, and our relational possibilities.
 Science Is On Our Side: The Evidence Behind Sexual and Gender Identity
Cristina Cuevas is a senior medical student at University of California, San Francisco. While in medical school she has served as the LGBT representative for the Dean's admissions advisory cabinet, planned and carried out the LGBT Health Issues course, and coordinated the school's annual Student AIDS Forum. She plans to enter family practice and is committed to underserved patient populations.
The Pivotal Issue of Choice and the International Ex-Gay Movement
Michael Bussee, after co-founding in 1979 Exodus International, he left the group and became and outspoken critic of the organization. Today Michael is a licensed Marriage and Family Therapist, a father, an evangelical Christian, and a proud gay man. 
 Tactics of Exodus International, the Ex-Gay Movement in the USA and Uganda
Wayne Besen, Founder of Truth Wins Out an organization which defends LGBT community against anti-gay misinformation; countering, the "ex-gay" industry and educating America about the lives of LGBT people.
 A Personal Testimony: Joshua's Story
Joshua Romero was raised in a Christian home by a loving family who taught him the value of his faith. A graduate of Point Loma Nazarene University, the loss of one of his friends to suicide inspired him to found Solace, a peer support ministry for Christians in the coming out process. 
A Ugandan Case Study: The International Reach of the Ex-Gay Movement
Jim Burroway, he was the first to sound the alarm on the intensifying anti-LGBT climate in Uganda that has led to the bill before the Ugandan Parliament that has sparked international outrage.
What Happens to the Straight Spouse and Children when a Husband or Wife Come Out

Dr. Amity Pierce Buxton, author of The Other Side of the Closet: The Coming-Out Crisis for Straight Spouses and Families; founded the Straight Spouse Network to support straight spouses whose partners came out as LGBT.
 For more information email us at:
 

 

notachoicecounterconference@gmail.com
And check this site for updates on topics and speakers
Sponsored by:
When & Where

Irvine United Congregational Church
4915 alton Pkwy
Irvine, CA 92604


Saturday, June 19, 2010 from 9:00 AM to 5:00 PM (PDT)
Add to my calendar
Organizer
Sponsored by:
 Irvine United Congregational Church (IUCC)
Orange County Equality Coalition (OCEC)
Equality California (EQCA)
Courage Campaign
Integrity, USA
Progressive Interfaith Alliance
Therapists 4 Equality.com
 GenderQueer Revolution
 California Faith for Equality