Description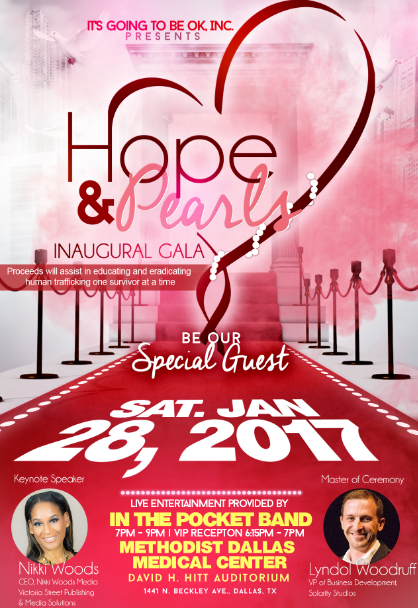 We are cordially inviting you to join us for an evening of celebration to educate and eradicate human trafficking, one survivor at a time.
A Private VIP Meet and Greet will be held in the lobby from 6:15 PM-7:00 PM.
It's Going to Be OK, Inc. is a 501(c)3 approved non-profit organization. Our mission is to work towards the eradication of trafficking of persons, particularly women and children trafficked for the purpose of sexual exploitation.
It's Going To Be OK, Inc. (IGTBOK, Inc.) was founded in 2014 by CEO Tonya Stafford's desire for helping others. Tonya survived a traumatic life and childhood of sexual molestation, physical abuse, rape and was ultimately sold. She is dedicated to advocate as a voice for women and children and has testified before the Texas State Senate Hearing Committee for Human Trafficking. She was well received by getting the State of Texas to recognize January as Human Trafficking Month, whereby, HB 2290 passed on September 1, 2015. Tonya also serves as a voice for those silenced by death and the innocent victims who cannot otherwise speak for themselves.
Our special guest, Bradley Lockhart, the father of Shaniya Davis will be presenting an inaugural award in honor of his daughter, the IGTBOK "Shaniya Davis Human Rights Award."
Shaniya Davis was a loving five year old little girl who was friendly and happy. She often helped tidy up around the house and she loved playing dress up. Shaniya enjoyed exploring different hairstyles and playing with her Barbie dolls. She liked playing outside and especially had fun riding her pink scooter. Shaniya loved going to kindergarten and her favorite colors were pink and yellow. Shaniya Davis was sold to pay off a $200 drug debt.
To learn more about her story go to: http://abcnews.go.com/WN/accused-shaniya-davis-kidnapper-charged-murder-rape/story?id=9136407
On January 28th, we will remember Shaniya by what she loved and not by the way she died. Other dignitaries, State Representatives, law enforcement officials and celebrities will be in attendance to help in educating and eradicating human trafficking, one survivor at a time.
We are looking forward to sharing this evening with you, as it will be one to remember.
KINDLY MAKE YOU PURCHASE BY: Friday, January 20, 2017
(All tickets purchased are fully tax-deductible)

With Grace & Much Gratitude,
IGTBOK, Inc. Board of Directors