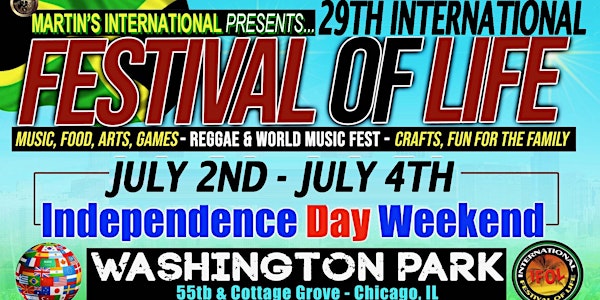 It's Celebration time -29th African/Caribbean Int'l Festival of Life (IFOL)
Celebrate the Best of Reggae/World Music Acts at African/Caribbean Intl Festival of Life -July 2 - 4th, @internationalfestivaloflife.com
When and where
Location
Washington Park- DuSable Sunken Garden, East 55th Street & South Cottage Grove Avenue, Chicago, IL. 60637 5500 South Cottage Grove Chicago, IL 60637
About this event
It's really Bringing Nations Together Through Music & Culture! 29th Int'l Festival of Life, July 2nd-4th. Get tix now!
Promo video, click and share https://youtu.be/Y5w_TVFW9yI
The African/Caribbean International Festival of Life (IFOL) set for July 2nd thru July 4th in Washington Park, Chicago is really living up to its objective of "Bringing Nations Together Through Music and Culture." See attached flyer with some of the fifty multicultural acts representing the African/Caribbean Diaspora, other regions and genres of music over the three-day carnival-style merrymaking celebration. Food, drinks, arts, crafts, buyers and sellers, games and more will be a part of the family celebration. Visit www.internationalfestivaloflife.com for tickets and more. www.martinsinternational.com, www.LinkedIn.com/martinsintermational www.YouTube.com/irawma, www.facebook.com/festoflife, and Instagram/Twitter @martinsinternational, and @DuSableChicago,
The popular culture event, the 29th African/Caribbean International Festival of Life (IFOL) will this year return to its regular July 4th Independence Day weekend, and will be held, Saturday through Monday, July 2nd - 4th, 2022 from 2:00 PM – 10:00 PM in its original location, Washington Park, 55th Street, South Cottage Grove, Chicago, IL.
African most popular Dancehall Superstar, the IRAWMA winning Shatta Wale, Veteran R&B legend Al Hudson and One Way, IRAWMA WINNING AND FIRST REGGAE GRAMMY WINNER, mYKAL rOSE- FORMERLY OF BLACK UHURU, Caribbean rising Soca Superstar Mr. Killa, Belize Punta, IRAWMA winning LOVA boy, and a galaxy of reggae and other world music acts from various genres of music will rock the three - day festival in Wasshington Park, Chicago.
The official announcement was made today, by Ephraim Martin, D.B.A., President of Martin's International producer of the festival, who further said, "We will abide and adhere to all COVID-19 Pandemic protocols outlined by the city or the State tenure the 29th IFOL. This year's festival is again, dedicated to Health Awareness and to Chicago's Founding Father DuSable," Martin stated.
The family-friendly festival will continue with its tradition of bringing cultures together by teaching and sharing experiences through music, food, arts, crafts, and games the entire weekend. The annual event will feature more than fifty Reggae, Afrobeat, R&B, Blues, Jazz, Gospel, Hip Hop, Steppin', House, Latin, and other world music acts on two stages. Guests will patronize over one hundred vendors selling and branding their products/items.
Tickets for this multicultural festivity are now on sale at www.internationalfestivaloflife.com. Last September, when the city opened its door to public events, with strict COVID-19 protocols, the Festival of Life was combined with its sister event, the JSVFest (Jerk, Seafood and Vegan Festival) was a huge success.
Under the banner of "Bringing Nations Together Through Music and Culture" , the IFOL celebration is powered by the Chicago Park District, Bronzeville Academy Charter School, LaFruteria Inc, Old World Market, Rogers Park Fruit Market, WVON AM 1690, Africa USA-Today, African Spectrum, OPJ Records and others/
For more information on all events, visit https://www.martinsinternational.com. Subscribe for free on https://www.YouTube.com/irawma. Like on social media @festoflife, @jsvfest, and @irawmaawards @chicagomusicawards or call 877/973-4423.
Flashback of 28th Annual International Festival of Life: https://youtu.be/cbfKtt-SF18
Media Contacts: Felicia Apprey at festoflife@gamil.com or 773-671-3240.