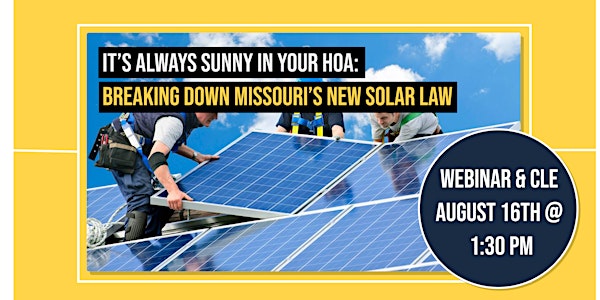 It's Always Sunny in Your HOA: Breaking Down Missouri's New HOA Law
Join Renew Missouri to learn more about Missouri's new 2022 HOA solar law. Also, receive 1 hour of Missouri CLE Credit
About this event
While Missouri law defines solar as a property right, many homeowners were deprived of the opportunity of installing solar panels on their roof due to arcane language in HOA covenants. Or those covenants simply remained silent and a committee would hand out arbitrary decisions based on the whims of its members. This changed in 2022 when language sponsored by Senator Eric Burlison brought legislation prohibiting HOAs from banning solar. Rather, they must adopt "reasonable rules" for rooftop solar by January 1 of 2023.
Join us for an insightful discussion about what this new solar law is and the implications going forward for Missouri.
If you are a lawyer you can also receive 1 hour of Missouri CLE Credit!