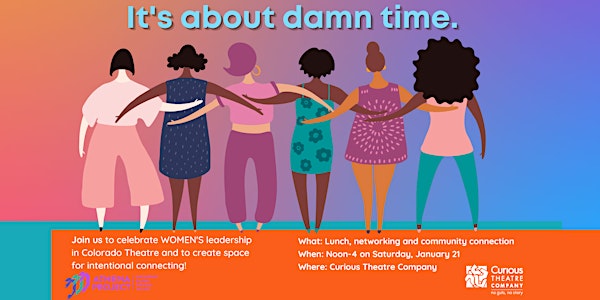 It's About Damn Time: A gathering of women theatre leaders in Colorado
Join us for an engaging conversation connecting Colorado Women Leaders in Theatre!
When and where
Location
Curious Theatre Company 1080 Acoma Street Denver, CO 80204
Refund Policy
Contact the organizer to request a refund.
Eventbrite's fee is nonrefundable.
About this event
Join us for an engaging conversation connecting Colorado Women Leaders in Theatre. Our Colorado community is flourishing with women-led theatres and we invite you to envision how we will strengthen our collective power in our artistic community! In addition to dreaming of our collective future, we will celebrate what we've achieved together over the years.
We look forward to seeing you Saturday January 21. Lunch is included which means we must have an RSVP** from you so we can plan accordingly.
Discounted tickets will be available for Curious Theatre's evening performance of Alma. ***Offer valid this one night only!*** Please visit Curious Theatre Company's website at https://www.curioustheatre.org/event/alma/ and enter the code: WITAlma for $15 tickets!!
If you know of other Colorado women leaders in theatre, please email us at info@athenaprojectarts.org so we can add them to our invite list. This gathering is for all those in theatre leadership (Executive Directors, Artistic Directors, Managing Directors, Producing Directors, Development Directors, and similar titles) who identify as women and nonbinary.
**While you are RSVP'ing, we are sharing info from EqualPayToday.org about THE EQUAL PAY DAY CAMPAIGN of 2022. Please select whatever option you'd like as this is meant to be a fun way to share info and remember your RSVP!
For too long, part-time and seasonal workers have been excluded from the conversation about equal pay, creating an inaccurate picture of how dire the situation is, especially for women of color. We have generally observed Equal Pay Days based on the information calculated for full-time year round workers only.
This Equal Pay Day Season 2022, we are raising awareness about the wage gap for ALL workers, but including data on part-time, seasonal, and gig workers, many of whom are essential workers piecing together multiple part-time jobs to get by, in the calculation of the Equal Pay Days.
Women's Equal Pay Day: March 15 at 83 cents to each $1 paid to Non-Hispanic white men
AANHPI (Asian American Native Hawaiian & Pacific Islander) Equal Pay Day: May 3 at 75 cents
LGBTQ Equal Pay Awareness Day: June 15
Black Women's Equal Pay Day: September 21 at 58 cents
Native and Indigenous Women's Equal Pay Day: November 30 at 51 cents
Latinx Women's Equal Pay Day: December 8 at 54 cents.
The Human Rights Campaign Foundation found that full-time LGBTQ workers make approximately 90 cents for every $1 earned by the average worker in the US. It's even larger for LGBTQ+ women– at 79 cents. (https://www.hrc.org/resources/the-wage-gap-among-lgbtq-workers-in-the-united-states)
Mom's Equal Pay Day: across race and ethnicity, mothers have to work until September 8, 2022 to catch up with what the average father earned by December of 2021.
Event sponsored by Athena Project and Curious Theatre Company