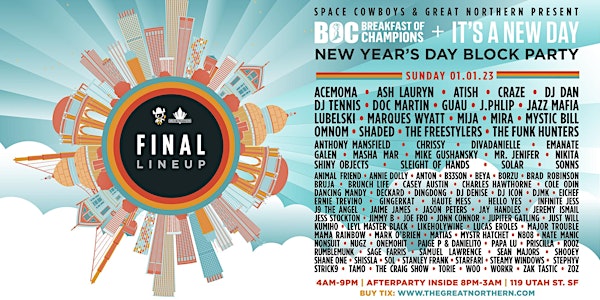 It's A New Day + Breakfast Of Champions Block Party 2023
Ages 21+
Great Northern x Space Cowboys Present
It's A New Day + Breakfast Of Champions Block Party 2023
When and where
Location
The Great Northern 119 Utah St San Francisco, CA 94103
Performers
Headliners
Ash Lauryn
AceMoma
Atish
DJ Craze
DJ Dan
DJ Tennis
Doc Martin
J. Phlip
Jazz Mafia
Lubelski
Marques Wyatt
Mija
Mystic Bill
Omnom
Shaded
The Funk Hunters
The Freestylers
Sleight Of Hands
Anthony Mansfield
Shiny Objects
Mira
Sonns
Emanate
More Performers
About this event
TICKETS ON SALE NOW!
It's A New Day + Breakfast Of Champions Block Party 2023
SF's biggest New Year's Day block party is BACK!
Are you ready for this?!? We've added EVEN MORE talent to our stacked lineup for It's A New Day and Breakfast of Champions - 100+ DJs on 10 stages!! 🙌
Get tickets now at → bit.ly/BOC-2023
Phase 3 Headliners just announced include: Atish, GUAU, Jazz Mafia, J.Phlip, Lubelski, Mira, Mystic Bill, and The Freestylers.
PLUS we've added an INSANE number of locals & friends too: Animal Friend, Anton, B33son, BEYA, Casey Austin, Charles Hawthorne, DJMK, Eichef, Emanate, Hello Yes, Jaime James, Jason Peters, Jay Handles, Jeremy Ismail, Joe Fro, John Connor, Jupiter Gatling, Just Will, Kumiho, likeholywine, Lucas Eroles, Mama Rainbow, Mark O'Brien, Masha Mar, Matias, Mike Gushansky, Mr. Jenifer, Mystr Hatchet, Nate Manic, Nikita, Nonsuit, Paige P & Danielito, Papa Lu, Priscilla, Samuel Lawrence, Sean Majors, Solar, SONNS, and Zak Tastic.
Special shout-out to all the local crews represented here - we love our amazing music community!
Space Cowboys, Great Northern, Monarch, Brass Tax, Dusty Rhino, Green Gorilla Lounge, Hacienda, Heavy Petting Zoo, Make It Funky, Mioli Music, Polyglamorous, Squish, Sunset Sound System, and WERD.
★ Holy wow! 100+ DJs on 10 stages!
★ YES Ins and Outs are allowed from 4am-4pm!
★ Get tickets now and don't miss out!
p.s. A few cabanas are left - get on it!