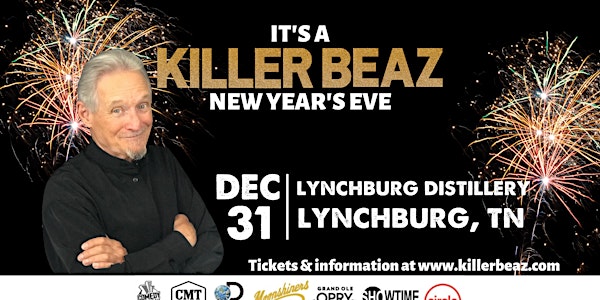 It's A KILLER BEAZ NEW YEAR's EVE!!! 2 Shows 7 & 10
It's A "KILLER BEAZ NEW YEAR's EVE!!!! Come ring in 2023 with a hilarious show and a big celebration!
When and where
Location
Lynchburg Distillery American Craft Distillers of Lynchburg, Lynchburg Distillery 30 Hiles Street Lynchburg, TN 37352
About this event
It's a "KILLER BEAZ NEW YEAR'S EVE"
Celebrating his seventh season on Discovery Channel's hit series, "Moonshiners", comedian Killer Beaz is touring the nation's distilleries, breweries and wineries, and this year he is bring his famous "Killer Beaz New Year's Eve" to Lynchburg, Tennessee. With well over three decades of comedy clubs and theatres, television and radio, Killer Beaz has uncorked the "Official Bootleg Tour" and is making it part of his New Year's Eve Celebration, in Lynchburg, Tennessee at The Lynchburg Distillery, Saturday, December 31st with two shows at 7:00 PM and 10:00 PM. The late show will include hats, party favors, a Killer Beaz shot glass, and a midnight toast to ring in 2023. Tickets and information for the shows are available at www.KillerBeaz.com.
Killer Beaz has his own, unique brand of "Hard Hitting" – "Laugh out Loud" – "Laugh A Lot" – "HI-PROOF" – "High Energy" – "Everyman" style humor that appeals to any audience. When asked, Beaz says about his shows, "I love the art of stand-up comedy! Having been given the opportunity to make people laugh and smile for all these years is truly a blessing!" With many thousands of radio, television and stage appearances, Beaz has been entertaining audiences for over three decades. He is an award-winning artist and has been signed with both Sony and Warner Brothers Records, and received reviews such as:
"Beaz is 'Killer!'" - Rolling Stone Magazine
"Killer Beaz lives up to his name, "Killing" his audience, night after night, show after show!" - Entertainment Today/Las Vegas, NV
"Killer Beaz has a universal appeal that makes him a crowd favorite!" – SHOWTIME/Reno, NV