It's a Family Affair--'TIS THE SEASON TO BE READING!
Join local children's authors/illustrators STAN KONTER, AIN HEATH DREW, SHAMAR KNIGHT-JUSTICE, and ANDREA LANE for a kid friendly book night
When and where
Location
Vintage Pizzeria Dunwoody 5510 Chamblee Dunwoody Road Dunwoody, GA 30338
About this event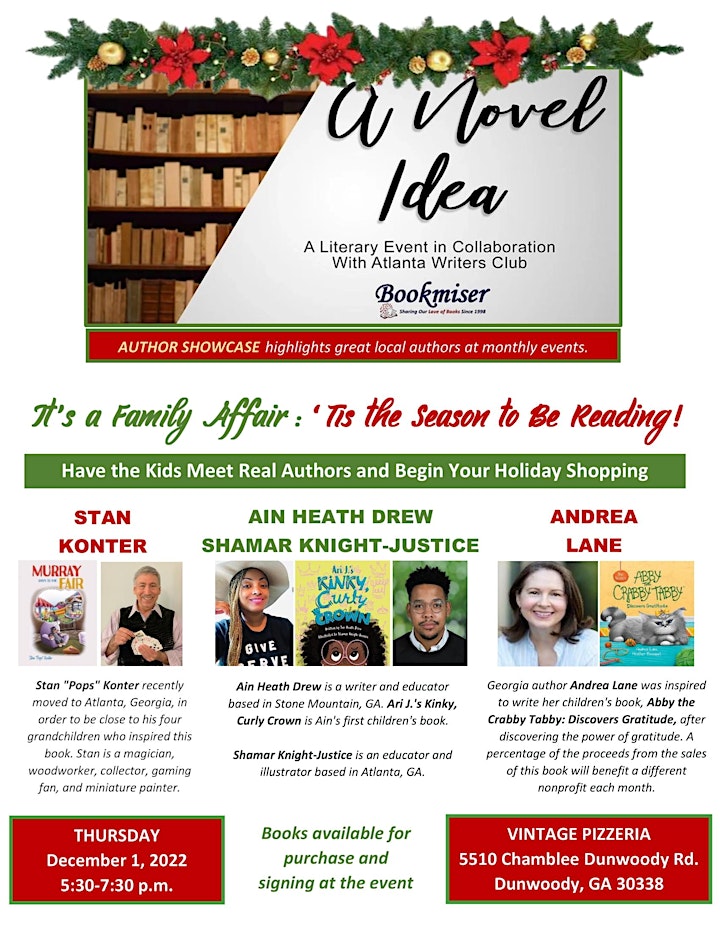 ABOUT STAN "POPS" KONTER
Stan "Pops" Konter recently moved to Atlanta Georgia in order to be close to his four grandchildren, who inspired this book. He has always loved books and dreamed of becoming an author. Stan is a magician, woodworker, collector, gaming fan, and miniature painter. Semi-retired, he now has ample time and room for his hobbies and to play with the grandkids. His wife says this works out well because he really never grew up.
ABOUT MURRAY GOES TO THE FAIR
When one of the gang gets free tickets to the fair, the friends are super excited to go. But for some mysterious reason, Murray says he can't go. It takes his friends to solve the mystery and find a solution. Stan likes his books to first tell a good story and then teach a "feel good" lesson. This first book in the Mole Hole Gang Series, Murray Goes to the Fair, teaches the value of friendship.
ABOUT AIN HEATH DREW & SHAMAR KNIGHT-JUSTICE
Ain Heath Drew is a writer and educator based in Stone Mountain, GA. She spends most of her time with her son DJ and their dog Simba. They love being outdoors, traveling, eating all types of cuisine, and having quality time connecting with family and friends. Ari J.'s Kinky, Curly Crown is Ain's first children's book.
Shamar Knight-Justice is an illustrator and educator based in Atlanta, GA. He is most content eating pancakes, seeing kids explore their imaginations, and going on long walks with his wife and dog.
ABOUT ARI J'S KINKY, CURLY CROWN
Ari J. is in the first grade now, and she knew this school year would be perfect. She had perfect clothes. She had a perfect pair of glasses to give her perfect sight. She would be making perfect grades. She had the perfect friends: DJ, Rae, Dylan, and Taj. She even had the perfect teacher, Ms. Windsun.
The only thing that Ari J. thought was not perfect was her kindergarten hair.
ABOUT ANDREA LANE
Georgia author Andrea Lane was inspired to write her children's book, Abby the Crabby Tabby: Discovers Gratitude after discovering the power of gratitude.
To share this lesson with her two young sons, and inspired by her beloved tabby cats, Lane decided to write a picture book which combined her values of gratitude and love of all animals.
"I hope to offer all children a fun way of thinking about gratitude," said Lane, "plus a light-hearted way for parents to talk to their kids about it."
Expressing gratitude for all you have is one of the principles of Reiki, a Japanese form of energy healing. Lane, who credits Reiki with changing her life, is a certified Reiki master.
For several years Lane worked as a public policy advocate for animal protection. She continues to support organizations that work for the humane treatment and protection of all animals, from cats to cows. A percentage of the proceeds from Abby the Crabby Tabby sales will benefit a different nonprofit each month. The May recipient is Furkids, the largest no-kill shelter in the Southeast. Abby the Crabby Tabby will be released on National Adopt a Shelter Pet Day - April 30th.
In addition to a BA in political science from Georgia State University, Lane holds a JD from Emory Law School. She is also the founder of an interior design firm and co-founder of the jewelry line, Chatwal Lane.
Lane lives north of Atlanta in Johns Creek, where she writes whenever she has time in her "office" (her bed.) She is grateful for the life she shares each day with her husband, two children, and three entertaining, inspiring tabbies.
ABOUT ABBY THE CRABBY TABBY
Abby is a gray-and-white-striped tabby living a life of luxury. But all this finicky feline can do is complain.
Abby is fed the finest people food--such as fresh salmon, ice cream, and French bread. She has cat toys aplenty, and sleeps on a poufy pet bed. But Abby is still a crabby tabby.
Mother Mabel waits on Abby hand and paw, but it's never enough. The tabby pouts that her food is late (and no longer warm!), and her cat toys are boring. Even Abby's fur-sister, sweet Olivia Kathy, can't cheer her up.
Abby finally runs away to find a perfect life, but the pampered pet is in for some frightening surprises: a tomcat bully steals Abby's food; a terrifying neighbor dog chases her up a tree; and the tree branch breaks, dropping her onto the firm ground of the real world.
Bruised and confused, Abby realizes that maybe her old life wasn't so bad after all. Sister Olivia Kathy was right! Abby should be grateful for the things she does have--and not complain about the things she doesn't.
Abby discovers that the secret to happiness is gratitude.Abby is one happy tabby.