An outreach webinar advertising ITRC's new, continuing and finishing project teams, as well as new products services and trainings.
About this event
ITRC & Me Outreach Webinar
ITRC is excited to share updates and upcoming innovative products from our finishing and continuing 2021 technical teams, and look ahead to the new 2022 project teams! This one-hour webinar will help prepare you to use our products and help you decide which teams to join in 2022!
Team Leaders and ITRC Board Members will provide overviews of new and continuing teams and answer any questions concerning team focus and products.
About the Interstate Technology and Regulatory Council (ITRC)
The Interstate Technology and Regulatory Council (ITRC) is a state-led coalition working to reduce barriers to the use of innovative air, water, waste, and remediation environmental technologies and processes. ITRC produces documents and training that broaden and deepen technical knowledge and expedite quality regulatory decision making while protecting human health and the environment. With public and private sector members from all 50 states and the District of Columbia, ITRC truly provides a national perspective.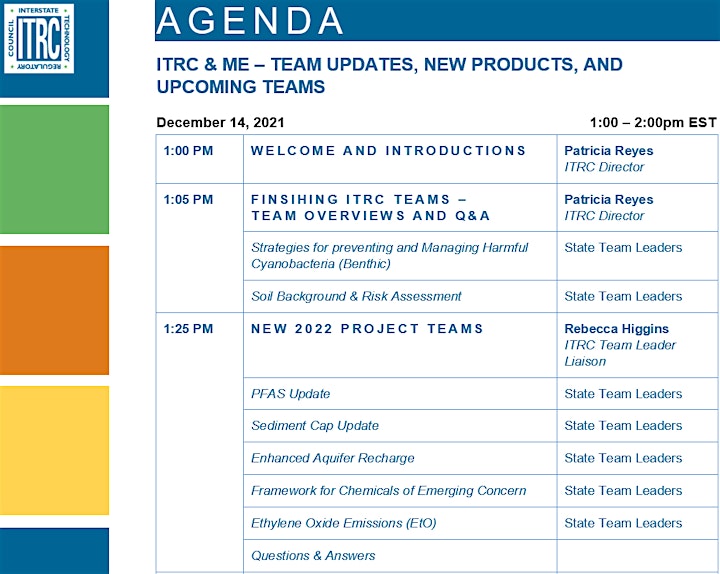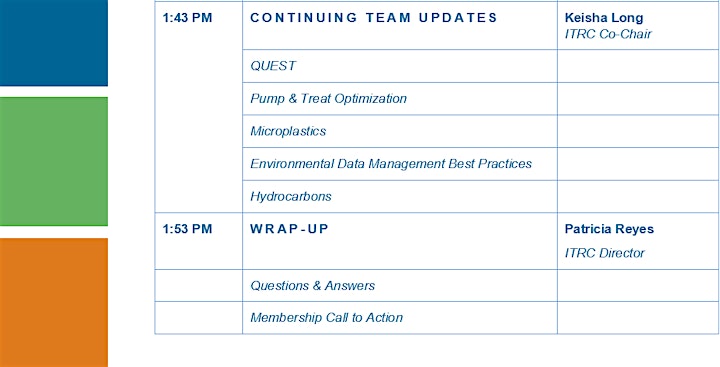 Organizer of ITRC & ME - Team Updates, New Products & Upcoming Teams