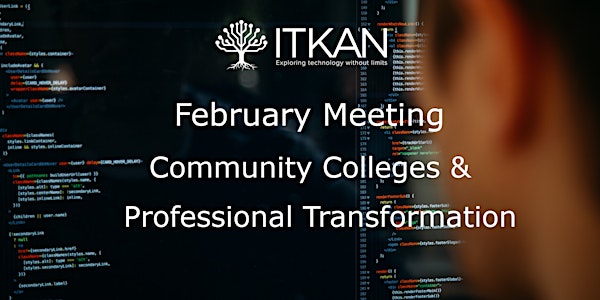 ITKAN Virtual Meeting - Community Colleges & Professional Transformation
Please join us Th, February 10 at 5:30pm-7pm to learn how Community Colleges can help transform IT professionals.
About this event
Throughout 2022 ITKAN will focus on Transformation – of members, technologies, or careers. In support of this theme, our February 10th meeting will highlight how Community Colleges continue to evolve their offerings to assist IT Professionals in transforming their skills in an ever-changing landscape. Today's IT professionals are often required to have both academic degrees in technical disciplines and certificates or badges which demonstrate specific expertise. Community Colleges are well positioned to offer courses and a community which can help transform skills an IT professional requires in both areas.  These offerings are often more affordable and accessible than other options, and delivered by experts who are both highly credentialed and committed to student success.
Featured in this meeting will be Dr. Angela Sullivan, Advisor and Professor, Fine Arts Department at Joliet Junior College (JJC) and Dr. Behnam Roohani, Director of Information and Simulation Technology at City Colleges of Chicago (CCC) and Malcolm X College.  They will provide expert insight to the skills an IT professional needs to acquire to be successful in today's changing landscape and discuss transformational offerings at JJC and CCC that members can leverage to accelerate their careers and development.