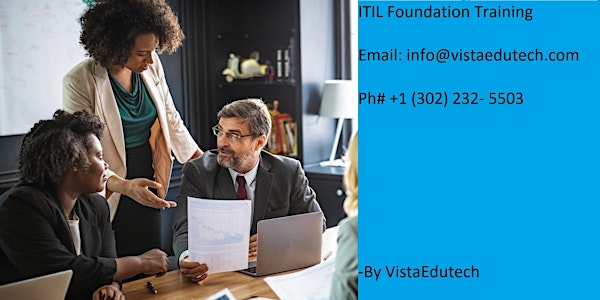 ITIL Foundation Certification Training in Chicago, IL
Vistaedutech ITIL® Foundation Exam Prep is designed and developed by the global panel of ITIL®
When and where
Location
Business Centre /Meeting Room Chicago, IL, IL 60007
Refund Policy
Refunds up to 7 days before event
About this event
Key Features:
2 Days of In-Person Boot-camp
2 Simulation Tests
ITIL Foundation Exam Voucher [ Exam Fee Included , ( exam fee not included for Online Self Learning]
16 PDU Certificate
Dedicated Learning Consultant
100% Money Back Guarantee
About ITIL Foundation
The Foundation level is the entry level certification and offers you a general awareness of the key elements, concepts, and terminology used in the ITIL® service lifecycle, including the links between lifecycle stages, the processes used and their contribution to service management practices.
Vistaedutech ITIL® Foundation Exam Prep is designed and developed by the global panel of ITIL® Expert instructors to ensure that our participants pass the ITIL® Foundation exam on their first attempt.
Our hands-on training helped many participants in transforming their careers. Our Lead Instructor focus on the key concepts, terminologies and elements included with ITIL® service lifecycle management. Vistaedutech's training includes best practices from ITSM processes and Service Management, ITIL® lifecycle Phase Interactions & Outcomes.
Who Should Apply?
ITIL certification is an essential requirement for professionals who need to learn the fundamentals of ITIL frameworks and how they may be used to enhance the quality of IT service management.
This certification is best suited for:
IT Managers/Support Teams
IT Architects, Planners and Consultants
System Administrators/Analysts
Operations Managers
Database Administrators
Service Delivery Professionals
Quality Analysts
Application Management Team/Development Team
Process Owners/Practitioners
Exam & Certification
You will be certified in ITIL® Foundation from AXELOS by following these processes: Step 1: Appear for ITIL® Foundation exam after completing the training. Step 2: Score 65% in 60 minutes [i.e. 26 answers out of 40 questions] Step   3:   Earn two ITIL® credits on successful completion of ITIL® Foundation exam
Benefits of ITIL Foundation Certification
1.)    Manage risk in line with business & service disruption or failure
2.)    Show value for money
3.)    Optimize customer experience
4.)    Enable business change
5.)    Aids continuous service improvement 
6.)    Support business outcomes
7.)    According indeed.com, the pay ranges from  $81,040 to $111,053 per year
What You Will Learn?
Service Strategy : Strategy Management for IT Services, Service Portfolio Management, Business Relationship Management, Financial Management For IT Services, Demand Management
Service Design: Design Coordination, Service Catalog Management, Service Level Management, Availability Management, Capacity Management, IT Service Continuity Management, Information Security Management.
Service Transition: Transition Planning & Support, Change Management, Service Asset & Configuration Management, Release & Deployment Management, Service Validation & Testing, Change Evaluation, Knowledge Management
Service Operation: Event Management, Incident Management, Request Fulfillment, Problem Management, Access Management, and the functions of: IT Operations, Technical Management, Application Management, Service Desk
Continual Service Improvement: Seven-Step Improvement Process
Course Agenda:
Overview of ITIL
By the end of this lesson, you will be able to explain the practice of Service Management, describe Service Lifecycle, identify key principles and models of ITIL® Foundation, define generic concepts in ITIL® 2011, and discuss the processes, roles and functions in ITIL® Foundation.
Lesson 1: Introduction to service management
This lesson will explain the best practices in IT Service Management, identify the stakeholders in service management, describe service management roles and responsibilities and explain the types of service providers.
Lesson 2 – Service Strategy
This lesson will explain the purpose, objective, scope and value of service strategy, identify the four processes in service strategy and explain the different types of services provided.
Lesson 3 –Service Design
By the end of this lesson, you will be able to explain the purpose, objective, scope and value of service design and list the roles and responsibilities of service design.
Lesson 4 –Service Transition
Here, you will learn how to describe the purpose, objective, scope and value of service transition and explain Configuration Item (CI) and Configuration Management System (CMS).
Lesson 5 –Service Operations
By the end of this lesson you will be able to describe the purpose, objective and scope of service operations phase, list the principles of communication and explain events, alerts and incidents.
Lesson 6 –Continual Service Improvement
This lesson describes the purpose, objective and scope of CSI and explains the value of CSI to improve business.
Lesson 7 –Assessment
Test if you are ready to take the exam, solve the questions which you might get in your certification exam.
Why Visatedutech ?
Vistaedutech's training is the best and value for time & money invested. We stand out because our customers
Get trained at the best price compared to other training providers.
Get trained by the best trainer in the industry.
Get accesses to course specific learning videos.
Get 100% Money back guarantee*.
Training Fee: $ 1699
Early Bird: Booking at least one month prior to the class start date
Training Venue:
Venue will be confirmed to the classroom participants one week prior to the workshop start date and online participants will get the session attendance link before 4- 5 days of the training start date. Venue is finalized one week prior to the start date so that we can accommodate last minute rescheduling from the participants and we do not incur additional cost for rescheduling or cancellation.
For more details please contact us at +1 (302) 232-5303 or e-mail info@vistaedutech.com
*To know more about the discount and money back, Contact us on chat, email or phone.