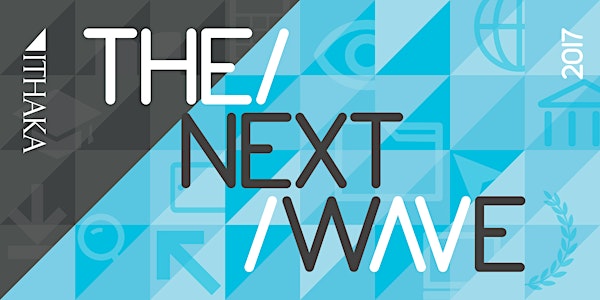 ITHAKA: The Next Wave 2017
When and where
Location
The Roosevelt Hotel 45 East 45th Street New York, NY 10017
Description
Innovating and Adapting to Address Today's Higher Education Challenges
America's universities and colleges are being challenged to improve educational attainment, while also facing declining public support and increasing income inequality. Improving educational attainment requires that leaders in higher education experiment, pursue new approaches, and work together with colleagues inside and beyond our institutions in creative ways.
At the Next Wave 2017, we will convene leaders from academic libraries, publishing, technology, and higher education to reflect on innovations and collaborations happening across higher education and on how our existing frameworks must continue to adapt to address higher education's overarching challenge: getting more people educated at lower cost. What can we learn from what's working and what's not? How do our existing frameworks need to adapt? What other barriers must be overcome for new approaches to take hold? Are there success stories worth championing and adopting at your institutions?


Agenda and Speakers
Registration and a light breakfast starting at 8:00 AM.
9-9:15 Welcome and Introductions
Will Fenton, Elizabeth R. Moran Fellow, American Philosophical Society; Teaching Associate, Fordham University; and Contributing Editor, PC Magazine

Kevin Guthrie, President, ITHAKA
9:15-10:15 Keynote
Clay Shirky, Vice Provost for Educational Technologies, New York University
Network with your colleagues from 10:15 - 10:45.
10:45-12:00 At the Leading Edge: Transformation and Innovation
Gordon Jones, Founding Dean, College of Innovation and Design, Boise State University
Michael Koby,

Associate Dean, International & Graduate Programs, Washington University Law

Meredith Woo, President, Sweet Briar College
We will enjoy a luncheon together from 12:00 - 1:00 PM.
1:00-1:45 The Provost Perspective: Emerging Strategies and Gaining Alignment
Marni Baker Stein, Provost and Chief Academic Officer, Western Governors University
Neil Weissman, Provost, Dickinson College
1:45-2:45 Research: New Workflows and Frameworks

Arnold Hirshon,

Associate Provost and University Librarian, Case Western Reserve University

Judy Ruttenberg

,

Program Director for Strategic Initiatives, Association of Research Libraries

Roger Schonfeld, Ithaka S+R Director Libraries and Scholarly Communications, ITHAKA
Network with your colleagues from 2:45 - 3:15.
3:15-4:15 Teaching: Understanding Students and Helping Them Succeed
Alan Bearman

, Dean of University Libraries and the Center for Student Success and Retention, Washburn University
Stella Flores, Associate Professor of Higher Education and Director of Access and Equity, Steinhardt Institute for Higher Education Policy, New York University
Jade Winn, Assistant Dean for Instruction, Assessment & Engagement and Associate University Librarian, Programs, Planning & Assessment Unit, USC Libraries
4:15-5:15 Publishing: Building New Capacities
Darcy Cullen, Assistant Director, Acquisitions, UBC Press

Alan Harvey

, Director, Stanford University Press
John Sherer, Director, University of North Carolina Press
Donald Waters, Senior Program Officer for Scholarly Communications, The Andrew W. Mellon Foundation
5:15-5:30 Closing
Join us for a reception beginning at 5:30 PM and ending at 7:00 PM.


Registration and Hotel Information
Invited guests are asked to register for the event.
Our special room rate with the Roosevelt Hotel at $279 per night plus taxes and fees closed on October 28, 2017. You may still make your reservation at the hotel online using this link, or by calling (888) 833-3969 but current rates will apply.


Questions
Please reach out to Heidi McGregor, VP, Communications at ITHAKA.



Alan Bearman

Washburn University

Professor and Dean

Darcy Cullen

UBC Press

Associate Director, Acquisitions

Will Fenton

American Philosophical Society

Elizabeth R. Moran Fellow

Stella Flores

New York University

Associate Professor

Kevin Guthrie

ITHAKA

President

Alan Harvey

Stanford University Press

Director

Arnold Hirshon

Case Western Reserve University

Associate Provost & University Librarian

Gordon Jones

Boise State University

Dean, College of Innovation Design

Michael Koby

Washington University Law

Associate Dean, International & Graduate Programs

Judy Ruttenberg

Association of Research Libraries

Program Director for Strategic Initiatives

Roger Schonfeld

ITHAKA S R

Director, Library and Scholarly Communication Program

John Sherer

University of North Carolina Press

Director

Clay Shirky

NYU

Vice Provost for Educational Technologies

Marni Baker Stein

Western Governors University

Provost and Chief Academic Officer

Donald Waters

The Andrew W. Mellon Foundation

Senior Program Officer for Scholarly Communications

Neil Weissman

Dickinson College

Provost

Jade Winn

Programs, Planning & Assessment Unit, USC Libraries

Assistant Dean for Instruction, Assessment & Engagement and Associate University Librarian

Meredith Woo

Sweet Briar College

President