Description
Save the dates now: Friday, July 27 and Saturday, July 28
Please RSVP by June 27th
so we can keep the venues happy with us.

Gina Amici, Rachel Philipson, Walter Weiner, and Ted Skibinski are pretty darn excited to
invite you to make plans NOW to attend The 2018 Ithaca High School Reunion-Palooza Weekend, 
July 27-28, 2018. Or not.


We're calling on all classmates, friends, and families from the classes of 86, 87, 88 and 89 to join us. 
Four classes? One reunion? Hell yes. People said it couldn't be done. We ignored them.


Expect, free stuff, nostalgia, and special guest appearances. Experience thinning hair, mild obesity, and more! 


We would like to learn your "you" story, your adventures, your exaggerations, and yes, even your questionable life choices. This is a celebration of wherever you are in life - thirty (or so) years later. And just about anyone capable of swiping a credit card (to register in advance) is warmly invited and welcomed!

Questions? For up to date information follow our facebook page
---

Friday, July 27 | 6—9 pm 

Ithaca Beer Company
122 Ithaca Beer Dr., Ithaca
ithacabeer.com
Attire: flip-flops friendly, or come as you are!


The brews, food and a ride home are up to you. This is a kiddo-friendly venue. With that said, this is a beer garden. Stop by and let us know that you're in town. Enjoy food truck fare and Ithaca Beer dinner menu items available for purchase. UPDATE: Due to overwhelming response, we need to rent a tent.
---

Saturday, July 28 | 1—3pm
Ithaca High School
1401 N Cayuga St, Ithaca, NY 14850
ithacacityschools.org/highschool
No cost to participate.


1:00—1:30pm – Group photo.
The photo will be completed at 1:30pm sharp. Don't be late!


1:30—3:00pm – Guided tours of the 2018 Ithaca High School - 30 or so years later, this is NOT the high school you attended! Current IHS seniors host you on a guided campus tour. Find your old locker… See you name on a rusty old sports trophy. You get the idea. Great nostalgia. Don't miss out!

Will you pay (just a little bit) forward? Consider making a modest donation to the class of 1988 fund (see below). Your generosity will benefit a tree planting fund in the class of 88's name in the Quad.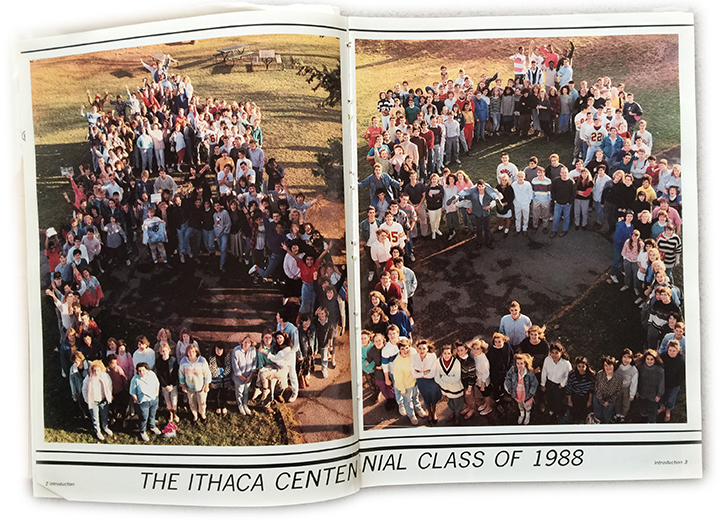 ---

Saturday, July 28 | 7—10 pm
The Boatyard Grill
525 Old Taughannock Blvd, Ithaca
http://www.boatyardgrill.com

THIS EVENT HAS BEEN UPDATED TO A GET TOGETHER AT BOATYARD GRILL.
---

Need a room? A reunion-discounted block has been reserved at La Tourelle.

http://www.latourelle.com

1150 Danby Rd, Ithaca, NY 14850
Space is limited - book before 6/27/18 by calling:
607-273-2734 or 800-765-1492

Ask for the IHS Class of 88 or IHS 30th reunion discount.

Need a ride?
Uber and Lyft now operate in Tomkins County. How about that? Download the apps to your mobile device now, or go old school with these reliable local transportation businesses;

Ithaca Dispatch – 607-277-7777

College Town Cab – 607-588-8888

Questions? For up to date information follow our facebook page