Description
Come celebrate the birth of Christ with ITC!
In this time of giving and sharing, we welcome you to come break bread with ITC. This year, for the first time, we're inviting a select few faith partners to our annual Christmas party. And this will not be your average party! There will be FREE food, games, prizes and great Christian fellowship.
Also, Rev. Ronald Ivey is making a special visit to Atlanta to introduce the AARP Prepare to Care toolkit, created to help faith leaders better serve the 50+ population. More than any other ethnic group, African Americans cite faith, God and spirituality as big priorities. ITC is partnering with AARP to provide clergy and ministry leaders ways to harness the culture of faith that lives in the African American community and channel it toward building, enhancing and sustaining a viable ministry for their members who age 50+. In addition, having such a ministry builds a foundation for future generations.
We hope you can carve out an hour or two of your day on Wednesday, December 12th to join us for free food, fun and fellowship at ITC!
Space is limited, so please RSVP by Friday, December 7, 2018.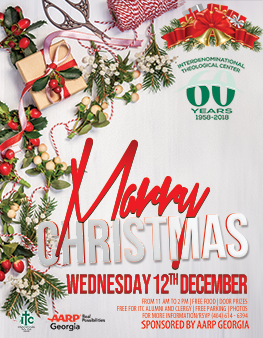 FAQs
By registering for this event I agree to share my information with AARP so it can keep me informed about AARP programs, events and offerings. I understand AARP will send me an initial email to confirm my interest in further AARP email communications and my email preferences can be changed at any time.